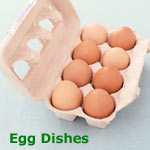 Three-Minute Eggs with Saltines
4 Tablespoons butter
8 eggs at room temperature
12 saltines
salt and pepper - to taste
Place 4 oven-proof dishes or custard cups in the oven at 250 degrees. As soon as they are warm, place a Tablespoon of butter in the bottom of each.
Place the eggs in a pan of cool water with about 1/2 inch of water over the top of the eggs. Place over moderate heat until water begins to boil. Turn the heat back to a simmer, cover and allow the eggs to cook for exactly 3 minutes. Remove from the burner and plunge the eggs under cold water for a second or two to stop the cooking action.
Coarsely crumble 3 of the saltines into each of the heated custard cups containing the melted butter. Break two of the soft-cooked eggs over the cracker crumbs and mix well. Salt and pepper to taste. Serve at once, piping hot. Serves 4, allowing 2 eggs per person.
This recipe is usually a favorite with children, who often seem to dislike and runny portions of an egg. The crackers absorb this runny portion and add a wonderful flavor to the eggs.



Buy it used at Amazon.com
This recipe is from the classic cookbook titled The Fabulous Egg Cookbook (Jeffrey Feinman, Ventura Associates, 1979).

Breakfast is just a small part of this cookbook. It also includes dinner recipes, lunch recipes, custards, cakes and many more ways to cook with eggs.

According to the back of the book, "Turn any meal into a tasty treat that won't put a dent in your wallet. Hundreds of egg recipes inside show you how to make the most of this economical, nutritious food."
Saltines aren't just for soup. This recipe is from the chapter "Eggs For Breakfast" in The Fabulous Egg Cookbook.
Mr Breakfast would like to thank
Mr Breakfast
for this recipe.
Comments About This Recipe
What do you think of Three-Minute Eggs with Saltines?
From Leah K.

That's a little weird... soft boiled eggs over crumbled crackers. When I saw crackers in the ingredients, I thought it would be like Matzah Brei, but with saltines instead of the Matzo. I think that would work and probably be better than this.

Comment submitted: 9/7/2013 (#16417)




---
Connect With Mr Breakfast: