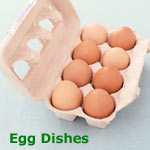 Chilaquiles (Mexico)
6 corn tortillas - cut into wedges
4 large eggs
1 cup cheddar cheese - shredded
1/4 cup onion - diced
1 Tablespoon jalapeno - finely chopped
1 Tablespoon cilantro plus additional teaspoon cilantro for garnish - chopped
2 teaspoons vegetable oil
1 pinch salt
1 pinch pepper


For Sauce:
2 cups diced tomatoes with juice
1/2 cup chicken stock
1/4 cup onion - diced
1/8 cup jalapeno - finely chopped
2 clove garlic - minced
1 teaspoon vegetable oil
1/2 teaspoon cumin
1/2 teaspoon chili powder
1 pinch salt
1 pinch pepper
To make the sauce:
Heat vegetable oil in a large sauce pan or deep skillet over medium heat. Add onions and cook for 5 minutes unil tender and translucent. Stir in jalapeno, garlic and spices.
Saute for for 10 more minutes. Add tomatos and chicken stock. Stirring often, bring mixture to a low rolling boil for one minute. Reduce heat and simmer for 30 minutes over low heat. Remove sauce from heat and allow it cool. Puree mixture in a blender until smooth. Set aside.
To make the chilaquiles:
Preheat oven to 350 degrees.
Place tortilla wedges flat on a baking sheet and bake for 2 minutes - just long enough to dry them out. Remove from oven and set aside. Leave oven heat at 350 degrees.
In a large OVEN-SAFE skillet over medium heat, heat vegetable oil. Add onions and cook for 5 minutes until tender and translucent. Stir in jalapeno and cilantro. Saute for an additional 3 minutes. Add sauce as prepared above and bring to a simmer. Add the tortilla wedges to sauce and stir until well coated.
Remove from heat and sprinkle evenly with cheese. Cover with aluminum foil and bake for 30 minutes.
Towards the end of the baking time, fry or poach each egg to personal taste.
To serve, distribute the chilaquiles evenly among four plates. Top each serving with an egg. Add salt and pepper to taste and garnish with a little chopped cilantro.

There's a lot of work involved with this recipe, but it's worth it if you're hankering for an authentic Mexican breakfast.
Mr Breakfast would like to thank
CornFlake
for this recipe.
Comments About This Recipe
What do you think of Chilaquiles (Mexico)?
Overall Average Rating =

(out of 5)

From Rudeangel

This recipe sounds like a Taco Bell version, it's not authentic and uses canned ingredients. Real chilaquiles use only fresh produce (tomato, onion, garlic) and dry guajillo chiles for the sauce. Also you must fry the tortilla, and you can add eggs of you choice, either on top or mixed in, usually garnished with queso fresco, sour cream and diced raw onion.

Comment submitted: 3/22/2015 (#19330)



From danni

I don't see why it matters if they are baked or fried, I've made these both ways and the effect seems pretty much the same.

Comment submitted: 3/8/2012 (#13646)



From Shee_lak_kil_is

In Mexico, we never use Cheddar cheese, cumin, chili powder or pepper for chilaquiles. Just take some totopos (fried or dried tortillas), make a good tomato sauce (roasted tomato, roasted garlic, red chili or chilpotle, salt and roasted onion), boil the sauce and add the totopos there. At the end, when totopos are soft, add scrambled eggs or chicken and sour cream, fresh cheese and diced onion if you like...

Comment submitted: 11/21/2011 (#13216)



From apenado

Sorry, but in Mexico we don't bake the tortilla. We fry it.

Comment submitted: 9/18/2011 (#12921)



From solarhouse
Super delicious. Thanks!

Comment submitted: 1/28/2011 (#12016)



From Chulo

Looks real good.

Comment submitted: 12/12/2010 (#11703)



From goffus

Bake for 30 minutes? They don't do that in Mexico.

Comment submitted: 6/14/2010 (#10693)



From U.B.
That is some good chilaquiles yaya.

Comment submitted: 11/12/2009 (#9027)



From Sturg

We camp on the beach in Baja and make our chilaquiles easier. put the leftover chips from the beer drinking the night before, in a big pan, add the leftover salsa. heat slowly. crack the eggs on top, salt & pepper, cover and in about 10 minutos you have a great breakfast. sprinkle any kind of cheese on top.

Comment submitted: 10/21/2008 (#6650)



From RO

Sarah - that is what you call Tex Mex Migas not Chilaquiles.

Comment submitted: 5/20/2008 (#5324)





From mariamex (Team Breakfast Member)

Not Mexican at all!!

Comment submitted: 1/3/2008 (#4309)





From avrick (Team Breakfast Member)

I fry the corn tortilla strips until golden brown, drain the oil,and pour 2 cans (small) store bought tomatillo salsa on the strips. Salsa will soften strips after a few minutes on the stove on low heat. Place an egg sunny side up on top (so the yolk runs over the chilaquiles) and finish it off with some crumbly Mexican cheese on top. Half the time of the recipe posted here and twice as authentic. My Mexican grandmother has made these for 60 years. Delicious - Mike

Comment submitted: 12/11/2007 (#4159)



From Sarah
My favorite breakfast taco back home in San Antonio, TX is chilaquiles!! However, the concoction was a little different: It seems like the eggs are scrambled with the sauce and fried tortilla strips, then cheese is added toward the end, and the chilaquiles are thrown in a flour tortilla. If you're in the area, make sure to get Las Palapas's version of this awesome Mexican breakfast!!!

Comment submitted: 2/2/2007 (#1406)



From Angelito
It was as good as we had at the resort in Mexico! I used chihuahua cheese instead of cheddar. I scrambled eggs on the side and served them with salsa and the chilaquiles.

Comment submitted: 1/16/2007 (#1224)




---
Connect With Mr Breakfast: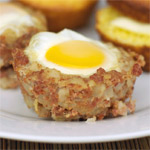 Meal In A Muffin Pan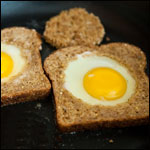 Egg In The Hole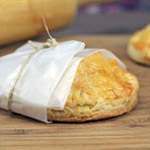 Breakfast Hand Pies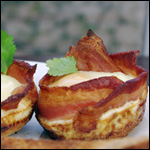 Bacon Breakfast Cups

When's the last time you had breakfast in a cup made of bacon?
Click here
.