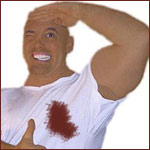 How To Remove Coffee Stains From Your Clothes
By Mr Breakfast
There's no need to cry over spilled coffee. Here's four easy ways to get coffee out of your clothes and get on with your breakfast:
Method One - Commercial Stain Remover
Saturate the dirty area with pretreatment laundry stain remover. Wait one minute for the product to penetrate the stain. Launder immediately.
Method Two - Vinegar
To remove coffee (and chocolate stains), mix one teaspoon of white vinegar in one quart of cold water. Sponge on stain and wipe clean.
Method Three - Egg Yolk Solution
Mix the yolk of an egg and a few drops of alcohol with a little warm water. Rub mixture on the stain with a sponge.
Method Four - Baking Soda
Sprinkle a little baking soda on a wet dishcloth to quickly remove coffee and tea stains.
Of the four methods, commercial stain removers do the best job. The other three are effective if you don't have access to laundry supplies -- a restaurant, for instance.
One final tip: if posssible
never let a coffee stain set
. The more dry the stain, the more rotten your chances are of removing it.
Stay clean. Stay cool.
This article was written by Mr Breakfast (aka Eddy Chavey).
The editorial content above may not be reproduced without the written permission of Mr Breakfast.com. Please contact us for reprint requests.
Connect With Mr Breakfast: