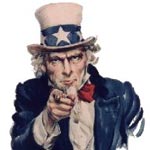 S.O.S. (Creamed Beef On Toast)
1 and 1/2 pound ground beef
1/2 cup flour
1/4 teaspoon pepper
1/2 teasppon salt
2 teaspoons beef-flavored instant bouillon (about 2 cubes)
3/4 cups nonfat dry milk and 3 cups warm water
1 teaspoon Worcestershire sauce
OPTIONAL: 3 and 1/2 cups whole milk can be used to replace dry milk and water
Brown the beef in its own fat in a skillet. Drain excess fat.
Add flour, pepper, salt and bouillon to beef; mix thoroughly and cook about 5 minutes or until flour is absorbed.
Reconstitute dry milk (mix with water); add to beef mixture. Add Worcestershire sauce; heat to a simmer, stirring frequently until thickened.
Serve over hot toast or biscuits.

Each branch of the U.S. Military has a different version of this recipe. It is affectionately referred to by our dogfaces as "Sh*t On A Shingle". S.O.S. made its debut about 1910. The recipe presented here is a home version of that served by the Army circa World War I.
Mr Breakfast would like to thank
Mr Breakfast
for this recipe.
Comments About This Recipe
What do you think of S.O.S. (Creamed Beef On Toast)?
Overall Average Rating =

(out of 5)




From mazzie
Actually, should be served on cold toast which is sturdier. I delete the Worcestershire sauce, use whole milk, increase the pepper and use only a half pound of ground beef, fatter the better. I understand the recipe is a blend of grease and dairy. It is essentially gravy of toast so not so much beef. Loved this #&@% (stuff) when I was in the Air Force.

Comment submitted: 9/24/2015 (#19563)





From jitterbug (Team Breakfast Member)
I was a Sentry Dog Handler in the Air Force and after a long cold night of Guarding B52's there was nothing like SOS with 4 eggs on top to warm the body and soul. Good Memories.

Comment submitted: 5/23/2015 (#19427)



From Spangdahlem
SOS -- My absolute favorite dish while sitting nuclear strike with an F-4E Phantom at Spangdahlem Air Base, Germany, during the heart of the Cold War... Yum,Yum!

Comment submitted: 4/5/2015 (#19350)



From Hank from FL
I was in the Army in the mid-50s. Loved this stuff. Look, I'm a pretty good cook, but this is one thing I don't try to "fancy up." I was never served chipped beef when I was in the Army. On toast for breakfast, that's the way we do it.

Comment submitted: 11/10/2014 (#19104)



From Success!
Now that was the stuff I remember my dad making for us as kids! He was a mess sergeant in WWII and Korea. I didn't have the bouillon (don't remember him using it either) so I added a dash more Worcestershire sauce, bam! Even my wife loved it! Never tried it for breakfast but now I know what to do with the leftovers! I'm going to make a few more gallons and take it to the VFW Hall for Memorial Day breakfast!

Comment submitted: 5/22/2014 (#18878)





From Don P (Team Breakfast Member)
I am retired from the Coast Guard SOS was always a favorite. We used to get together as a group and have it, usually after a night on the town... brought back a lot of memories. Good recipe. I added chopped boiled eggs to mine.

Comment submitted: 4/12/2014 (#18580)



From DebH.
Raised in the South, Daughter of an Army cook, soldier in the '80s (pulled KP first day in Basic), wife of AF retiree whose dad was Navy cook - this is the only dish I can't get right. Hubby won't touch "gravy" so he's no use and mom never fixed it. FYI: sausage gravy & creamed chipped beef are not true variants. I've never seen SOS anywhere but chow halls and homes. Try SOS or sausage gravy on pancakes with butter and syrup. I also use evaporated milk and water for these gravies... whole milk for basic bechamel.

Comment submitted: 1/27/2014 (#17275)



From Andy
Air Force midnight chow... two or three scrambled eggs, four pieces toast covered with SOS, a glass of cold milk topped with a cup of hot coffee... Best ever!

Comment submitted: 12/11/2013 (#17203)



From Emerson
We grew up on this too, but I don't remember having it for breakfast. It was always a dinner thing for us. It makes sense having it for breakfast... not sure why we never did. Anyway, I loved it. Haven't had it in a long time.

Comment submitted: 10/4/2013 (#16710)



From Jazzygirl1971
My dad made this for us when I was growing up. He was in the Army during the Vietnam era. I still make it today. The only difference, I use evaporated milk (PET or Carnation). Delicious!!

Comment submitted: 9/10/2013 (#16446)



From M.R.L.
There is more than one-way of making this delicious breakfast meal. The recipe here, calling for ground beef, is the first. There is also "Chipped Beef on Toast", which is made using "chipped beef" (beef sliced very thin, and seasoned with salt... often packed in a jar with a lid... very salty). The third kind is known as "Sausage Gravy over Toast", which uses ground sausage in place of ground beef. All three are considered very, very delicious.

Comment submitted: 7/9/2013 (#16136)



From z-force
Ate it for the first time in Vietnam in 71'and it was awesome!!!

Comment submitted: 6/6/2013 (#16009)



From C. Saunders
This was the only breakfast in the Air Force worth getting out of bed for.

Comment submitted: 5/26/2013 (#15945)



From Velma
Grew up on this as my dad was Air Force for 30 years and we ate "creamed beef" at least once a week. And this recipe is exactly the same :). Everyone in the family still makes it to this day. I also like it with an over easy egg on top or a slice of American cheese of course on toast.

Comment submitted: 9/23/2012 (#14460)



From TallTimber

Best meal in the chow hall. Midnight chow. Oh, the memories. I use the same recipe and substitute ground beef sometimes with breakfast sausage, or packaged sliced beef, or Hormel dried beef. They are all great.

Comment submitted: 5/21/2012 (#13932)





From MORRIS P (Team Breakfast Member)
If there was a breakfast contest, S.O.S. would win first place! It goes back to the American Army with the first President, General George Washington, that morning before he crossed the Delaware river.

Comment submitted: 5/3/2012 (#13868)





From Barbarainnc (Team Breakfast Member)
My dad was in the Marines and made this for us all the time. He used hamburger meat, flour, milk, a little soy sauce for color and taste and black pepper. No Bouillon or Worcestershire sauce. Still one of my favorite meals, I like it for breakfast or dinner. :) :)

Comment submitted: 2/27/2012 (#13589)



From Nancy
My mom used to make this for us and it was our favorite breakfast. Till this day I make it. Mom never added the bouillon and I gave it a try. Delicious. We always served it over homemade french toast. Give it a try. It really adds a different dimension to the meal.

Comment submitted: 9/15/2011 (#12909)





From Coozeman (Team Breakfast Member)
Made this exactly as written, was better than I've ever had! I put my dish together starting with two slices of buttered toast, lay 3 eggs over easy onto the toast, and completely cover the eggs and toast with the creamed beef, then throw two or three pats of butter on the beef, salt and lots of pepper, dig your fork and knife into the eggs and break the runny yolks!! It's heaven!!! Love it!

Comment submitted: 6/20/2011 (#12846)



From 5thAveJo
Thanks Mr Breakfast! I made this for my Army father-in-law and his reaction was seriously "Wow!" I scored some points with this one. I'd never had it before and I also liked it. Thanks... now I have to email this recipe to a super sweet old soldier (as requested). :)

Comment submitted: 6/7/2011 (#12770)



View all 47 comments for this recipe.



---
Connect With Mr Breakfast: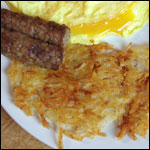 Crispy Hash Browns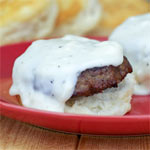 Country-Style Pepper Gravy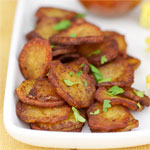 Cinnamon Potatoes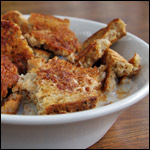 Milk Toast

When's the last time you had breakfast in a cup made of bacon?
Click here
.