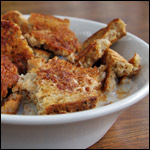 Milk Toast
4 slices of toast
4 pats of butter
1 tsp cinnamon and sugar
1/2 cup milk
Heat milk on low.
Butter toast as you usually would and sprinkle each piece with cinnamon and sugar. Tear the toast into bite-sized pieces and place in two cereal bowls.
Pour warm milk over toast pieces.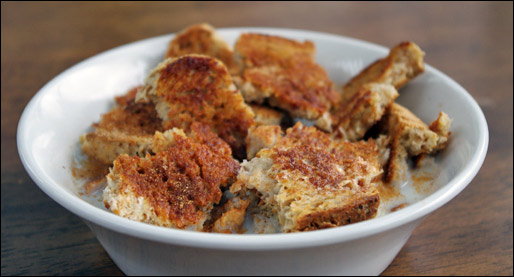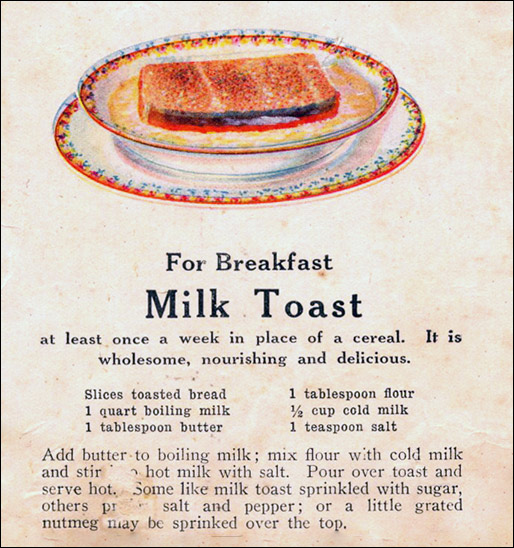 Here's an alternative version of Milk Toast where the toast is left whole and a little flour is added to the milk:
Vintage Milk Toast Recipe
- slices toasted bread
- 1 quart boiling milk
- 1 Tablespoon butter
- 1 Tablespoon flour
- 1/2 cup cold milk
- 1 teaspoon salt
Add butter to boiling milk; mix flour with cold milk and stir into hot milk with salt. Pour over toast and serve hot. Some like milk toast sprinkled with sugar, others prefer salt and pepper; or a little grated nutmeg may be sprinkled over the top.

In the early 1900s, Milk Toast was popular fare for children and the ailing. It is still popular today among poor families and singles.
Mr Breakfast would like to thank
Mr Breakfast
for this recipe.
Comments About This Recipe
What do you think of Milk Toast?
Overall Average Rating =

(out of 5)




From Emma
I remember my great grandmother making milk toast all the time, but I'm pretty sure she made it with buttered toast and a little warm milk over it. No sugar or cinnamon. I still make to this day and I'm in my 30's.

Comment submitted: 2/5/2016 (#19783)



From dave64
Toast and warm milk... that's all you need.

Comment submitted: 1/29/2016 (#19774)



From ReviewerLee

My mother's milk toast was simple... just warm milk with butter which we ladled over the toast then added a little salt and pepper. Yes, we had this mainly when we were feeling a little under the weather. Brings back delicious, warm memories.

Comment submitted: 12/28/2015 (#19719)



From Bfastfan64

Gross poverty food. Stop acting like it's delicious.

Comment submitted: 10/25/2015 (#19604)



From Robinanne
I am 59 and have eaten milk toast since I was a kid. My mom buttered toast, cut it into pieces and poured warm milk with a little more butter over it. I never thought to add sugar because I love the buttery taste.

Comment submitted: 9/20/2015 (#19552)



From justoldjim
I have eaten milk toast for 70+ years. I bring milk sweetened to taste almost to a boil and then add a little vanilla and toasted bread. Yum!

Comment submitted: 4/28/2015 (#19386)



From Mom Method
My mother used to make the thickened milk variety and added dried beef to it (no sugar). We all liked it!

Comment submitted: 4/16/2015 (#19367)



From I Luv Breakfast

Sounds so warm and comforting! I want to go make some right now. :)

Comment submitted: 3/24/2015 (#19333)



From Pete-2

I like milk toast, but I don't make it sweet. The bread slices of toast are already sweet enough. I like the hot salty, buttery milk... Don't forget the grindings of pepper! Simple.

Comment submitted: 3/16/2015 (#19325)



From Grammie Mae
I love milk toast, although I can't imagine needing a 'recipe' for it, lol! I was born in the early '50s and it's what we ate if we had an upset stomach. Heat milk and pour over two or three slices of toast, add butter, salt & pepper. Never measured anything. That's it! But definitely never added cinnamon or sugar. I'm now single, live alone, and I still make it every so often, sometimes for lunch, sometimes for dinner - great anytime and an inexpensive meal. And yes, it IS comfort food. Ahh, nostalgia and better times back then!

Comment submitted: 1/19/2015 (#19219)



From Lil brat
Ok, none of these recipe are what my mom made. She was from Maine and her milk toast was made with milk and I think cream of tater and pepper and then poured over toast... I really wish I could remember that recipe!

Comment submitted: 11/21/2014 (#19119)



From kitrik23

How can that taste good? Here is my family's recipe which is sure to please. The measurements aren't exact: 2 cups milk, 1/2 cup brown sugar, 2 teaspoons cinnamon, 1 teaspoon vanilla... add corn starch to thicken. Put that on toast and your loving it. Trust me.

Comment submitted: 11/2/2014 (#19093)



From missmouse
When we were sick, this was breakfast. No cinnamon and sugar though, just buttered toast with warm milk over it.

Comment submitted: 10/31/2014 (#19090)



From Linda
My Mom also used to make us plain milk toast (no cinnamon on it) when we were feeling under the weather but she would top it with a soft boiled egg or two.

Comment submitted: 10/23/2014 (#19072)



From Single

I had to laugh at the comment at the end of the recipe that this food is still comfort food today among poor families and singles. I know no singles who eat milk toast. LOL!

Comment submitted: 10/21/2014 (#19069)



From S. Stacey
Comfort food at its best. My version: Heat milk with a broken egg yoke, add salt and pepper with a pad or two of butter. Bring almost to a boil. Break up two slices of toast in a bowl and pore over the milk. Loved it as a kid, love it as a adult, love it till the day I die.

Comment submitted: 10/17/2014 (#19056)





From cyndilou (Team Breakfast Member)
I grew up eating toast with butter, sugar and cinnamon... and then we'd put the warm milk on the toast. Better then most cereals. I still eat it and now I've got my grand kids eating it.

Comment submitted: 9/28/2014 (#19016)



From D.P.

I'm 81 now. I can remember mom making this for my dad when he didn't feel well. Just hot milk over toast with a pat of butter and a sprinkle of sugar. No flour ever added. Don't remember eating it myself, don't know why. But I'm gonna go make some right now and give it a try.

Comment submitted: 9/5/2014 (#18982)



From deedee
Just this morning at breakfast, I was telling my husband about the milk toast that my grandmother used to fix for breakfast years ago (late 1950s). I haven't seen or heard of it in years, so I searched and found this link. I'll have to try the recipe out on my husband!

Comment submitted: 9/1/2014 (#18973)



From wizzette
My grandmother made Milk Toast for me whenever I didn't feel good. Which could be often because I loved it. And, still do! Thank you for sharing!

Comment submitted: 8/27/2014 (#18964)



View all 91 comments for this recipe.



---
Connect With Mr Breakfast: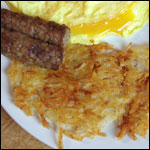 Crispy Hash Browns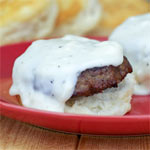 Country-Style Pepper Gravy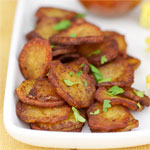 Cinnamon Potatoes

All you need to know. The basics and beyond!
Click here
.