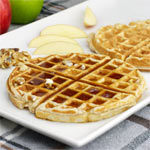 Apple Cinnamon Waffles
2 cups all-purpose flour
3 Tablespoons sugar
2 teaspoons baking powder
1/2 teaspoon salt
2 large eggs - separated
1 and 1/4 cups milk
1/3 cup vegetable oil
1 apple - finely sliced
2 teaspoons cinnamon
I liked this recipe quite a bit. It has loads of flavor and no matter how small you dice the apples, you still get bites with just the lightest welcome crunch. I topped my servings with pure maple syrup. Like I always say... if you take the time to make waffles from scratch, you should top them with the good stuff. Walnuts made the perfect garnish. I got 5 (almost 6) round waffles from the ingredients listed. Thanks to 'Sarah_12' for giving us this recipe. (Tested and photographed by Mr Breakfast in June 2013.)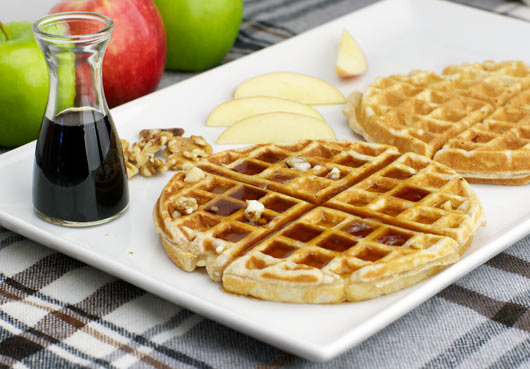 How To Make Apple Cinnamon Waffles
Sift together flour, sugar, baking powder, and salt. Set aside.
In a small bowl, beat egg whites until stiff; set aside.
In a medium bowl, beat egg yolks well. Stir in milk.
Add sifted dry ingredients to egg yolks and mix until moistened (be careful not to over mix).
Add vegetable oil. Fold in egg whites.
Pour cinnamon in mixture. Stir.
Add apples. Blend lightly into mixture.
Bake in preheated waffle maker for at least 4 to 5 minutes, until crisp and brown.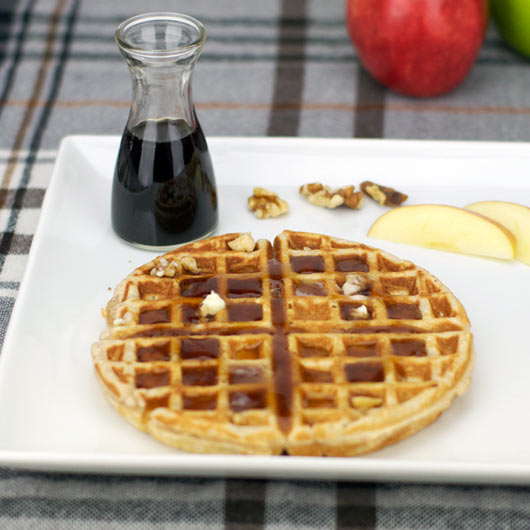 You can also try adding different fruits and spices instead of apple and cinnamon. For toppings, maple syrup is great, as is apple sauce and a dollop of whipping cream.
Mr Breakfast would like to thank
Sarah_12
for this recipe.
Comments About This Recipe
What do you think of Apple Cinnamon Waffles?
Overall Average Rating =

(out of 5)




From Kim (LilMama)
As a kid, I loved the Eggos Apple Cinnamon Waffles but now I can't find them anymore so I figured I would make them on my own and this worked perfect. They are better than Eggos. LOVE THEM!

Comment submitted: 3/3/2015 (#19304)



From Cartman60
My batter came out very heavy and stiff, checked my measurements and they were spot on. Needed more milk I would say. Flavor was pretty good, maybe a few drops of apple flavoring to push it over the top.

Comment submitted: 3/1/2015 (#19300)



From Graig

Don't over-mix, but add the oil after the dry ingredients have been mixed with the egg yolk mix? Bad idea. What a mess.

Comment submitted: 2/21/2015 (#19281)



From Maria
Loved this! I added some vanilla extract in the mix and it turned out great ;)

Comment submitted: 1/21/2015 (#19221)



From Mel G.
Not bad.

Comment submitted: 11/13/2014 (#19107)



From Vicki
So tasty. I served mine with an apple cider syrup.

Comment submitted: 11/4/2014 (#19097)





From Brownsugar (Team Breakfast Member)

Would love to email this to myself. How?

Note From Mr Breakfast: You can use the "share" button above the recipe title and it will give you the option to email the recipe. Thanks for the question.

Comment submitted: 10/18/2014 (#19061)



From K. J.
Omg... I just made this and my husband and son loved it as well as I. The only thing is that I didn't make a double batch. I got 4 waffle. I could have gotten 5 waffles out of it but I second guessed.

Comment submitted: 9/13/2014 (#18993)



From Starr4
I tried this recipe today. It was delicious! I actually grated my apple and it cooked perfectly in the waffles :)

Comment submitted: 2/24/2014 (#17326)



From Brody
Add apple slices separately, one to each section of the waffles. Or dice the apples so they spread out more evenly when you pour the batter into the iron.

Comment submitted: 7/23/2013 (#16196)



From shoe
Our favorite new, go-to waffles. Thanks! They are the very best!

Comment submitted: 7/21/2013 (#16188)



From Lisa6
Awesome, Easy, Delicious Recipe. Came out perfect!!

Comment submitted: 6/1/2013 (#15982)





From Crpaez (Team Breakfast Member)
I love to make this waffle recipe. It's easy and quick. Thanks!

Comment submitted: 4/17/2013 (#15696)





From Plugger602 (Team Breakfast Member)

What would be the best kind of apples to use on this recipe?

Comment submitted: 3/28/2013 (#15500)



From Marko H.
Good stuff! I especially like the edges where bits of apple touch the waffle plates and get a little caramelized. We just used butter and maple syrup for the topping.

Comment submitted: 11/19/2012 (#14879)



From kimm
These came out perfect, with no substitutions. Wish I'd have read the comments and added a bit of vanilla, though. I don't make waffles often, but I'll keep this recipe around.

Comment submitted: 10/14/2012 (#14630)



From Beth H.

Can you freeze these waffles? They seem really nice!

Comment submitted: 1/7/2012 (#13399)



From durante
Thumbs up! Made as directed except softened the apples first like the comment from Justine suggested. Served with maple syrup. Everyone like it.

Comment submitted: 1/5/2012 (#13389)



From justine
I like to soften the apple by cooking the pieces in a small sauce pan with just a teaspoon or two of butter. I think the softer texture works better in the waffles, plus it ends up having more of an apple pie flavor as opposed to a fresh apple flavor.

Comment submitted: 11/2/2011 (#13104)



From Tasha
Easy recipe. Tastes great! I added 2 TBS wheat germ, 1 tsp vanilla, 1 tbs sugar (as recommended by others) and shredded the apple. Very good. Needed to add more milk probably because of the wheat germ. Very tasty. Cinnamon was just right as stated in the recipe. Not too strong. My daughter (picky and preschooler) LOVED it!

Comment submitted: 4/3/2011 (#12384)



View all 57 comments for this recipe.



---
Connect With Mr Breakfast: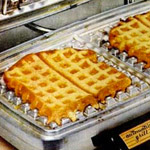 Bread-N-Butter Waffles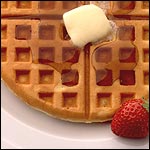 Reliable Basic Waffles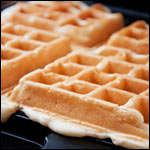 Cinnamon Waffles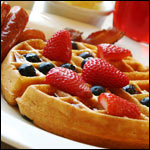 Whole Wheat Waffles

When's the last time you had breakfast in a cup made of bacon?
Click here
.