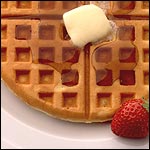 Best Waffles Ever
1 and 3/4 cups flour
2 teaspoons baking powder
1 Tablespoon sugar
1/2 teaspoon salt
3 beaten egg yolks
1 and 3/4 cups milk
1/2 cup vegetable oil
3 egg whites - beaten stiffly
Mix all dry ingredients. Combine yolks and milk. Stir into dry ingredients. Stir in oil and mix. GENTLY fold in beaten egg whites, do not over mix.
Pour about 1/2 cup at a time into waffle iron.

So light and so fluffy! This is the best-reviewed waffle recipe on MrBreakfast.com.
Mr Breakfast would like to thank
Mr Breakfast
for this recipe.
Comments About This Recipe
What do you think of Best Waffles Ever?
Overall Average Rating =

(out of 5)




From hatty
The moment I tried this recipe I HAD to save it. Winner!

Comment submitted: 11/21/2015 (#19660)



From Gabby
Another winner. Two days ago I made your pancakes. Today these. This was the best waffle I've ever eaten.

Comment submitted: 11/13/2015 (#19652)



From Kim8
I used this recipe to serve to guests at a breakfast buffet. The guests could choose their toppings, maple syrup, chocolate sauce, cream cheese glaze, crushed french vanilla almonds, raspberries and flaked almond crumble. Will definitely make again and be a bit more adventurous - maybe add banana and chocolate bits or raspberry and white chocolate... the fillings are only as wild as the imagination!

Comment submitted: 11/13/2015 (#19650)



From MrsAtoZ
This is the only waffle recipe I make now. Beating the egg whites until stiff is the key and well worth the extra effort, I think! The outside is nice and crispy, but the waffle is so light.

Comment submitted: 11/5/2015 (#19626)



From Brooke
I have been searching for the PERFECT waffle recipe forever. Every one I've tried so far has wound up dry and required a ton of syrup. THIS IS IT. I HAVE FOUND MY RECIPE! Absolutely amazing! I did add vanilla, and used golden malted flour vs regular. Super YUM!

Comment submitted: 11/1/2015 (#19613)



From Keeth
Very good waffles. Easy to make and never fails. Freezes well too.

Comment submitted: 10/24/2015 (#19603)



From grandma23
The grandkids love these waffles! Grandpa loves them too.

Comment submitted: 10/20/2015 (#19596)



From H. Isham

Liked very much, but might use just 2 egg whites and 2 egg yolks next time. Texture was just right though.

Comment submitted: 10/4/2015 (#19581)



From Paulina D.
Just got my waffle maker and this was the first recipe I tried. It was easy. We were very happy. Thanks.

Comment submitted: 9/25/2015 (#19565)



From Emily #1
We loved these waffles! Added a teaspoon of vanilla to the wet ingredients and they cooked up light and crispy. Freeze beautifully, reheat in toaster oven. Made six 8 inch round Belgian style waffles. Definitely will use again. One hint... if you're waiting for everyone to wake up before making waffles, prepare wet and dry ingredients and beat egg whites and keep everything separate until time to cook waffles.

Comment submitted: 9/9/2015 (#19542)



From Gibby
Fast, easy and AMAZING! I added chocolate chips to my waffles.

Comment submitted: 9/8/2015 (#19540)



From Connor
My wife and I have tested a large number of waffle recipes for our go to Sunday breakfast. I am happy to say that we do not have to look any further after trying this recipe! We are both used to using a good amount of syrup, but even with a very small amount, these were still delicious. Next, I am going to try using a small amount of homemade lime syrup with a light dusting of powdered sugar.

Comment submitted: 7/26/2015 (#19488)



From Nova
Light and crispy just how a waffle should be. I served them with homemade raspberry sauce and whipped cream... OMG to die for!!

Comment submitted: 7/3/2015 (#19467)



From K. Rydell
I make these all of the time now. Never fails.

Comment submitted: 7/2/2015 (#19466)



From DatsDaTruth
I tasted why this is the best rated waffle recipe. They are the Bomb! My wife said these don't even need syrup.

Comment submitted: 6/28/2015 (#19463)



From Captain Cook
Had breakfast for dinner tonight. These were showcased. A great recipe. IT IS BOOKMARKED!

Comment submitted: 6/26/2015 (#19461)



From Natalie

I thought the batter needed more milk and more sugar.

Comment submitted: 5/24/2015 (#19429)



From B.E. Waffle
I changed the recipe a bit and it is so delicious! My ingredients are: 1 and 3/4 cups spelt flour, 2 teaspoons baking powder, 1 Tablespoon sugar, 1/2 teaspoon salt, 3 beaten egg yolks, 3 stiffly beaten egg whites, 1 and 3/4 cups milk, 1/2 cup coconut oil, 1 Tablespoon Vanilla, 1 ripe mashed banana and 1 Tablespoon corn starch.

Comment submitted: 5/18/2015 (#19415)



From Kmomof3
These waffles are the best I've ever had! I'm so glad I found this recipe! They're great even if you freeze and toast them later.

Comment submitted: 5/18/2015 (#19414)



From Good Night
I just made these tonight and they turned out great. I also added some vanilla essence. It was very easy to make.

Comment submitted: 5/13/2015 (#19408)



View all 385 comments for this recipe.



---
Connect With Mr Breakfast: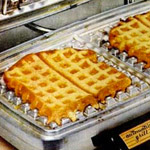 Bread-N-Butter Waffles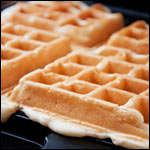 Cinnamon Waffles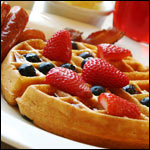 Whole Wheat Waffles

All you need to know. The basics and beyond!
Click here
.