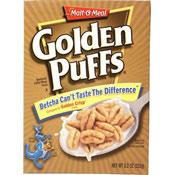 From: Malt-O-Meal
Introduced in 1980
This cereal is often promoted as a value alternative to Post's Golden Crisp cereal. According to Malt-O-Meal's website in 2011, "Golden Puffs cereal is crowd pleaser made from puffed wheat sweetened with the natural sweet taste of honey!"
Company Description:
The Malt-O-Meal Company dates back to 1919 when John S. Campbell developed a hot wheat breakfast cereal he called Malt-O-Meal. The company officially adopted the name The Malt-O-Meal Company in 1953. By 1965, the company had entered the ready-to-eat non-hot breakfast sector with the introduction of Puffed Rice and Puffed Wheat cereals....
Read on and see all cereals from Malt-O-Meal
---
Golden Puffs Cereal Theater

Now Showing: 1990's Malt-O-Meal Cereals Ad
---
Comments About This Cereal
What do you think of Golden Puffs?

Overall Average Rating = 4 (out of 5)

By TKO


| | |
| --- | --- |
| Cereal Rating (out of 5): | |

Golden Puffs are really good and I know I'm young but this is like almost the only cereal I will eat actually. I am eating some right now, ha ha, but I think that this cereal is really good and my whole family thinks the same thing.

Comment submitted: 7/6/2015 (#19200)





By DeschutesCore (Team Breakfast Member)


| | |
| --- | --- |
| Cereal Rating (out of 5): | |

38 ounce bagged cereal for $2.99? Same great taste as Sugar Smacks in the 80's? Did I just finish a second bowl? Yes, yes and yes.

Comment submitted: 8/29/2014 (#17577)



By Walla

I was trying to see if there was any recipes out there to make with my Malt O Meal Golden Puffs cereal. Does anyone know of any?

Comment submitted: 3/20/2014 (#16424)



By Ernie


| | |
| --- | --- |
| Cereal Rating (out of 5): | |

I'm diggin' getting the same taste as Sugar Smacks and Super Sugar Crisp at such a great price!

Comment submitted: 11/24/2013 (#15393)



By Mojo5


| | |
| --- | --- |
| Cereal Rating (out of 5): | |

It's actually better than Golden Crisp because it tastes more like the old Super Sugar Crisp from the 70's. I love it!

Comment submitted: 10/18/2012 (#9579)



By Newmeyer


| | |
| --- | --- |
| Cereal Rating (out of 5): | |

Best cereal in the world. Not only does it taste like Honey Smacks, I think it tastes like the old days of Sugar Smacks. In this case, it's better than the original.

Comment submitted: 3/13/2012 (#6828)



By busta


| | |
| --- | --- |
| Cereal Rating (out of 5): | |

I love this cereal. It's every bit as good as Super Sugar Crisp or Golden Crisp or whatever they're calling it these days and it was less than two dollars last time I got it.

Comment submitted: 9/27/2011 (#5360)



By p. sport


| | |
| --- | --- |
| Cereal Rating (out of 5): | |

This cereal is disgusting and should not be sold.

Comment submitted: 6/28/2010 (#2363)



By Issac & Breezy

Amazing cereal! Isaac and Breezy approve this message!

Comment submitted: 3/5/2010 (#1547)



By Hi-Fi- Sci


| | |
| --- | --- |
| Cereal Rating (out of 5): | |

Golden puffs are one of the worst cereals you can eat. They have excess amounts of sugar, carbs,and sodium. In Dec. 2009, a breaking discovery in science found that eating 3/4 a bowl of this cereal was the same as consuming 2 big macs, 3 small fries, and a 8 oz. glass of coca-cola. This is not healthy for you.

Comment submitted: 2/26/2010 (#1484)