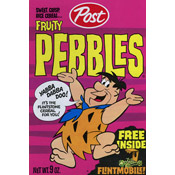 From: Post
Introduced in 1969
This cereal was introduced as simply "Pebbles" in 1969. The recipe was a modified version of Post's Rice Krinkles cereal which disappeared about the same time Pebbles was created.
While Rice Krinkes had a definite puffed rice appearance, this new cereal had smaller pieces that actually looked like little rocks.
A happy coincidence happened when the creators of the animated television series
The Flintstones
sent out word that they were seeking licensing partners. During the first year of the show (1960),
The Flintstones
was aimed at adult audiences and Winston cigarettes was its biggest sponsor. In an effort to increase its appeal to children and advertisers pandering to children,
The Flintstones
added two children to it's animated cast, Pebble and Bamm-Bamm.
The changes worked and the show was a hit with both kids and adults until 1966 when the show was canceled.
Three years later in 1969, the characters of the show had no show and no where to go. Little did
The Flintstone
characters know... they were about to become breakfast cereal superstars.
The new cereal that looked like pebbles and the cartoon that had character named Pebbles was a cereal match made in heaven. In 1970, the name of Pebbles cereal was changed to Fruity Pebbles and the first of many Pebbles variations appeared, Cocoa Pebbles.
It's nearly 50 years since the character of Fred Flintstone debuted and he's still playing a starring roll on Fruity Pebbles cereal boxes. While TV commercials starring Fred and his neighbor Barney Rubble had their heyday in the 70's and 80's, you can still occasionally catch Flintstones characters hawking Post cereals.
Bonus Recipe:
Pebbles Snow People
Click here
to see all cereals from Post.
This cereal belongs to the following Mr Breakfast Cereal Families:
The The Flintstones Cereal Family
Fruity Pebbles Cereal Theater
Additional Images
These are the most recent images. Click here to see all pictures for Fruity Pebbles.
There's More Pictures! See all images for Fruity Pebbles cereal
Upload an image for this cereal

Overall Average Rating = 3 (out of 5)

View all 11 comments for this cereal.




By TopCat123 (Team Breakfast Member)


| | |
| --- | --- |
| Cereal Rating (out of 5): | |

I used to hate eating this cereal until I was on a blood type diet and I figured that it was my number 1 favorite now that I can't eat wheat or corn. (O+)

Comment submitted: 1/15/2013 (#10391)



By manofmystery


| | |
| --- | --- |
| Cereal Rating (out of 5): | |

Cocoa Peebles are one of my favorites (and the cereal I most regular buy) but their Fruity brother is disgusting. I've never found a more unpleasant tasting fruit-flavored cereal.

Comment submitted: 9/4/2012 (#9041)



By reggie7


| | |
| --- | --- |
| Cereal Rating (out of 5): | |

I love Fruity Pebbles. No cereal can replace it. I could eat a whole box in a day lol. They are so good!

Comment submitted: 7/30/2012 (#8652)





By MyEmptyCanvas (Team Breakfast Member)


| | |
| --- | --- |
| Cereal Rating (out of 5): | |

Fruity Pebbles... NO! This is on my top 10 cereals that I hate list. LOL & to those that can't find it... I see big boxes of the stuff at Super Walmarts and local grocery stores all the time. I travel A LOT! (myemptycanvasreviews.blogspot.com)

Comment submitted: 6/21/2012 (#8119)





By Mcchevy (Team Breakfast Member)


| | |
| --- | --- |
| Cereal Rating (out of 5): | |

I want Fruity Pebbles again, but I can't find it in my regular store. I checked the Post website and there's no evidence that they're discontinuing it. What's going on? I'm really craving it lately.

Comment submitted: 3/5/2012 (#6694)





By Mcchevy (Team Breakfast Member)

I like Cocoa Pebbles better, but there's something about the taste of these that really reminds me of being a little kid watching cartoons on Saturday morning. A very distinctive taste and smell that wakes up happy memories.

Comment submitted: 2/15/2012 (#6516)



By Gary

Fruity Pebbles or Cocoa Pebbles? Which do you like best? Discuss. I was always a Cocoa Pebbles man myself, but I do appreciate the other one.

Comment submitted: 2/6/2012 (#6438)



By b.c.h.


| | |
| --- | --- |
| Cereal Rating (out of 5): | |

I've eaten fruity pebbles all my life. It is my favorite cereal. However, the last two boxes I have purchased have been barely tolerable imo. Something about the texture. Its as if they have tried to put something in the cereal to keep it from going soggy but the result is almost a stale texture and taste. I'm very unhappy!

Comment submitted: 8/18/2010 (#2679)



By iowolfman


| | |
| --- | --- |
| Cereal Rating (out of 5): | |

I'll just say this - I love my Fruity Pebbles but the last two boxes I got was stall bad and I'm not happy with that at all. My email is iowolfman@gmail.com So now you tell what up with that plsssss.

Comment submitted: 2/16/2010 (#1441)



By Tig1


| | |
| --- | --- |
| Cereal Rating (out of 5): | |

I liked this cereal until they changed the recipe. Now it turns to glue in like 20 seconds! tig1

Comment submitted: 9/13/2009 (#558)



View all 11 comments for this cereal.