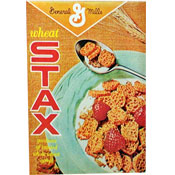 From: General Mills
Introduced in 1966
Wheat Stax cereal, often just referred to as Stax cereal, was made up of flat, near-square pieces that resembled misshapen Honeycomb pieces with lots of nooks and crannies.
Television ads for the cereal featured actors stacking pieces of Stax cereal.
The cereal was referred to in ads as "the cereal for adults". One of the cereal's tag lines went something like, "Stax, the cereal that is toasted in places where other cereals don't have places!"
We know that the following actions occurred in various Stax commercials:
1) man stacks these flat cereal bits
2) man is measuring sides of this crispy whole wheat cereal
3) man chews crunchy new cereal
4) man eats cereal and stacks it, too
5) man eats cereal
6) woman eats and stacks the flakes
A magazine ad for Wheat Stax had the following text:
Now there's a cereal you can stack

Once you stop snacking and start eating you'll find there's more to STAX than stacking. New Wheat Stax really taste good. They're bite-sized chunks of toasted whole wheat. Cruncher because they're toasted on the bottom, top, sides - even inside. They're the toastiest, tastiest, crunchiest, stackiest cereal you've ever tasted.
Click here
to see all cereals from General Mills.
Additional Images
Title:
Wheat Stax Cereal Advertisement
Submitter: Heather_S
Uploaded: 3/23/2009
Additional details
Upload an image for this cereal
Comments About This Cereal
What do you think of Wheat Stax?

Overall Average Rating = 5 (out of 5)

View all 34 comments for this cereal.




By 1greatguy (Team Breakfast Member)


| | |
| --- | --- |
| Cereal Rating (out of 5): | |

I loved this cereal back in the 60's. It had a good wheat taste to it, better than the Wheaties taste at that time. You did have to be careful eating it sometimes because some pieces seemed to be over-baked. Altogether, this is one cereal that I wish had never gone away, I really enjoyed it!

Comment submitted: 2/20/2013 (#10926)



By chompers


| | |
| --- | --- |
| Cereal Rating (out of 5): | |

I thought they were very good. This is another cereal that I wish would make a comeback.

Comment submitted: 1/8/2013 (#10326)



By MizA


| | |
| --- | --- |
| Cereal Rating (out of 5): | |

I loved this cereal, and the box backs were pretty amusing, too. I remember: "We had these in Russia, only we called them Steppes."

Comment submitted: 11/19/2012 (#9978)



By Vit-a-men


| | |
| --- | --- |
| Cereal Rating (out of 5): | |

This stuff would cut your gums and make them bleed. That's why it went off the market. SNL made a skit about a breakfast cereal that was made of rocks and broke your teeth; this must have been the one they were spoofing!

Comment submitted: 7/21/2012 (#8556)



By consfine


| | |
| --- | --- |
| Cereal Rating (out of 5): | |

I only tried one box and loved it. It was my favorite ceral and when I went back to get another it was gone for good. Would love to see it come back.

Comment submitted: 7/11/2012 (#8442)



By Ken XXV

I remember STAX Cereal as being VERY tasty. I also wish it would be made available again. It's certainly better than most of the cereals currently being sold.

Comment submitted: 6/11/2012 (#7986)



By Red R.

The best cereal ever. I wish they would bring it back! Btw... me and my brother would try to stack the Stax, but we only ever got 5 pieces high. They must have been glued together in the advertisements.

Comment submitted: 5/6/2012 (#7576)



By Harry L.

I agree. I still think about Stax today - nearly 50 years later. It is time for a comeback.

Comment submitted: 4/12/2012 (#7119)





By Dreck (Team Breakfast Member)


| | |
| --- | --- |
| Cereal Rating (out of 5): | |

Yep, mom bought it and despite all the sugar stuff out there that I ate, this was my favorite, then poof... It was gone! Off the shelves.

Comment submitted: 2/15/2012 (#6522)



By fun but bad


| | |
| --- | --- |
| Cereal Rating (out of 5): | |

I must be the only one who disagrees about Stax cereal; to me it tasted like dusty cardboard and the only reason I ate it was because the ads were so clever. People kept stacking up the cereal squares, one guy explained "Of course I'm stacking it, it's called STAX. If you were supposed to eat it, it'd be called EATS." Sadly, he had a point, it really was more fun to stack up the little squares than eat them, they were like stale graham crackers. Still, I wouldn't mind seeing it on the shelves again.

Comment submitted: 1/17/2012 (#6211)



View all 34 comments for this cereal.