How To Make Granola With Clusters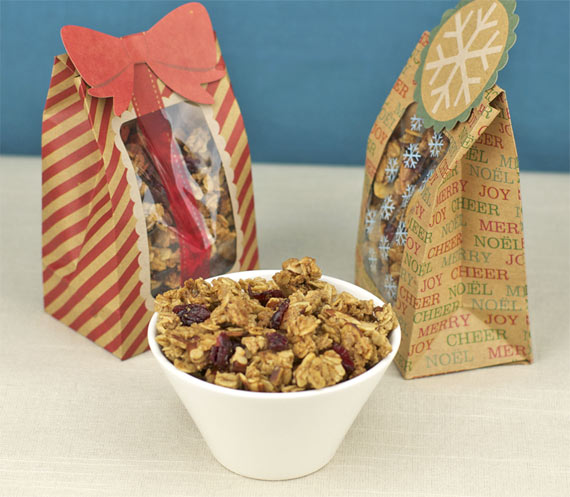 It's beginning to look a lot like Christmas… in my kitchen.  It smells a lot like Christmas too.  I just made homemade granola with nutmeg, cinnamon and cranberries.  I found some adorable little gift bags at Target in the dollar section.  They have a clear plastic front so friends can see the granola – as if the oats were pressing against the window to say, "Happy Holidays! Let me out of here!"
Since I'm giving granola to friends, I thought it would be nice to give some to you, my reader-friend.  Your holiday granola comes in the form of advice.  Like the old saying goes, "Give a guy granola and he'll eat for a day.  Give a guy granola advice and he'll eat for a lifetime."
I've been making granola for several years, but it's only been in the last few that I've consistently made the kind of granola that I enjoy the most.  To me, the best granola has distinct clusters – little nuggets of crispy, clumped oats (and other good things) that crunch when you bite them.  It makes the best granola for snacking and even better granola for dousing with milk. So…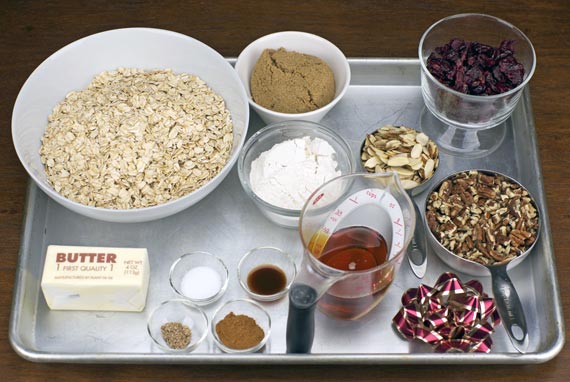 The Secret To Making Granola With Clusters
And the secret is…
It's flour.  Just regular plain old all-purpose flour.
The ingredients in granola are very similar to those in an oatmeal cookie, minus the flour, egg and excess sugar.  If you take just one of those components (the flour) and add it to granola ingredients, you suddenly get random instances of a cookie-like quality… the clusters.  The flour helps bind some of the oats (and nuts, etc.) together.
It doesn't take much.  A ratio of 1 part flour to 5 parts oats works best for me.  In real terms, that equates to a 1/2 cup flour to 2 and 1/2 cups oats in most of the recipe I use.  (Actual recipes below.)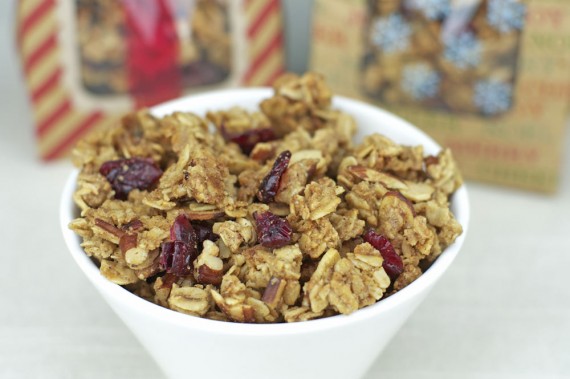 More Tips For Making Successful Granola
Mix with your hands.  Any decent granola recipe will present you with a point where you mix the dry ingredients with the wet ingredients.  At this point, ditch the spoons and spatulas.  Get your hands right in there and gently squeeze the ingredients together.  Stop as soon as everything is moistened.  Since we are dealing with flour now, you want to avoid over-mixing.  The human hand squeeze technique further helps to create clusters in the final product.
Don't overcook it.  Most of my recipes call for 15 minutes of cooking at 325, flipping the granola and then cooking it 15 minutes more.  In my early days, this always freaked me out.  After 30 minutes, the granola still seems slightly moist and hardly crisp at all.  Trust me on this… pull that granola out of the oven.  The majority of crisping happens as the granola cools.  Let it set 15 minutes and get to crunching.
Add raisins or dried fruit at the end.  Nuts love the oven.  They get, as one might say, "oven-roasted" and even tastier.  Dried fruit doesn't fare as well.  It's already dry and it just gets more dry in the oven… and tough and chewy.  It probably goes without saying, but anything that can melt, like chocolate chips, should be added after the granola has completely cooled.
Use vanilla.  Vanilla is a lot like salt in that it adds something to the flavor of food even if you don't recognize the flavor as vanilla.  It helps bring out the best of other flavors.  I'm surprised how many granola recipes I see without a touch of vanilla.  I say add vanilla to everything.  A quarter teaspoon is all you need. I usually do a half.
Try maple syrup.  I used to be a honey guy.  Mind you, I'm still a "honey of a guy" as the ladies say (ladies in the 1920's, maybe), but for as much as I love honey, its flavor is pretty basic when it's cooked down.  It tends to translate to a nondescript sweetness.  I now use maple syrup in place of honey in most of my recipes. It adds a warmth, complexity and notes of awesome maple flavor.  Even if I'm using a recipe that's better suited for honey, I'll replace 1/3 of that honey with maple syrup to add a dash of mystery.  Then, it becomes like vanilla in the way that vanilla is like salt in the previous paragraph.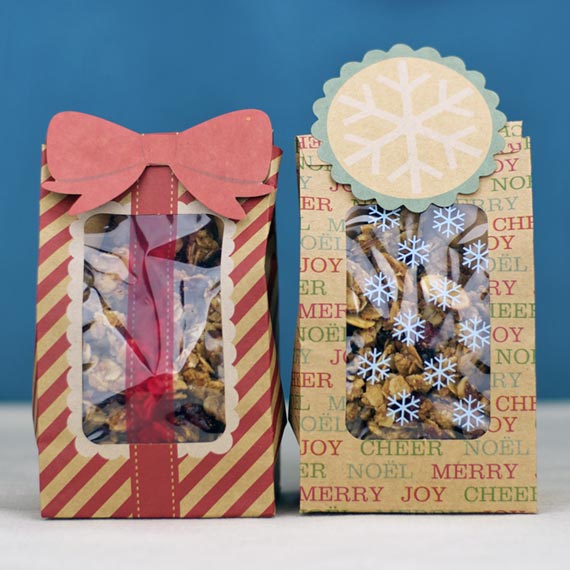 The Recipes:
Here's two of my favorite recipes that make granola with lots of clusters.
Holiday Spice Granola With Cranberries
You can find more granola recipes in The Homemade Cereal Section of MrBreakfast.com.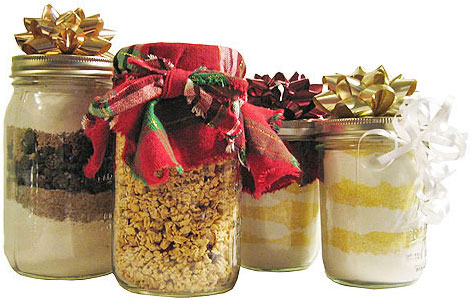 For tips on turning homemade granola into cool Christmas gifts, check out the part of the site called Breakfast In A Jar!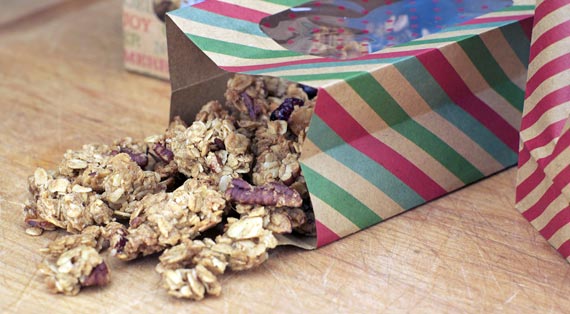 Happy Holidays Everybody!
You Might Also Like: