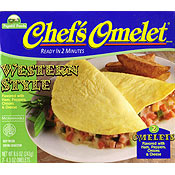 New Product Review:
Chef's Omelet
From Papetti Foods
Reviewed by Mr Breakfast on 10/21/2004
I tried two varieties of Chef's Omelets: Three Cheese and Western Style. I'm glad to report that I enjoyed both. Naturally, I was skeptical. The microwave and the egg have never been the best of buddies. Eggs prepared in the microwave have nasty habit of turning out gummy and slightly green. This was not the case at all with this product. The food additive "Annatto" helped these eggs to maintain a beautiful golden yellow color. The texture of the egg was similar to omelets cooked in a fry pan. As for the fillings, I preferred the three cheese variety. It was how do I say... cheesy... very cheesy. The ham in the western variety was a little synthetic for my taste - but I have to admit that I'm nit-picking in an effort to say something negative about these omelets. They are very good.
The price we paid: $2.49
Comments About This Product Review
What do you think of Chef's Omelet?
By Missing Omelet


| | |
| --- | --- |
| Product Rating (out of 5): | |

Suddenly I can no longer find them. Why? Why? Why?

Comment submitted: 8/7/2014 (#5086)



By hungry


| | |
| --- | --- |
| Product Rating (out of 5): | |

I miss the three cheese Chefs omelet too. Safeway and Harris Teeter used to carry them in my area and now they don't. I settled for the Jimmy Dean version at Giant and now they stopped carrying them, what gives?

Comment submitted: 7/29/2014 (#5080)



By mks


| | |
| --- | --- |
| Product Rating (out of 5): | |

These omelets are absolutely the best and I can't find them in any stores in New Hampshire any more. I am so disappointed. I have also searched online, but no luck.

Comment submitted: 2/1/2014 (#4851)



By molly


| | |
| --- | --- |
| Product Rating (out of 5): | |

My Vons supermarket just got the Chef's Omelets. I think they are terrific for a quick frozen healthy meal. I can't figure out why they're not in other stores.

Comment submitted: 3/29/2012 (#3066)



By jrh


| | |
| --- | --- |
| Product Rating (out of 5): | |

Where can I find the Three Cheese Omelet? It seems when you come out with something that is superior, it just disappears. -jrh

Comment submitted: 12/25/2010 (#2648)





By rateater (Team Breakfast Member)


| | |
| --- | --- |
| Product Rating (out of 5): | |

I really like these. I would like to have some coupons.

Comment submitted: 9/8/2010 (#2500)



By Peppieboo


| | |
| --- | --- |
| Product Rating (out of 5): | |

These omelets are great, but my local Hy=Vee store has stopped carrying them. Bring them back.

Comment submitted: 4/1/2010 (#2257)



By MarleneinGa


| | |
| --- | --- |
| Product Rating (out of 5): | |

Please! get these omelets in more stores. The Jimmy Dean are awful. I have found them at Ingles in Douglasville, Ga. but I have to make a special trip just to get them. The next time I am going to buy all they have!!! Providing of course that they have them. They are great and should be in more stores, for example Kroger and Publix. I will even order them from the company if I can find out how to do that.

Comment submitted: 2/19/2010 (#2168)



By firstimegrandma


| | |
| --- | --- |
| Product Rating (out of 5): | |

I learned about the 3 cheese omlets from a friend, tried them and Love them! Now I eat them all the time but, I have only been able to find them in one grocery store close to me and just the one variety. I would love to see a larger variety of your product out there and in more stores.

Comment submitted: 10/21/2009 (#1969)



By ATL00


| | |
| --- | --- |
| Product Rating (out of 5): | |

Where can i find these omelets around the Atlanta area. They are great!! I don't like the Jimmy.

Comment submitted: 6/19/2009 (#1799)





By Shourin (Team Breakfast Member)

I was unaware of this Product. Until a customer asked for it. We checked our primary warehouse. They do not carry it. We checked our secondary warehouse. They do not have it either. So we started searching the internet for it. I cannot find it anywhere other than here at this time. It is possible that the manufacture went out of business or stopped making it despite high sales. The same thing happened with a product manufactured by weaver foods. They Moved to a new factory and decided no to move a machine that was required to make one of their chicken products to the new location. The same could have happened with this item. But I do not know at this time. I have not yet found the website for Papetti Foods. When I try www.PapettiFoods. com I get a crystal farms website.
If anyone has any information Please post here.

Comment submitted: 3/21/2009 (#1547)



By Arky


| | |
| --- | --- |
| Product Rating (out of 5): | |

By Rose: They are great. Why can't I find them in Giant Foods anymore? Giant is famous for not carry specialty items, once you buy tons of them and enjoy them.

Comment submitted: 6/14/2008 (#1058)



By Me


| | |
| --- | --- |
| Product Rating (out of 5): | |

Harris Teeter in VA shows them online... try in the store!

Comment submitted: 6/11/2008 (#1055)



By patpearland


| | |
| --- | --- |
| Product Rating (out of 5): | |

Since moving to south Texas, I have been unable to find these omelets!! For years back in PA, this was my favorite breakfast. Are they no longer on the market?

Comment submitted: 5/26/2008 (#1038)





By eam1417 (Team Breakfast Member)


| | |
| --- | --- |
| Product Rating (out of 5): | |

I want to know where I can now buy Chef's Omelets in Pennsylvania. There does not seem to be any stores carrying them and I hate Jimmy Dean Omelets.

Comment submitted: 5/7/2008 (#1011)



By Sunchic711


| | |
| --- | --- |
| Product Rating (out of 5): | |

They are a perfect combo with my morning yogurt! I live in the Midwest and i buy them at our Hy-Vee grocery store.

Comment submitted: 4/28/2008 (#987)



By Sad


| | |
| --- | --- |
| Product Rating (out of 5): | |

I absolutely love this product, but what good is it when you can't find any store that is carries it anymore. I have been in every store from here to Philadelphia looking for some to put in my freezer but to no avail. Why the silence, give us a source please.

Comment submitted: 4/21/2008 (#976)



By CO Fan


| | |
| --- | --- |
| Product Rating (out of 5): | |

I really miss not being able to purchase the three cheese omelet since they vanished from Safeway stores. This is the second time SW has dropped this product. After the first time, I wrote to the manufacturer. Many months later I received coupons in the mail, and suddenly Safeway was selling them again. This time I fear they are gone for good. Maybe Wegman's will sell them when they open here next year. Anyway, I miss the product - but not shopping at Safeway - I will never shop there again.

Comment submitted: 3/21/2008 (#929)



By AKC


| | |
| --- | --- |
| Product Rating (out of 5): | |

You have requests to purchase the omelets dating back to 06/06/07. Safeway no longer carries them, many people are hooked on them so why don't you tell us where we can purchase them please?

Comment submitted: 3/12/2008 (#922)



By newtbert

Found 3 of the Jimmy Dean clones at a local Target. They do not appear to be old stock, maybe they will be widely available again under the Jimmy Dean brand?

Comment submitted: 2/27/2008 (#897)



By Newtbert


| | |
| --- | --- |
| Product Rating (out of 5): | |

Also looking for an alternate supply. My Safeway had a Jimmy Dean clone for awhile, but its gone now too. My kid and I miss them.

Comment submitted: 2/16/2008 (#879)





By sandman (Team Breakfast Member)


| | |
| --- | --- |
| Product Rating (out of 5): | |

Add me to the list of people who used to buy the three cheese omelets at Safeway. Why did Safeway discontinue this product when so many buy it. I have the same question, where can I find them now. Can the people who run this web site inform Chef's Omelet of the comments here in the hope they can either push Safeway to carry these omelets again or find other stores to carry them. Maybe Trader Joes?

Safeway sucks in a lot of ways and discontinuing these omelets is just another example of Safeways lack of concern for their customers. They replaced them on the shelf with even more waffles and told me waffles are more popular. I think Safeway meant to say waffles are more profitable not more popular. Do you ever buy eggs at Safeway. They are never on sale at a lower price. You have to buy 18 eggs at an inflated price and then you get 18 more free. I live alone. What am I supposed to do with 36 eggs. Just another reason I buy Chef's omelets and wish Safeway would learn what Customer Service means.

Comment submitted: 1/13/2008 (#827)



By 3cheeseace


| | |
| --- | --- |
| Product Rating (out of 5): | |

I have been eating the 3 cheese omelets several times a week, and recently discovered that Safeway will longer be carrying them. I've scoured all the Safeway's around my house trying to find any stragglers. Does anyone know of any other stores that carry them?

Comment submitted: 1/3/2008 (#814)



By blazincowgirl


| | |
| --- | --- |
| Product Rating (out of 5): | |

Fast and tasty, great Atkins meal. I have been eating them for breakfast almost every day and now I find that my Safeway store will no longer be carrying them. I would fill my freezer with them. Where can I buy them? blazincowgirl

Comment submitted: 12/11/2007 (#796)



By OVAZ


| | |
| --- | --- |
| Product Rating (out of 5): | |

We love Chef's Omelets, but have found them only at Safeway. However, it appears they will no longer carry them. Jimmy Dean, which omelets are inferior, has forced every other product out. Can we order them somewhere?


Comment submitted: 10/8/2007 (#711)



By SF


| | |
| --- | --- |
| Product Rating (out of 5): | |

I also can't find them. I've had them before, but now can't find them in any local store. They are excellent.

Comment submitted: 8/27/2007 (#640)



By Jeri

Could you tell me where I can purchase the Chef's Omelet. A friend with cancer loves them and she can't find them since Target quit selling them.

Comment submitted: 8/7/2007 (#596)



By Roy


| | |
| --- | --- |
| Product Rating (out of 5): | |

I love the 3-cheese omelet, but I wish they could figure out a way to reduce the fat content without compromising the taste. Very high in saturated fat!

Comment submitted: 7/6/2007 (#538)



By Tank


| | |
| --- | --- |
| Product Rating (out of 5): | |

Where can I find these?

Comment submitted: 6/20/2007 (#512)



By Hard2find

Please tell me where I can buy these. I love them and can't find them anywhere.

Comment submitted: 6/6/2007 (#501)



By Captain


| | |
| --- | --- |
| Product Rating (out of 5): | |

I was expecting airplane food and that's pretty much what I got. Good thing I love airplane food!

Comment submitted: 3/14/2007 (#343)



By DaveO


| | |
| --- | --- |
| Product Rating (out of 5): | |

I love these omelets and have eaten one a day for several years. Best thing on the market.

Comment submitted: 9/26/2006 (#38)




---
Connect With Mr Breakfast:



Most Recent
Product Reviews: