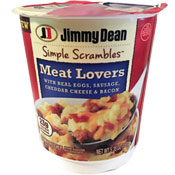 New Product Review:
Simple Scrambles
From Jimmy Dean
Reviewed by Mr Breakfast on 6/3/2017
I tried 2 varieties of Jimmy Dean Simple Scrambles: Sausage and Meat Lovers. They were both pretty good. They're not the most attractive scrambles you'll ever have, but the flavors and texture you hope for do come through.
There's a couple things you should know. First: The amount of food will probably be less than you expect. Once fully cooked, the cup the product comes in will be just slightly over 1/3 full. It's still a decent, fairly-filling amount. Second: Preparation is two steps longer than you probably expect. Within the cup is a smaller cup of liquid egg and a small pouch filled with meat and cheese. First you microwave the egg and then you stir in the contents of the pouch. It all takes less than 2 minutes and is very easy to prepare.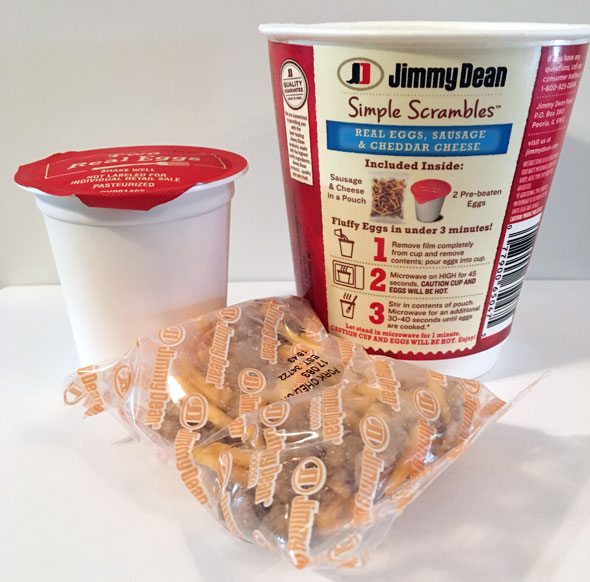 Of the two varieties I tried, I preferred the Sausage Scramble just slightly more. The sausage flavor is very pronounced and there's significantly more cheese than in the Meat Lovers variety. The eggs were fine. They stayed moist, but were slightly crumbly in texture.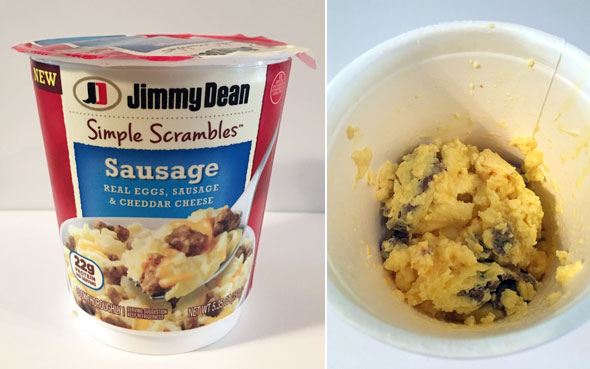 For some reason, the Meat Lovers Scramble required 15 more seconds of cooking than instructed on the package. There was some liquid remaining in the bottom of the cup, but a few more seconds of cooking fixed them right up. I liked the bacon flavor in the Meat Lovers version, but the sausage and cheese were less noticeable.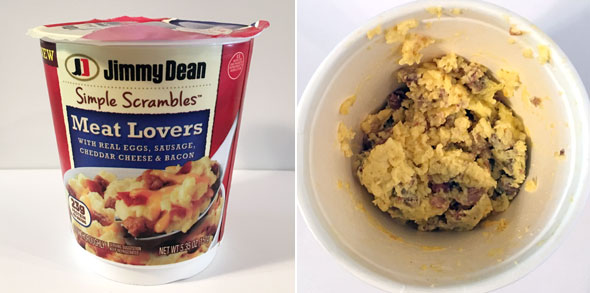 Overall, these were quite good. They're found in the refrigerator section of the grocery store. They're better than similar products that are found in the freezer section. If you find them for a good price, I recommend you try them.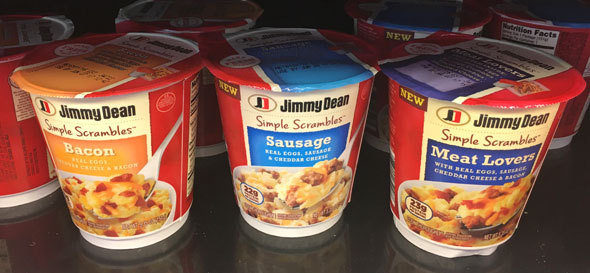 Note: There's also a Bacon Simple Scramble variety available. We didn't try that one. If you did, let us know your thoughts below.
The price we paid: $2.49
Comments About This Product Review
What do you think of Simple Scrambles?
By Want OMELET


| | |
| --- | --- |
| Product Rating (out of 5): | |

I have eaten the Jimmy Dean ham & cheese omelet for over 10 years. Now I cannot find them anywhere. I tried this product and was disappointed. Higher cost and lower quality. Eggs are too grainy tasting.

Comment submitted: 6/7/2017 (#5503)



By chuck


| | |
| --- | --- |
| Product Rating (out of 5): | |

Great taste.

Comment submitted: 6/6/2017 (#5502)



By bknox


| | |
| --- | --- |
| Product Rating (out of 5): | |

I tried the bacon one. I had to keep microwaving about 3 times after I mixed in the meat and cheese in 30 sec increments and it puffed up to almost fill the cup. Kind of salty, but pretty good!

Comment submitted: 6/5/2017 (#5501)




---
Connect With Mr Breakfast: