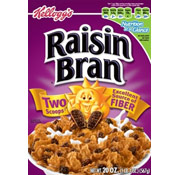 From: Kellogg's
Introduced in 1942
Forget tigers, frogs and birds, Kellogg's raised the bar the bar on cereal mascots in 1966 when it introduced the center of our solar system as it's new mascot for their Raisin Bran Cereal. Their sun was a little friendlier than the 4.57 billion year-old white-hot star. It was a smiling animated character named Sunny.


Kellogg's Raisin Bran began using its "two scoops of raisins in every box" slogan in the late 1960's. According to The Science Creative Quarterly, a 15 ounce box of Kellogg's Raisin Bran contains between 201 and 241 raisins, which leads us to the conclusion that a scoop contains roughly 100 to 120 raisins.
In 2010, the box described this cereal as "flavorful & original - sweet raisins, perfectly balanced, with tasty bran flakes."
Company Description:
Kellogg's was originally founded as the Battle Creek Toasted Corn Flake Company in 1906. The company's founder Will Keith Kellogg is credited with inventing corn flakes along with his brother John Harvey Kellogg. The company was renamed the Kellogg Company in 1922...
Read on and see all cereals from Kellogg's
This cereal belongs to the following Mr Breakfast Cereal Families:
The Bran-tastic Cereal Family
Raisin Bran (Kellogg's) Cereal Theater
Additional Images
These are the most recent images. Click here to see all pictures for Raisin Bran (Kellogg's).
There's More Pictures! See all images for Raisin Bran (Kellogg's) cereal
Upload an image for this cereal

Overall Average Rating = 5 (out of 5)



By markuka85 (Team Breakfast Member)


| | |
| --- | --- |
| Cereal Rating (out of 5): | |

The very definition of breakfast cereal. Crunchy, fruity, sweet, but not too sweet, and flakes that don't immediately go soggy. Fantastic flavor. Still taste the way they did 40 years ago.

Comment submitted: 10/5/2012 (#9354)





By MyEmptyCanvas (Team Breakfast Member)


| | |
| --- | --- |
| Cereal Rating (out of 5): | |

Raisin Bran cereal is great ... when I eat just the bran flakes. I don't care much for anything other than a little sugar in my cereal, so I often pick out the raisins and eat those separately. I know a lot of people will say, "Just buy plain bran flakes then", but there's great-tasting bran in this cereal that I don't really taste in other plain bran cereals from other companies. (myemptycanvasreviews.blogspot.com)

Comment submitted: 6/21/2012 (#8118)



By P.K. Man


| | |
| --- | --- |
| Cereal Rating (out of 5): | |

Classic Raisin Bran will always be my favorite cereal. This or the one from Post. I love them both.

Comment submitted: 2/5/2012 (#6418)



By I.J.


| | |
| --- | --- |
| Cereal Rating (out of 5): | |

Best cereal ever. It should be number one on your list of the best cereal. I'm really surprised it isn't higher. The best!

Comment submitted: 10/5/2011 (#5416)





By ficwriterpaul (Team Breakfast Member)


| | |
| --- | --- |
| Cereal Rating (out of 5): | |

This is one of those that the store brand can't compare to. Much more raisins than any other brand. Don't care for the crunchy version though.

Comment submitted: 11/21/2009 (#942)