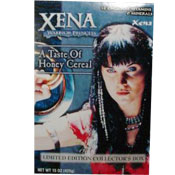 From: Independent / Undefined
Introduced in 2001
This limited-edition cereal was introduced by Rittenhouse Archives (in association with scifihobby.com) in September of 2001. The cereal was available exclusively in comic and collectible shops and never appeared in grocery stores.
Three versions of the box were produced each featuring one of three characters from the television series
Xena: Warrior Princess
: Xena, Gabrielle and Callisto.
The back of each box contained 4 cut-out trading cards (12 in all). The trading cards were also made available as a set, separate from the cereal. The cards found in the separate set were printed on both sides, unlike the cut-out versions.
Stores that ordered Xena: Taste of Honey Cereal received cases containing the following: 12 fully packed boxes (with cereal inside), 3 unassembled flat boxes and 1 of 3 different bonus, hand-numbered trading cards featuring the artwork from the boxes.
The television series
Zena: Warrior Princess
staring Lucy Lawless ran for 6 seasons from 1995 through 2001.
Click here
to see all cereals from Independent / Undefined.
This cereal belongs to the following Mr Breakfast Cereal Families:
The TV Cereals Cereal Family
Xena: A Taste of Honey Cereal Theater


Now Showing:
Xena Warrior Princess

More Videos For Xena: A Taste of Honey





There's more videos!

Click Here

To Visit The Xena: A Taste of Honey DELUXE Theater
Additional Images
Title:
The Three Xena Cereal Boxes
Submitter: Mr Breakfast
Uploaded: 7/11/2008
Additional details
Title:
Xena Cereal Sell Sheet And Box Back
Submitter: Mr Breakfast
Uploaded: 5/20/2008
Additional details
Upload an image for this cereal
Comments About This Cereal
What do you think of Xena: A Taste of Honey?
By Trampus

Get it? The name of this cereal is a euphemism for va-jay-jay. Something any nerd who bought this knows nothing about.

Comment submitted: 6/20/2011 (#5160)