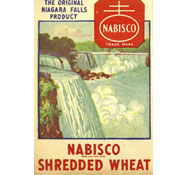 From: Nabisco
Introduced in 1930
Shredded wheat was first developed by a man named Henry Drushel Perky. Like so many early cereals, Shredded Wheat was invented to help dyspepsia (abdominal pain caused by difficult digestion).
Perky found that running boiled wheat though a shredding machine resulted in threads of wheat which had a toasty flavor and were easy to digest after baking.
Though his company, the Cereal Machine Company (renamed the Natural Food Company in 1895), Perky set out to provide Shredded Wheat on a large scale. His efforts were successful.
Dr. John Kellogg offered to buy Perky's interest in Shredded Wheat, but the offer wasn't high enough. Perky did eventually sell his Shredded Wheat business and the cereal found it's way to the National Biscuit Company, known today as Nabisco.
The following description and history of this cereal is from a court ruling in the 1938 case of Kellogg Company v. National Biscuit Company:
Shredded wheat is a product composed of whole wheat which has been boiled, partially dried, then drawn or pressed out into thin shreds and baked. The shredded wheat biscuit generally known is pillow-shaped in form. It was introduced in 1893 by Henry D. Perky, of Colorado; and he was connected until his death in 1908 with companies formed to make and market the article. Commercial success was not attained until the Natural Food Company built, in 1901, a large factory at Niagara Falls, New York. In 1908, its corporate name was changed to "The Shredded Wheat Company"; and in 1930 its business and goodwill were acquired by National Biscuit Company.
Click here
to see all cereals from Nabisco.
Shredded Wheat (Nabisco) Cereal Theater


Now Showing:
1980 U.K. Shredded Wheat Ad

More Videos For Shredded Wheat (Nabisco)





There's more videos!

Click Here

To Visit The Shredded Wheat (Nabisco) DELUXE Theater
Additional Images
These are the most recent images. Click here to see all pictures for Shredded Wheat (Nabisco).
There's More Pictures! See all images for Shredded Wheat (Nabisco) cereal
Upload an image for this cereal

Overall Average Rating = 5 (out of 5)

View all 36 comments for this cereal.


By Sweep

Where can I buy Nabisco shredded wheat?

Comment submitted: 11/4/2014 (#17969)





By Yumarama (Team Breakfast Member)

Woah... Just cruised through the photos and saw the old Shredded Wheat 3-D Promotion and holy smackers did that shoot me back to my childhood. I remember those little cardboard glasses and the 3D pictures. That was so totally awesome as a kid.

Comment submitted: 11/3/2014 (#17956)





By Yumarama (Team Breakfast Member)


| | |
| --- | --- |
| Cereal Rating (out of 5): | |

A staple cereal that I associate with my grandmother. Pour boiling water over a biscuit (or two) in a bowl, let it sit a minute, then press the water out with another bowl. Add a sprinkling of brown sugar and milk; easy hot cereal and quite tasty. I haven't tried the new Post version of this cereal; I am reluctant to do so and find out they have mucked it up. I'd rather keep the warm comfy memory of eating this warm cereal on cold snowy Montreal mornings untarnished.

Comment submitted: 11/3/2014 (#17955)



By hot bowl


| | |
| --- | --- |
| Cereal Rating (out of 5): | |

My mother would pour some hot water over it before I would leave for school and would take another bowl to set over top to drain. That way, I would have some hot cereal to eat and I still do it today seventy years later. But I use Post brand the same way.

Comment submitted: 10/30/2014 (#17926)



By dhumby

Where can I buy Nabisco Shredded Wheat Cereal. I live in Rochester, NY. My email is dhumby (at) yahoo.

Comment submitted: 5/20/2014 (#17073)



By J.Z.


| | |
| --- | --- |
| Cereal Rating (out of 5): | |

N. A. B. I. S. C. O. Nabisco is the name to know. For a breakfast you can't beat eat Nabisco Shredded Wheat. (from the early 1940's)

Comment submitted: 6/4/2013 (#12272)



By jellogg


| | |
| --- | --- |
| Cereal Rating (out of 5): | |

I have a mini ham loaf recipe that calls for 2 Shredded Wheat biscuits soaked in milk. I have a box of minis and need to know the ratio. I'm guessing a handful is not enough! I do prefer biscuits over minis, but sent husband to the store!

Comment submitted: 5/12/2013 (#12008)



By Brose526


| | |
| --- | --- |
| Cereal Rating (out of 5): | |

My favorite way to enjoy Shredded Wheat? In a large cereal bowl break (2) biscuits about 8 large pieces. Drizzle with about two tablespoons of good honey. Add milk and enjoy!

Comment submitted: 4/11/2013 (#11584)



By p.k.2.


| | |
| --- | --- |
| Cereal Rating (out of 5): | |

I can't find Nabisco Shredded Wheat any more and miss it. Where can I find it? My Grandmother made fried Shredded Wheat biscuits for my Dad and he also made for us kids and I made for my kids. We love it this way too. I can't find the regular large biscuits at all and I don't care for Post Mini Wheats - too small and hard in texture not like Nabisco that was light and airy with cold milk and a little sweetener - great!! Thanks! - Pam

Comment submitted: 12/9/2012 (#10105)



By Misty


| | |
| --- | --- |
| Cereal Rating (out of 5): | |

I want Nabisco back! Their shredded wheat was our Sunday morning treat through the post WWII years and long after. In the 1970s, they printed the most delicious cheesecake recipe on the box that I have ever tasted. I lost it in a move and now it seems there is no way to obtain a copy. "Backwards, turn backwards oh time in your flight, and bring back Nabisco if just for tonight... " Why is it the good ones often go under and the company that takes over tries to dupe us into thinking the product hasn't changed? ... when you know darned well they make double the amount with half the ingredients plus maybe a filler(?) and sell it for twice as much - and it tastes like cardboard no matter what they do!

Comment submitted: 10/29/2012 (#9783)



View all 36 comments for this cereal.