Introduced in 1965
Quake and it's partner cereal Quisp were introduced by Quaker Oats in 1965.
Quake was described in commercials as "wonderful wheelies of corn and oats... buzzin' with honey and bustin' with earthquake power." The cereal pieces were shaped like small gears with holes in the center.
Quake and Quisp were almost always promoted together in television and print advertising. The cereals' mascots were developed by Jay Ward and Bill Scott, the creators of Rocky & Bullwinkle. Quaker enlisted the team to create characters that cereal brands could be built upon. Two years earlier, Quaker, Ward and Scott had great success using the mascot-precedes-the-cereal formula when they created Cap'n Crunch.
The cartoon spokesman for Quake was a large (nearly menacing), muscular, broad-jawed man who wore a miner's helmet and a cape. It was implied that Quake the character and Quake the cereal both came from the center of the earth, which explains the miner's equipment and references to earthquakes. Early advertising distinctly showed that Quake had the ability to fly. That aspect of the character was later downplayed in favor of Quake's clever use of unconventional transportation such as whales or swimming horses.
The mascot for Quisp cereal was a pink alien also called Quisp. By means of a propeller lodged in his head, Quisp would fly around promoting his cereal and often provoke Quake with challenges that Quisp was a better cereal with better premiums.
While the two cereals were virtually identical in flavor (Quake was said to be slightly crunchier), Quisp proved to have much more consumer appeal and traditionally beat Quake in sales. Quaker placed the blame on Quake the character.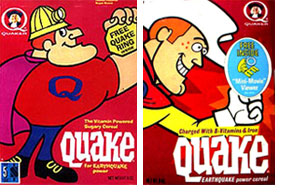 In 1967, Quake the burly miner was transformed into a thinner, only-slightly-more-kid-friendly rendition of himself. The miner's helmet was traded in for an Australian cowboy hat. The change in appearance was explained in ads by a story line in which Quake entered a "new & improver machine". Gears and automated boxing gloves plummeted the large character until he emerged from the machine thinner (and with a new hat).
Despite efforts to make Quake less daunting, Quisp continued it's reign as the more popular cereal.
In 1972, Quaker asked consumers to vote on which cereal/character they liked best. The loosing cereal would be discontinued. Based on the cereal's sales in the preceding years, it was a foregone conclusion. By 1973, Quake had disappeared from grocery store shelves.
The Quake character reemerged for a short time in 1974 in ads for Quake's Orange Quangaroos. While the new cereal had his name, Quake (still shown as a trim Australian-influenced cowboy) had a limited roll in commercials - playing second banana to his pet, Simon the Quangaroo. Like Quake, Quangaroos was pitted against Quisp in ads. Quisp proved to be more popular yet again and Quangaroos disappeared shortly after.
Know premiums in Quake Cereal: a super spinner toy, an explorer's kit, a big slick gyro car, an assortment of rings, a Quake helmet, a QuakeMobile toy car and a Quake MiniMovie player.
Click here
to see all cereals from Quaker.
---
Additional Images
These are the most recent images. Click here to see all pictures for Quake.
There's More Pictures! See all images for Quake cereal
---

Overall Average Rating = 5 (out of 5)

View all 22 comments for this cereal.


By Randall

Quake did indeed disappear from the market altogether after the Quake Quangaroos cereal disappeared from store shelves. Later the cereal re-emerged from limbo but this time packaged under another brand label named 'King Vitaman.' Same cereal, same shape and size, different packaging. One of the television ads had this hook phrase: 'If you liked Quake, you'll love King Vitaman!"

Comment submitted: 1/6/2015 (#18320)



By jojo


| | |
| --- | --- |
| Cereal Rating (out of 5): | |

Quake WAS crunchier! I liked 'em both. Recently, Quisp reappeared at my local market and I bought about 8 boxes. Bring back Quake!

Comment submitted: 4/3/2014 (#16577)



By Rik


| | |
| --- | --- |
| Cereal Rating (out of 5): | |

I always favored Quake the character but liked the Quisp cereal. I voted for Quake and I also liked Quake cereal. Most of the old cartoon cereals are still on the shelf, but I really miss the Sat. am cartoons.

Comment submitted: 11/4/2012 (#9813)



By terrymalloy


| | |
| --- | --- |
| Cereal Rating (out of 5): | |

I bought 2 boxes of Quisp at the Riverdale Bronx supermarket last year on a special promotion. Delicious!

Comment submitted: 10/10/2012 (#9415)



By dr. sivana


| | |
| --- | --- |
| Cereal Rating (out of 5): | |

I liked the Quake character so much, that I even ate Quangaroos when they replaced it. Bring back Quake!

Comment submitted: 7/2/2012 (#8240)



By JackieO

My brother loved Quake and I, of course, loved Quisp! I miss those old Saturday mornings in our footie pajamas.

Comment submitted: 3/2/2012 (#6672)



By EdwardTom


| | |
| --- | --- |
| Cereal Rating (out of 5): | |

I loved Quake! I hated that mean nasty Quisp! I was devastated when Quisp won and Quake was discontinued. Quake was magic to me; sitting there in a trance reading his cereal box and watching the commercials. I think if they would have made them (Quake and Quisp) into a Saturday cartoon on TV it would have been a hit with us then kids and made the cereals more popular and maybe Quake would still be here!!

Comment submitted: 2/2/2012 (#6394)





By Jerry T (Team Breakfast Member)


| | |
| --- | --- |
| Cereal Rating (out of 5): | |

I liked Quake better when he was an underground "He-Man" and not so much when they turned him in to a pencil armed Australian cowboy. I voted for Quake (the way he was). I liked the plastic Quake helmet better than the Quisp propeller hat. You could use the Quake helmet as a night light.

Comment submitted: 9/29/2011 (#5373)



By Bullwinkle J


| | |
| --- | --- |
| Cereal Rating (out of 5): | |

I liked both of them but Quake stayed crunchier in milk.

Comment submitted: 6/22/2011 (#5175)



By Ageless Kid

I do remember that the Quake character differed in 1969 and the cereal sort of too. This character changed his look from an underground worker to a freckle-faced guy with cowboy hat and gloves.

Comment submitted: 5/17/2011 (#4861)



View all 22 comments for this cereal.