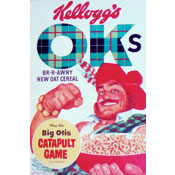 From: Kellogg's
Introduced in 1959
OKs Cereal was promoted as "the best in oats". The cereal pieces came in the shapes of the letters "O" and "K" and were said to taste similar the Cheerios. In fact, most cereal-historians believe OKs Cereal was a failed attempt by Kellogg's to nab some of the market from General Mill's very popular Cheerios.
When the cereal was first introduced in 1959, the cereal box featured a character named Big Otis, a muscular man dressed in traditional Scottish apparel. As the cereal moved into the 1960's, Hanna-Barbera's popular cartoon character Yogi Bear became the face of the cereal. Yogi was usually pictured flexing his biceps, appearing much more muscular than he did in cartoons.
Around 1962, Kellogg's decided to discontinue OKs. The company's product development team was asked to create another cereal that could use the same equipment that made the "O"s in OKs. In 1963, Kellogg's introduced that cereal... Froot Loops.
Know premiums In OKs Cereal:
"Pin-Me-Ups" - In 1962, the backs of specially-marked packages of Kellogg's Corn Flakes and OKs cereals featured large cut-out pictures of characters from Hanna-Barbera including Yogi Bear, Huckleberry Hound and Mr. Jinks.
Free Flip Face - Cut out panels on the back of the box. When put together the dual-sided panels made the face of certain Hanna-Barbera characters.
Also: Wheelzafun box-back-cut-out, Hanna-Barbera Flip Flop Comics, baloon-powered "runaway" locomotive offer, a Yogi Bear cut-out statue, a send-away offer for Lotus Ford Racer model, a magic moon garden offers, a cut-out spacecraft and a Yogi Bear Mystery Message De-Coder.
Click here
to see all cereals from Kellogg's.
OKs Cereal Theater
Additional Images
These are the most recent images. Click here to see all pictures for OKs.
There's More Pictures! See all images for OKs cereal
Upload an image for this cereal

Overall Average Rating = 4 (out of 5)

By G.S. Boomer


| | |
| --- | --- |
| Cereal Rating (out of 5): | |

PLEASE consider bringing back OKs. I am not the only Boomer who loved this cereal!

Comment submitted: 12/17/2013 (#15546)



By Rodney61


| | |
| --- | --- |
| Cereal Rating (out of 5): | |

Here in Australia, Kellogg's kept making them locally until the early 70's. Forty years on and I call them my all-time favorite.

Comment submitted: 9/6/2012 (#9057)



By Dolton Boy


| | |
| --- | --- |
| Cereal Rating (out of 5): | |

They were okay. Can't see why they dumped a brawny Scottish Highland warrior trying to sell something because "it was good for you" to us baby-boomers for a fun-loving cartoon bear... I send in and got the skin-diver prize.

Comment submitted: 4/22/2012 (#7357)



By BooBooPicnic

I am trying to remember which cereal it was that my mom ordered for me. It had a Yogi bear type head piece that was made from paper I am sure and it fit over your head and had holes where the eyes were so that you could see out. Just going down memory lane and would like to see a picture of this if possible.

Comment submitted: 10/17/2011 (#5505)





By Cincinnati Kid (Team Breakfast Member)

I thought this cereal came out the year before - 1958. Seem to recall it in the late summer of that year. I wonder who played the part of "Big Otis" in the TV commercials? Maybe an unemployed pro wrestler? I'm unable to rate this cereal, I never tasted it.

Comment submitted: 6/3/2011 (#4973)



By jjw


| | |
| --- | --- |
| Cereal Rating (out of 5): | |

Bring them back!

Comment submitted: 4/7/2011 (#4292)



By Ai A. Bama

I do remember Yogi Bear on the OK's box. I guess it was because that Kellogg's was the sponsor for the Yogi Bear and 2 other Hanna Barberra shows.

Comment submitted: 1/27/2011 (#3728)



By Heddy

That guy looks like you Mister Breakfast - if u had a beard and mustache and were a little bigger and were from Scotland. Never tried the cereal. Looks good. Like your site.

Comment submitted: 3/1/2010 (#1515)