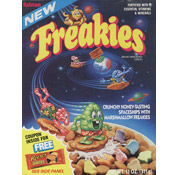 From: Ralston
Introduced in 1973
This cereal began as an idea for a sugar-coated flake cereal in 1972 which was to be called Freakie Flakes. Ralston dropped the flake cereal in favor of a new puffed cereal which they called Freakies.
The cereal pieces were Cheerios-esque loops with a flavor reminiscent of Quaker's Quisp cereal.
The cereal was an instant success when it launched. This was due mainly to the bump-covered monsters called the Freakies who appeared on every box.
In alphabetical order, the Freakies characters were:
Boss Moss
Cowmumble
Gargle
Goody-Goody
Grumble
Hamhose
Snorkeldorf
As the commercial story line goes, the Freakies searched for the mythical Freakies Tree which provided an endless supply of Freakies cereal. Once, they found the tree, they decided to live there forever.
The first time the Freakies were seen on a cereal box, they had already found the tree. Subsequent commercials backtracked to tell the legend of the Freakies Tree.
Fun Fact: All the Freakies characters were based on actual people who worked with the copywriter who created them, Jackie End of the ad firm Wells, Rich, Greene.
A chocolate version of the Freakies called Cocoa Freakies was introduced in 1973. A fruit version called Fruity Freakies hit stores around 1975.
All of the Freakies cereals disappeared from shelves around 1977.
In 1987, Ralston tried to bring back Freakies cereal. The new incarnation was described as "crunchy honey-tasting spaceships with marshmallow Freakies". The Freakies character, who had become more glossy and 80's looking, were all shown riding cereal-piece surf boards in space. The new space Freakies didn't fly with consumers. The cereal was discontinued the following year.
There's a website dedicated to Freakies called
freakies.com
. Another site (
found here
) has put together a collection nearly every Freakies box ever produced.
Click here
to see all cereals from Ralston.
This cereal belongs to the following Mr Breakfast Cereal Families:
The Marshmallow Madness Cereal Family
Freakies Cereal Theater
Additional Images
These are the most recent images. Click here to see all pictures for Freakies.
There's More Pictures! See all images for Freakies cereal
Upload an image for this cereal

Overall Average Rating = 5 (out of 5)

View all 33 comments for this cereal.




By seabird (Team Breakfast Member)


| | |
| --- | --- |
| Cereal Rating (out of 5): | |

This cereal brings back childhood memories like no other! It was not even the cereal itself that made it, it was the characters and their story that carried such an impact. I loved their story, their search for what was true and basic about "humanity". I have all characters and wish someone would bring back the cereal complete with "plastic toy Freakies inside each specially marked packages".

Comment submitted: 4/22/2013 (#11808)





By TOPIUSBOX (Team Breakfast Member)

Where are the Freakies 'bad guys' (crumbbum, laughs, cecil the robot)? I'm sure they were part of the Freakies gang but then again that was a few years ago.

Comment submitted: 4/14/2013 (#11629)



By Postman


| | |
| --- | --- |
| Cereal Rating (out of 5): | |

Freakies was so good. I liked it without the marshmallows. Someone bring it back.

Comment submitted: 1/10/2013 (#10344)



By Babyhulk


| | |
| --- | --- |
| Cereal Rating (out of 5): | |

Loved FREAKIES when I was in grade school, and while I lost the magnets years ago, I'd buy it again.

Comment submitted: 11/16/2012 (#9920)



By Ernie


| | |
| --- | --- |
| Cereal Rating (out of 5): | |

A childhood favorite! Those Freakies magnets are in this house somewhere still.

Comment submitted: 6/7/2012 (#7943)



By sweetpea


| | |
| --- | --- |
| Cereal Rating (out of 5): | |

Freakies was a very yummy cereal - another one that should make a limited edition comeback. I wonder who owns the rights now that Ralston doesn't make commercial cereals anymore.

Comment submitted: 4/2/2012 (#7032)



By Paulie

I loved this cereal. I bought it every week for my daughter, who was 4 at the time, wish they would bring it back! I was the only cereal she would eat. I still have all the magnets on my freezer to this day. They make me smile each and every day.

Comment submitted: 2/24/2012 (#6603)





By Sugar Boy (Team Breakfast Member)


| | |
| --- | --- |
| Cereal Rating (out of 5): | |

The beauty of waxing nostalgia. I have a few of these magnets. One of those morning shows (The Early Show, I think) featured a cereal box collector who claimed he payed $500 or traded $500 worth of material possessions for a Freakies box. Un-Freakin'-real!!! No pun intended. Who woulda thunk people would pay top dollar for a cardboard box with pretty pictures printed on 'em. Oi!

Comment submitted: 9/30/2011 (#5379)



By chopstick22

I want psychedelic, freaky cereals to come back. The 1970's were the best for cereals. They're so boring today by comparison... I mean the boxes more than the cereals themselves. Come on cereal companies, get weird. We like it.

Comment submitted: 6/12/2011 (#5064)



By beachbum22


| | |
| --- | --- |
| Cereal Rating (out of 5): | |

This was my very favorite cereal growing up.

Comment submitted: 5/13/2011 (#4833)



View all 33 comments for this cereal.