Breakfast Cereal Salute To Auto Racing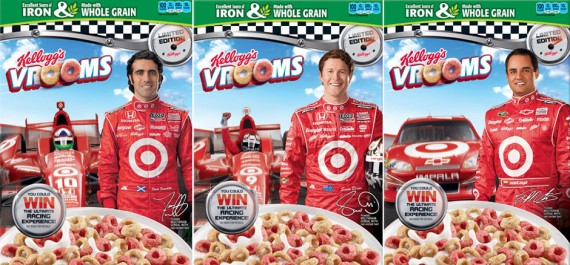 Kellogg's recently introduced Vrooms Cereal – available only at Target Stores.  This product continues a great tradition of breakfast cereals dedicated to auto racing.  In this article, we'll get to know Vrooms and take a look at some auto racing cereals of the past.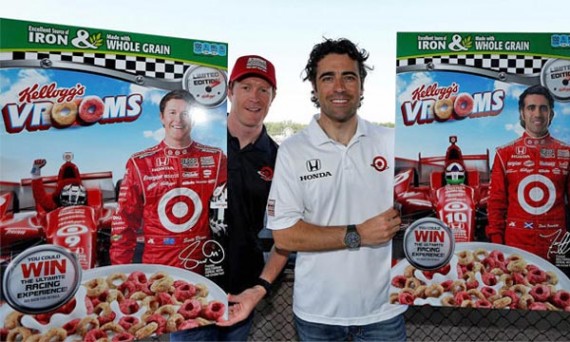 Three different boxes of Vrooms Cereal were introduced.  They feature:  Scottish driver Dario Franchitti;  Scott Dixon – a racer from New Zealand; and Juan Pablo Montoya, a Columbian driver.  Between the three of them, they have four wins at the Indianapolis 500.  The featured drivers are all part of the Target Chip Ganassi Racing Team, each sporting the Target bullseye logo on their suits. This explains why the cereal is only available at Target.  It'd be quite an advertising ploy to stock the cereal aisles of Kmart with Target logos.
The actual cereal consists of red and tan loops.  I tried it and it tasted remarkably like Cheerios.  It's actually a little weird to have red cereal pieces but no hint of fruit or berry flavor.  If you can get over that, it's pretty good.  For more about the new cereal, visit the page dedicated to Vrooms at the Cereal Project on MrBreakfast.com.
Let's look at a few auto racing cereals from the past: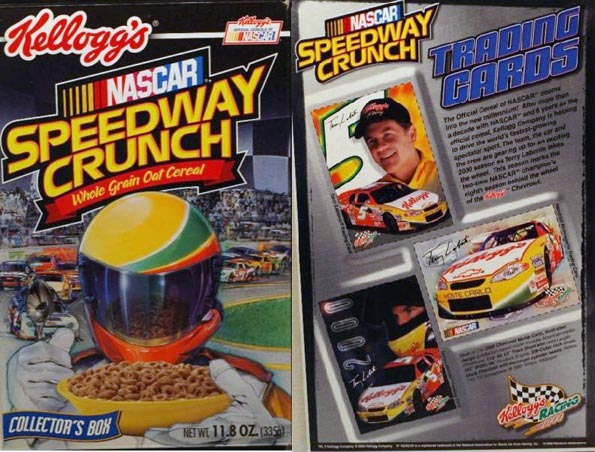 NASCAR Speedway Crunch (Kellogg's 1999)
This box featured NASCAR driver Terry Labonte.  The cereal was O-shaped and described on the box as a "whole grain oat cereal."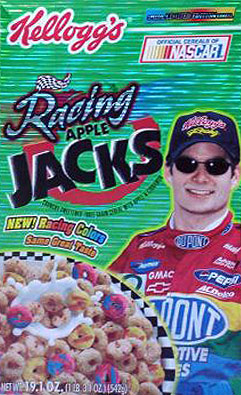 Racing Apple Jacks (Kellogg's 2000)
This box featured legendary race car driver Jeff Gordon.  According to the box, it was part of the "Official Cereals Of NASCAR" at the time.  The cereal consisted of traditional Apple Jacks loops along with pieces with "new racing colors."  Despite the new bright colors, it was said to have tasted just like regular Apple Jacks.
Richard Petty 43's (General Mills 2003)
To be precise, the actual name of this one was "Cheerios Racing Presents Richard Petty 43's."  The number 43 was an ode to Petty's famous Number 43 race cars. The cereal was basically Cheerios in the shapes of 3s and 4s.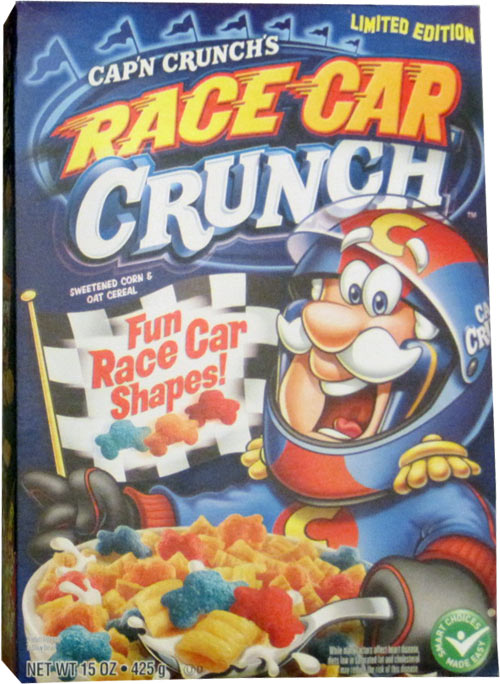 Cap'n Crunch's Race Car Crunch (Quaker 2009)
This cereal featured my personal favorite racer Cap'n Crunch.  He may have never won the Indy 500, but I'd like to see Jeff Gordon or Dario Franchitti fight off pirates that want to steal their cereal. Race Car Crunch consisted of regular Cap'n Crunch pieces along with "fun race car shapes" of blue, red and orange.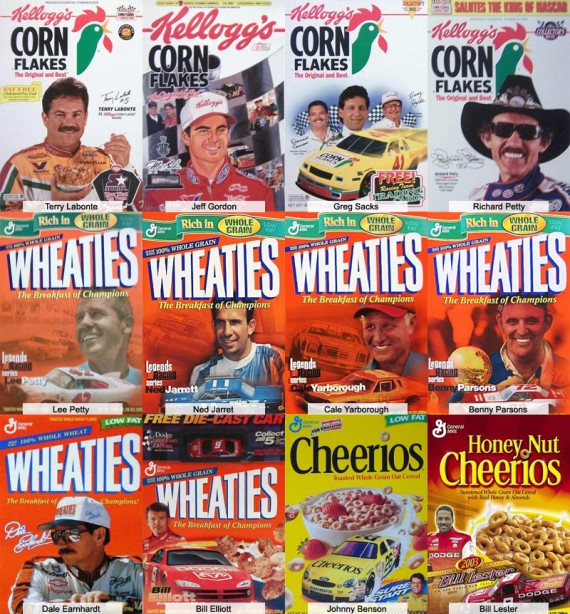 Of course, a driver doesn't need to have his very own cereal to reach breakfast cereal fame.  Many have appeared on boxes of existing cereals, most notably Wheaties from General Mills and Kellogg's Corn Flakes.  The image above (click it to enlarge) shows cereal box appearances from drivers Terry Labonte, Jeff Gordon, Greg Sacks, Richard Petty, Lee Petty, Ned Jarrett, Cale Yarborough, Benny Parsons, Dale Earnhardt, Johnny Benson and Bill Lester.
I'm proud – and at the same time, embarrassed – to say that everything I know about auto racing I learned from cereal boxes.  Before this morning, I had no idea who Scott Dixon and Juan Pablo Montoya were.  But they are now heroes of mine.  Like my other heroes, the Trix Rabbit, Count Chocula, and Tony the Tiger, they will forever have their own cereal.  Sure… it'd probably be more fun if Dixon and Montoya were cartoon animals or bumbling monsters.  Who knows?  Perhaps they are bumbling monsters in their own way.  This much I do know… today I enjoyed my breakfast and learned a little more about auto racing.  Thank you breakfast cereal!
You Might Also Like: