French Toast Golden Nuggets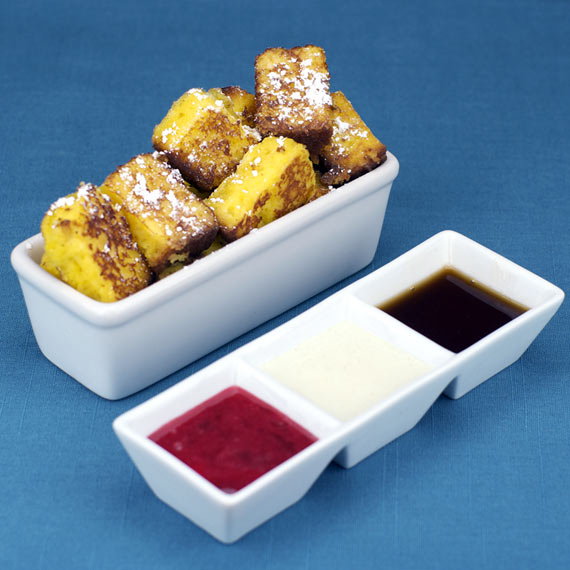 Put away your forks.  Today, we're eating French toast with our fingers.  These little golden nuggets are soaked in a vanilla custard and lightly fried on multiple sides.  Their appetizer-shape makes them perfect for dipping in maple syrup or a flavored icing.  These particular French Toast Nuggets get their golden color from lemon bread.  One other small detail:  They are delicious!
As regular readers know, I was inspired recently by Denny's new, limited-time-only Hobbit menu.  Two days ago, I recreated their Hobbit Hole Breakfast.  These French toast nuggets also owe a nod to Denny's.  On their special menu, they offer a dish called Lonely Mountain Treasure which they describe as "Seed Cake French Toast cut into 9 squares and served with a side of cream cheese icing for dipping."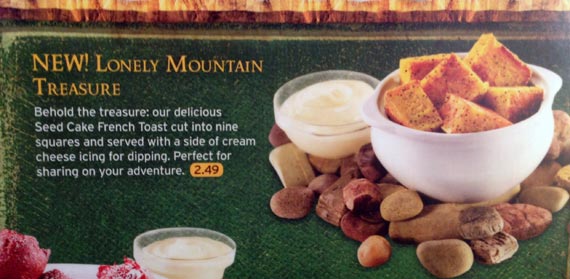 Unlike the Hobbit Holes – which I tried to replicate almost exactly, I saw immediate room for improvement in Denny's bite-size French toast.  To me, the best bites of French toast are those with a golden brown, eggy exterior and a soft, moist interior.  A couple of the pieces in Denny's dish were like that, but the majority were plain – like they hadn't gone through the French toast process at all.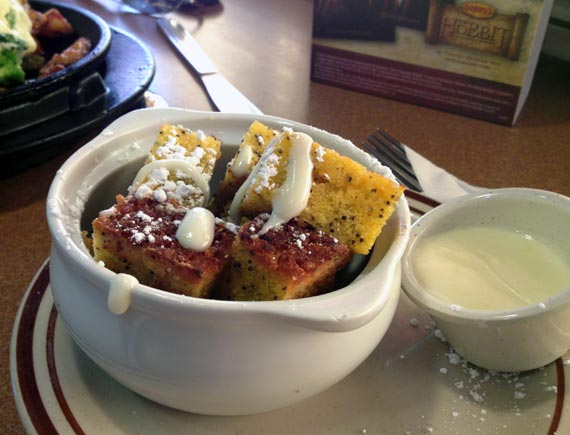 This is how it looked when I ordered it.  I liked it, but I knew it could be better and I knew how to fix it. Instead of chopping up a piece of French toast, I would chop up the bread before frying and make several mini-French toasts.  The difference may sound subtle, but the difference in taste and texture is pretty big.
Other improvements:  Having a dipping sauce is great.  Having 3 dipping sauces is better.  Finally, the name…  I've seen all three Lord Of The Rings movies and the term "Lonely Mountain Treasure" means nothing to me.  So, let's call it like we see it.  These are delicious golden nuggets of French toast.
Let's make some French Toast Golden Nuggets!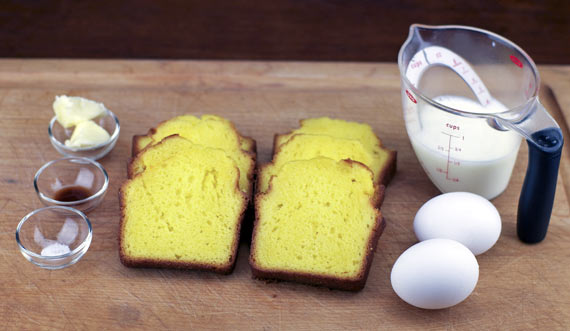 For the short, printable version of this recipe: click here.
I went for a nice lemon bread that I found at the grocery store.  My first inclination was to use a poppy seed loaf, but they didn't have any.  The custard mixture you soak the bread in is just a standard French toast custard made from eggs, milk, vanilla and a pinch of salt. (I skipped sugar because the bread was already very sweet.)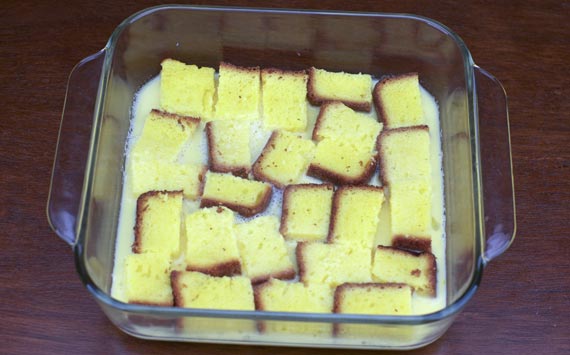 First, you cut the bread into bite-size pieces and then beat together your custard ingredients.  I transferred the bread to a baking dish and covered the pieces with custard – flipping them once so they absorbed the maximum amount of goodness.  (You can dip the pieces in the bowl that you mix the custard in, but that gets messy and time-consuming.)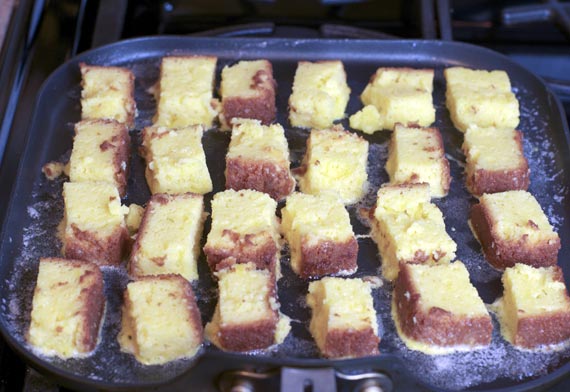 Next, melt a couple Tablespoons of butter in your frying pan or on your griddle and start frying nuggets.  I used medium heat for these.  I'd normally go with medium-high for French toast, but you want to give yourself more time and flexibility because you have a lot of flipping to do.  Once the nuggets are golden brown on both sides (2 or 3 minutes per side), you're ready to go.
Word of warning:  Don't overload the pan like I did.  I ended up breaking a few pieces because I didn't have ample room to flip.  You'd be better off frying in batches and keeping completed pieces warm in a 250 degree oven.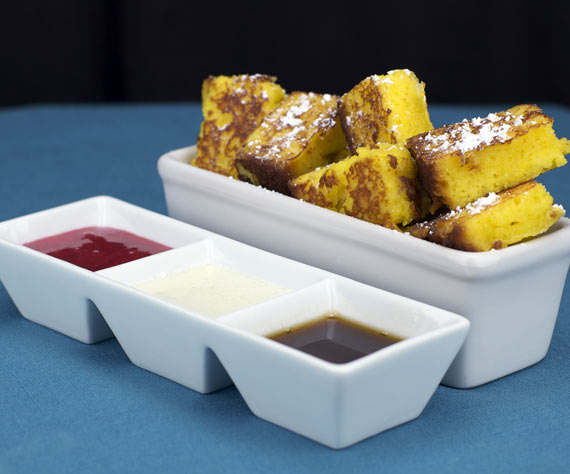 And here they are… French Toast Golden Nuggets.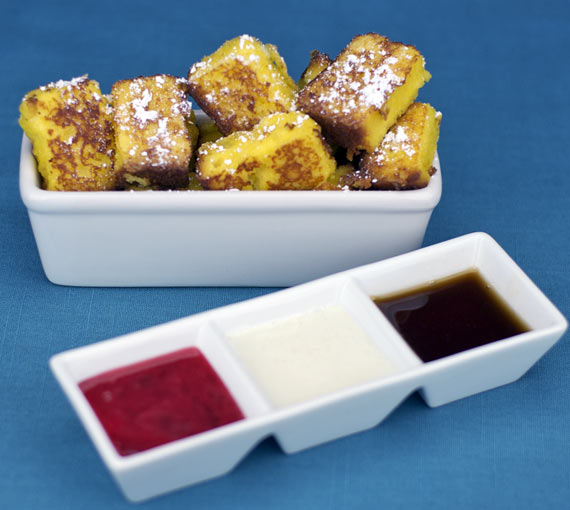 For the dipping sauces, I went with maple syrup, vanilla icing and strawberry icing.
To make simple icing for dipping:
Put some powdered sugar in a mixing bowl.  (I started with 1 cup of powdered sugar.) Then, whisk in milk by the Tablespoon until you get a smooth, thick sauce.  Add a quarter teaspoon of vanilla to make vanilla icing.  Add a Tablespoon of strawberry jam and 1 drop of red food coloring to make strawberry icing.  You can always add more powder sugar if the sauce gets too thin.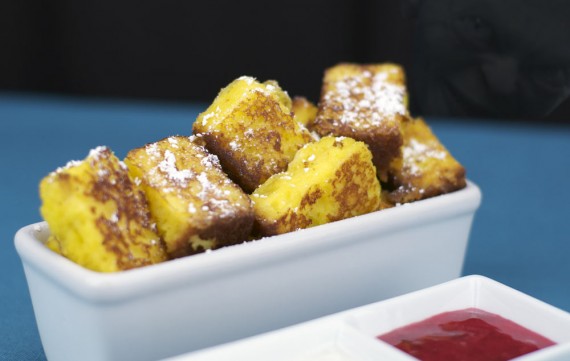 That's all there is to it.  If you make your own French Toast Golden Nuggets, let me know how it goes in the comments below.  Have a golden day!
This article is a companion piece to the following recipe on MrBreakfast.com:
For over 170 other French toast recipes, check out the French Toast Recipe Index at MrBreakfast.com.
Insider's Photography Tip:  That's not maple syrup in the photos… it's coffee.  I was out of maple syrup.  The other two sauces are legitimate. Yes, I did try dipping a nugget in coffee.  It was weird.
You Might Also Like: