Road Trip: Sublime Doughnuts In Atlanta, GA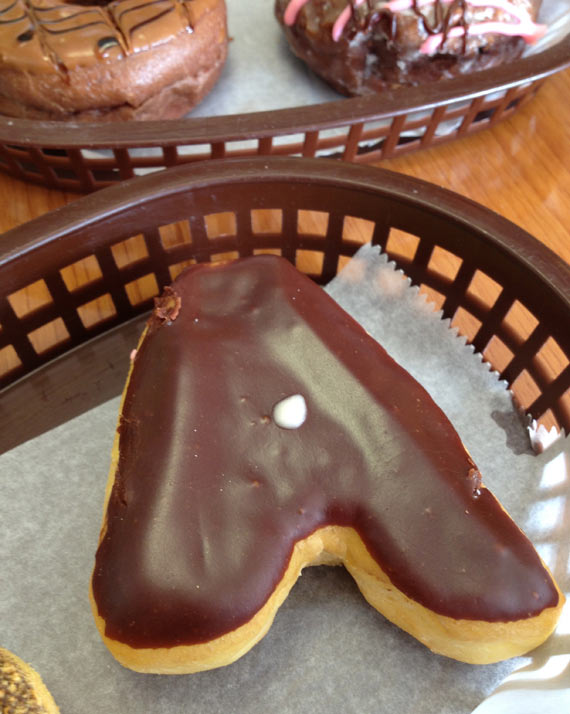 A couple of days ago, my quest to find the greatest doughnuts in America crossed paths with my holiday travel plans.  I found myself in Atlanta, Georgia at a place called Sublime Doughnuts.  My research on people doing new and innovative things with doughnuts has taken me to their website several times.  I'd been drooling over pictures of their creations for years.  Finally, I was there… drooling over the real thing.  It felt like a Christmas miracle (and sort of smelled like one too).
(The "A" in the picture above stands for A-Town… Atlanta. That's their A-Town Cream Doughnut.)
Sublime Doughnuts doesn't look very exciting on the outside.  It's an unassuming little place in small shopping plaza.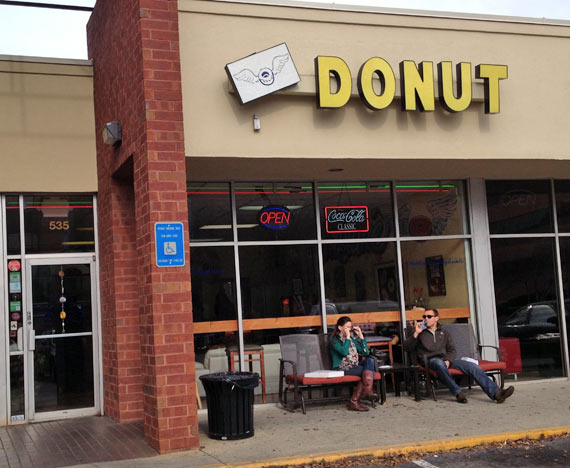 But the second that you walk in, you can tell that these guys are serious about doughnuts.  The walls are adorned with doughnut art.  A bookcase near the entrance shows off fun doughnut paraphernalia.  And then, there's the doughnuts. Trays and trays of beautiful, delicious doughnuts.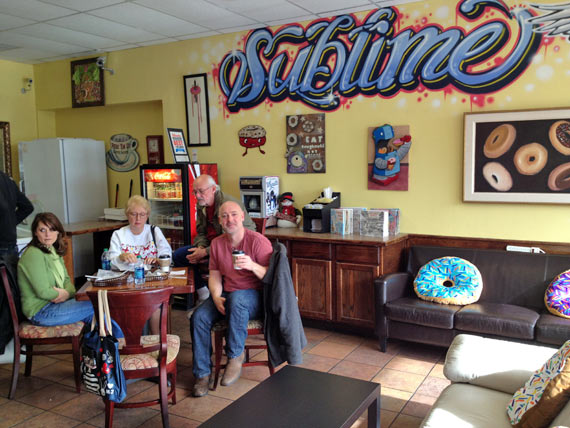 That's me holding a coffee.  I was thinner back then… before the holiday meals… four days ago.  (Spoiler Alert:  Look for some low-fat posts next month.)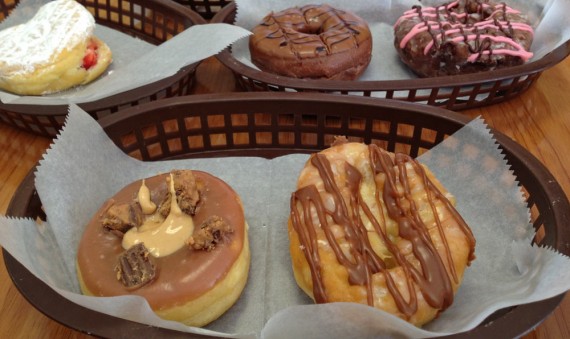 I sampled several doughnuts.  (Spoiler Alert:  You're about to get real hungry real fast.)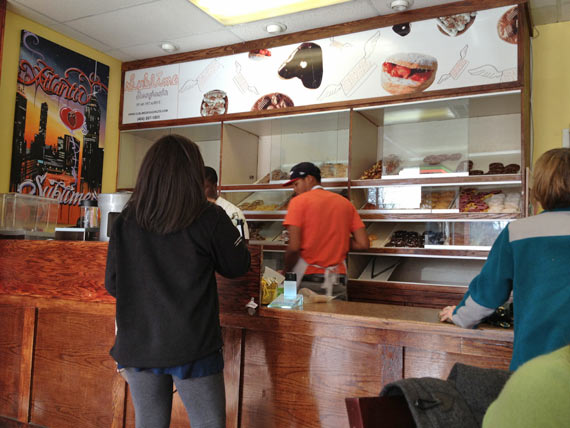 Have you ever noticed how happy people are when they order doughnuts?  They seemed especially happy at Sublime Doughnuts.  Here's why…
The Fresh Strawberry N Cream Doughnut was loaded with super fresh berries.  I've had doughnuts split in half with berries before but their sweet, custard-like cream took the concept to a new level.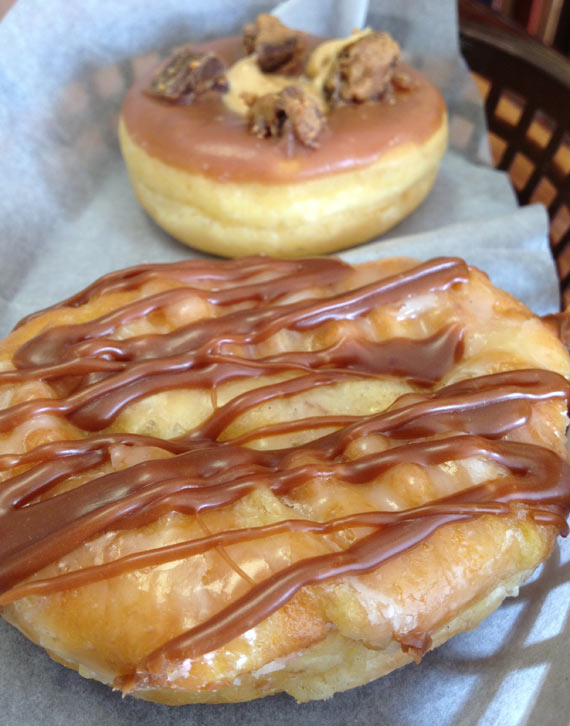 The Caramel Apple Fritter was amazing, but better things were still to come.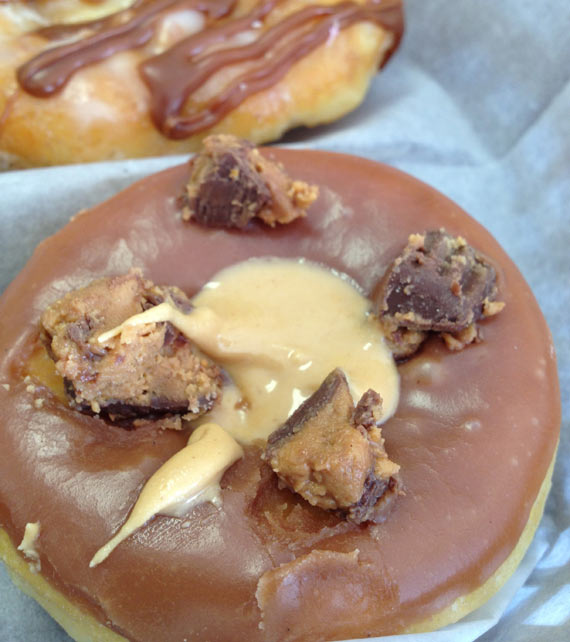 Their Reese's Peanut Butter Cup Doughnut was the definition of indulgence.  It would have been enough to have a chocolate icing with a hole full of peanut butter frosting.   Add chunks of real Reese's Peanut Butter Cups on top and you're in for an exceptional treat.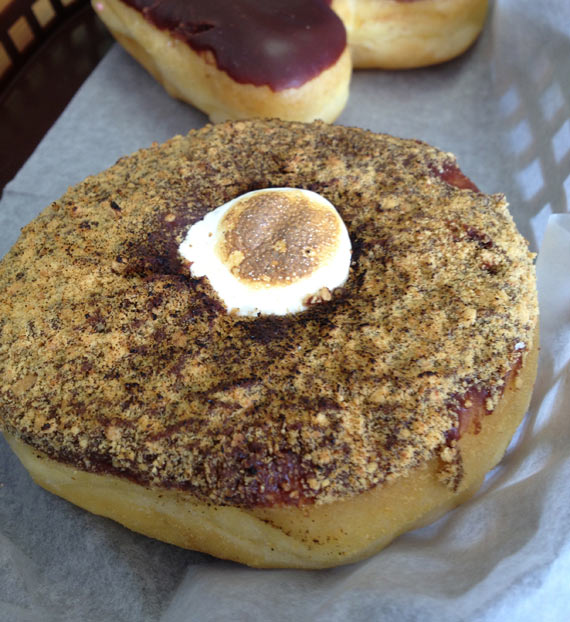 The S'mores Doughnut concept is being done by several innovative shops around the country, but there's something truly beautiful about the way Sublime does it.   Look at that toasted marshmallow.  That's precisely the color you hope to achieve making actual S'mores around a campfire.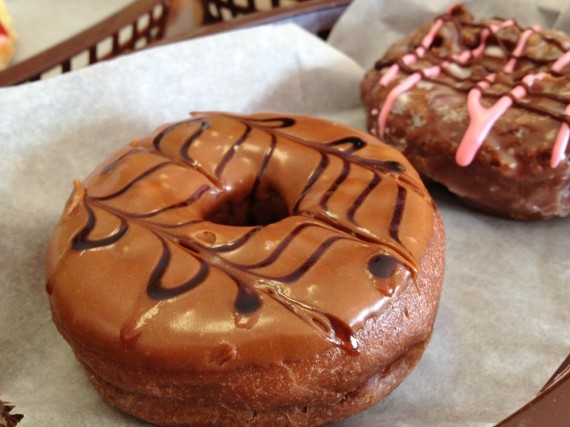 The one doughnut they're doing that I have never seen anything close to anywhere else is their Salted Caramel & Reduced Balsamic Vinegar Doughnut.  I don't care much for vinegar, so I'll let my fiancée Kellie tell you about that one:
"The reduced balsamic was very lightly drizzled on – giving a light punch of tart sweetness that balanced so well with the near-smokey saltiness of the caramel frosting.  It was tied with the Reese's Peanut Butter Cup one as my favorite."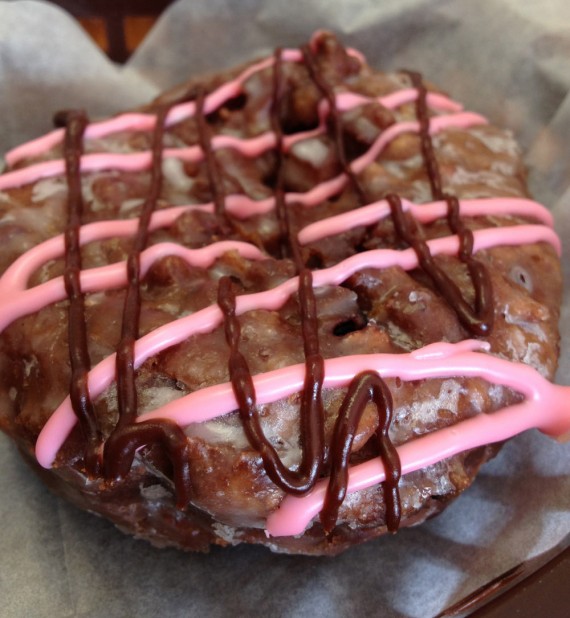 My favorite was the Chocolate Wild Berry Fritter.  I love all doughnuts (except vinegar doughnuts), but I'm most drawn towards ones with substance and girth, something with a little weight to it.  In this doughnut, chocolate and berry flavors seemed to fight for my attention.  It was a battle.  Just as the chocolate started to dominate, a hint of raspberry crept in.  Chocolate fought back – only to be pushed aside again.  There could be only one winner… me!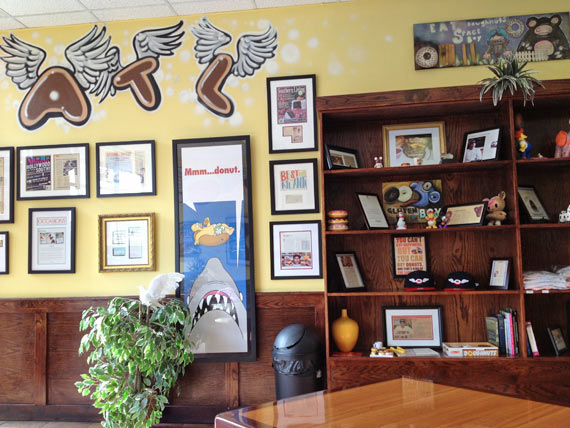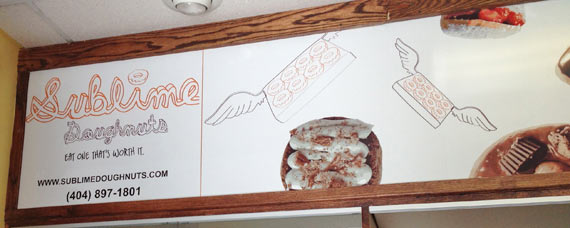 If you're ever in Atlanta, I strongly recommend you stop into Sublime Doughnuts.  For those who love the trend to update and redefine the American doughnut, it's a must.
For more about Sublime Doughnuts, visit their website.
For more about doughnuts on this blog, visit the category called Donut Diaries.
You Might Also Like: