Recreating Denny's Hobbit Hole Breakfast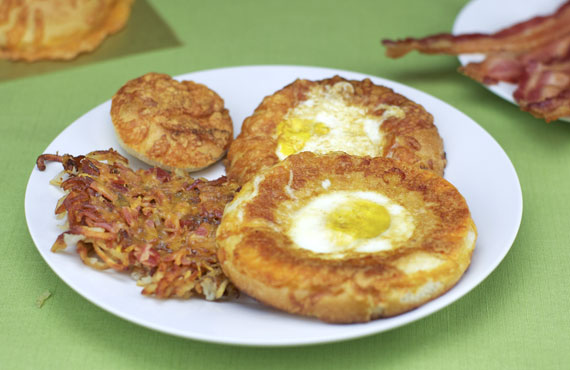 The other day, I went to Denny's to try their new Hobbit menu which is available for a limited time to celebrate the premiere of The Hobbit: An Unexpected Journey.  In particular, I wanted to try their Hobbit Hole Breakfast – "two eggs fried right into the center of grilled cheese bun halves" served with slices of bacon and hash browns topped with cheese and crumbled bacon.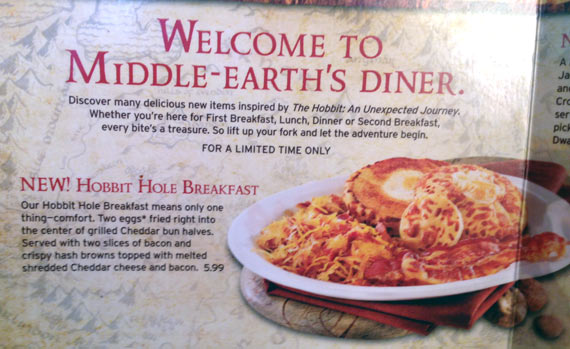 Here, you can see how it looked on the menu and how it actually looked on my plate at Denny's.  It was kind of a mess, but I can report that it was delicious. My only complaint was that the cheesy hash browns (while crisp and tasty) didn't have crumbled bacon on top as seen in the menu photo.  Instead, it was topped with half a slice of bacon broken into 3 pieces.  But all things considered, I was a happy with the meal (and very, very full).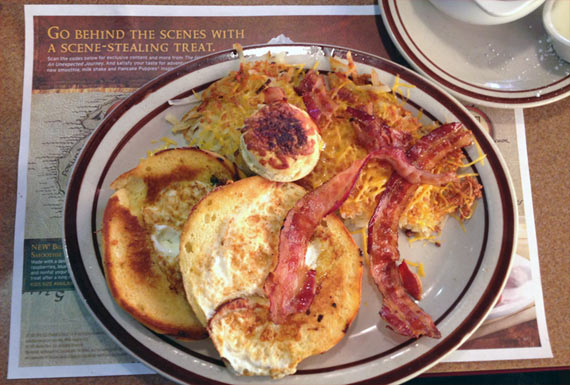 Maybe I was inspired by the Lord Of The Rings stories… but on the way home, I decided I would have an adventure. I would create my own Hobbit Hole Breakfast. I would cut out bread in the form a ring and forge a wonderful meal.  If it turned out super great, I would call it "Lord Of The Rings" (ie. The Almighty King of Breakfasts that resemble a ring).
Armed with bacon, a potato, two eggs, cheese and a roll (and a little butter and canola oil), I would transform these items into a complete breakfast – a feat of magic worthy of Gandalf.  (He's a wizard in the Hobbit movie – for those of you here for the recipe and not the cutesy movie correlation).
Let the adventure begin!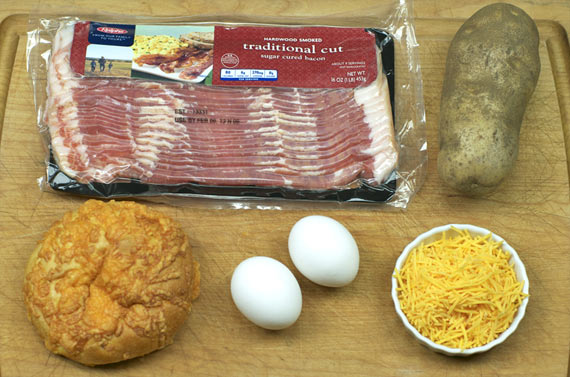 We've covered crispy hash browns and crispy bacon here before, so I'll post some refresher links to those at the bottom.  For now, let's concentrate on the Hobbit Holes themselves.
Many of us have been making Hobbit Holes for years.  But we've used regular bread and called them Egg In The Hole, Egg In The Basket, Popeyes or Birdies In A Nest.  The only difference between those and a Hobbit Hole is the bread that you use.  I found a terrific cheese roll at a local bakery.  I've seen similar rolls in grocery stores, so you shouldn't have too much trouble finding them.
Slice the roll in half and then cut a (hobbit) hole out of the center of each half using a 3-inch biscuit cutter.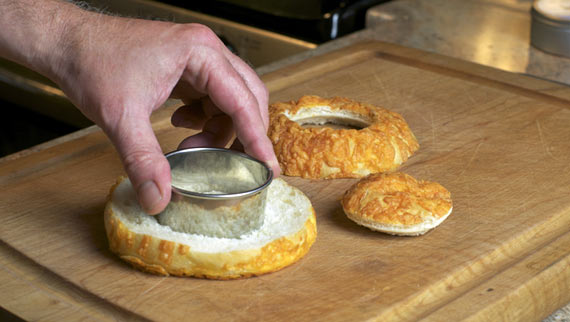 Melt a couple Tablespoons of butter on a skillet or in a frying pan over medium-high heat.  Place each slice on the hot surface with its flattest side down.  Then, carefully crack an egg into each of the holes.  Fry until the egg is almost fully set and then flip and fry the other side for one minute.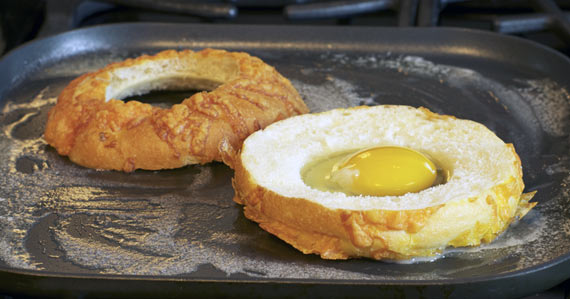 Tips: One of my Hobbit Holes was cooking slower than the other, so I placed the lid of a small pan over it to trap more heat and move things along. If you're worried that the egg could plop out when flipping, take a flat wooden spoon and hold it over the hole as you flip and then just slide it out.   Don't forget to fry the little holes you cut out as well.
That's all there is to it, my precious. If you make your own Homemade Hobbit Holes, let me know in the comments below.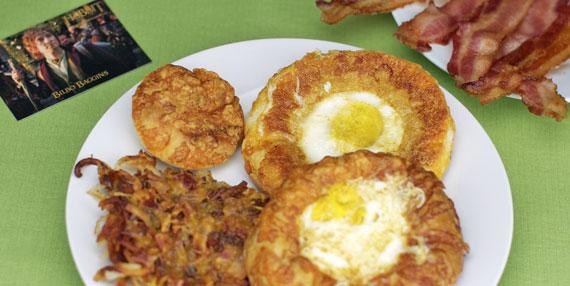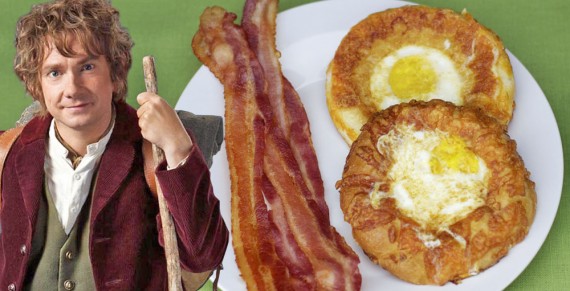 Resources:
How To Make Crispy Hash Browns
Fun Side Note:
I went to a Denny's in North Hollywood, CA.  A few booths over from me, a tattooed hipster was actually reading J. R. R. Tolkien's The Hobbit to his girlfriend as they ate.  He read the character voices in a stern British accent and the narrative in his usual California valley voice.  Here's the funny thing… they didn't order off of The Hobbit menu.  They had a Moons Over My Hammy and a club sandwich.  Go figure.
You Might Also Like: