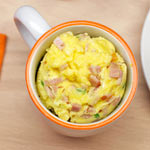 Microwave Farmers Omelet (In A Cup)
2 large eggs - beaten
2 or 3 Tablespoons shredded Cheddar cheese
2 Tablespoons diced fully cooked ham (or cooked and crumbled bacon)
1 Tablespoon diced green bell pepper
salt and pepper to taste
I was shocked that I liked this as much as I did. I'm pretty much a purist when it comes to omelets. I spent weeks finding my perfect frying pan. I've studied the techniques of the famed omelet chef
Madame Romaine de Lyon
. Realizing I can make a genuinely excellent omelet by throwing stuff in a cup is both exciting and somewhat deflating. The bottom line is that this method works.
I think the trick is filling your mug 2/3 full of ingredients before microwaving. That yields an omelet that rises just slightly over rim of the cup. I added an extra egg and increased the bell pepper to 2 Tablespoons to make that happen for my particular mug. As for cooking time, mine took 1 minute and 40 seconds... stirring twice during that period. I suggest that you serve the omelet directly in the the mug. It's much prettier than if you invert it onto a plate. Thanks to 'Bennett' for sending us this recipe. (Tested and photographed in June 2013)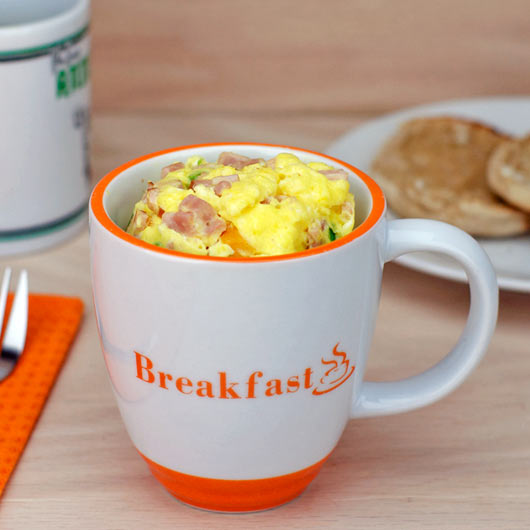 How To Make A Microwave Farmers Omelet
Prepare a large microwave-safe mug by spraying the inside generously with cooking spray.
Place all ingredients in the mug and stir to mix.
Microwave on high for one minute. Check the omelet. If the egg is not completely set, continue to microwave in 20 second intervals until it is completely set.
Run a knife around the edges of the omelet and slide it onto a serving plate.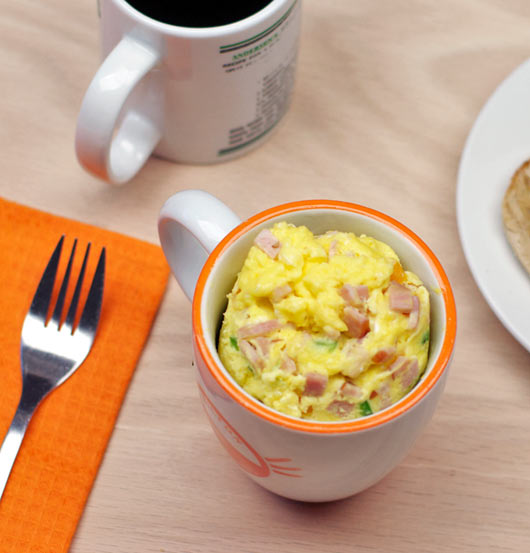 Breakfast in under two minutes! And dish washing is a breeze.
Mr Breakfast would like to thank
Bennett
for this recipe.
Comments About This Recipe
What do you think of Microwave Farmers Omelet (In A Cup)?
Overall Average Rating =

(out of 5)

From No Nickname
Comment under review by Mr Breakfast. Should appear within 24 hours.

Comment submitted: 5/29/2015 (#19433)



From Lai

This sounds delish! I'll try to make it for my mom tomorrow for breakfast. Can't wait!

Comment submitted: 4/30/2015 (#19389)



From 12-year-old
Awesome! My parents loved it.

Comment submitted: 4/26/2015 (#19384)





From Ann Cooks (Team Breakfast Member)
Love this! I have always done the Ziploc bag Omelets for quick, but this way you don't have to wait on the pot of water to boil. I'm going to try mixing it in a Ziploc bag the night before and putting it in the fridge. Spray the cup, pour in, cook for 2 minutes and "bam" breakfast. Love it!

Comment submitted: 4/17/2015 (#19369)





From recipehoarder (Team Breakfast Member)

You could add the stir the omelet part in the steps. I think it makes a difference between a rubbery and non rubbery omelet.

Comment submitted: 3/12/2015 (#19320)





From mancancook (Team Breakfast Member)
It's 5 in the morning on the day the clocks 'spring' forward and my wife has to clock into work at 6:30. I'm making this to send her off to work fed, and she can sleep a little longer. Also, I am not bashing skillets and utensils all over the stove top.

Comment submitted: 3/8/2015 (#19314)



From Crusher
Just found this, tried it and I love it!

Comment submitted: 1/21/2015 (#19220)



From Deekes
Awesome. Great for the RV. Kids that normally don't eat omelettes devoured these in their personal NASCAR cups. Thanks. My life is made easy. Just substituted celery for lack of bell pepper and a few mushrooms. So easy and good. A few croutons helped too with their own spices.

Comment submitted: 1/14/2015 (#19209)





From chambersbre (Team Breakfast Member)
I am only thirteen cooking for my family. Really good!

Comment submitted: 11/25/2014 (#19123)



From Albert
Added a little butter chives and a pinch of sugar! Good recipe.

Comment submitted: 10/2/2014 (#19027)



From Hannigan
I liked the recipe very much because it's easy to make and takes very little time.

Comment submitted: 9/3/2014 (#18979)



From Lizzie
My mom loves omelets and I can't even make pasta and it's Mother's Day tomorrow so this is perfect.

Comment submitted: 5/10/2014 (#18867)





From pdxrose (Team Breakfast Member)
Agree with Da Pom. Mix separately so the spray stays on the wall of the cup. Easy, pretty and yummy.

Comment submitted: 5/3/2014 (#18855)





From morebbqplease1 (Team Breakfast Member)

I don't have a microwave :(

Comment submitted: 9/26/2013 (#16649)





From wdweaver (Team Breakfast Member)
This is an awesome way to cook eggs for my wife. She likes omelets and I prefer sunny side up, so we never really eat at the same time. now we are both happy and can eat together. You definitely need to make sure to use cooking spray though!

Comment submitted: 7/20/2013 (#16186)



From Tintin
So quick and great tasting!

Comment submitted: 6/29/2013 (#16087)





From la grenouille (Team Breakfast Member)

Only you Americans to get the idea to make an omelette in a cup and microwave :) But I'll try it! - Anne Marie Nantes France

Comment submitted: 6/27/2013 (#16082)



From Nicki M.
I made it for my mom for breakfast in bed... I'm only 11 so it was really simple... she loved it! THANK YOU!

Comment submitted: 5/27/2012 (#13953)



From Michael A
The best omelet yet! I liked it with bacon. Cook and eat in the same cup, what could be easier?

Comment submitted: 10/6/2010 (#11344)



From Da Pom
I prefer to mix all the ingredients separately then pour them in to the cooking sprayed cup. Mixing them in the cup itself rubs some of the spray off the sides which can cause sticking. Yeah I know, it's more washing up!

Comment submitted: 7/18/2009 (#8427)




---
Connect With Mr Breakfast: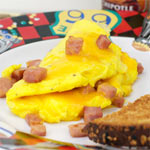 Ham & Cheese Omelette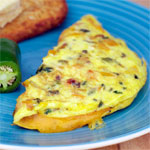 Jalapeno Omelet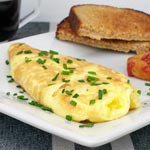 40 Second Omelet