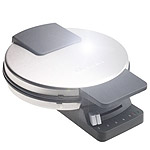 Dear Mr Breakfast,

How do I clean my waffle maker?

Brian From Charlotte, NC

Hi Brian! Thanks for the great question.
Let me start by telling you
WHAT NOT TO DO
.
Never clean a waffle maker while it's still hot. Let it cool completely.


Never dunk your entire waffle maker in water.


Never use scouring pads, steel wool or abrasive cleansers.


Never use a knife or pointed object to clean your waffle maker (I've actually seen that advised on less reputable sites).
When it comes to cleaning a waffle maker,
your first source of information should always be the owner's manual
. There are many different kinds of waffle makers, so your buddy Mr Breakfast will gladly defer his expertise to the company that makes your waffle maker.

What I can speak about is my own favorite waffle iron. It's
a modern electric waffle iron with non-stick and non-removable baking plates
. That's the same kind you have? Oh good. It looks like you came to the right guy.
Cleaning the baking plates:
Remove any small puddles of oil with a dry paper towel.


Brush away any crumbs with a soft-bristled kitchen brush or old toothbrush.


Remove any batter stuck to the iron with a rubber spatula.


To remove really-stuck-on batter, douse the baked-on batter with cooking oil. Wait 5 minutes for the batter to soften. Dab the batter off with a paper towel or cloth.


To prevent staining and long-term oil build up, wipe down the baking plates with a damp cloth or paper towel.


Make sure the waffle iron is completely dry before storing.


To clean the exterior
, wipe down the housing and handle with a damp cloth.
Keeping it clean:
There are a couple things to remember to make sure our kind of waffle maker stays clean.
Unless stated otherwise in the manufacturer's instructions, you should never coat the baking plates of a non-stick waffle iron with cooking spray. Over time that will give you a gummy build up that will turn your waffle maker to junk. Today, when a waffle maker makes the claim that it's non-stick, they really mean it. The only oil you need is the oil in the recipe. If your waffles are sticking, it's your batter that needs more oil, not your waffle maker.


Unless stated otherwise in the manufacturer's instructions, don't use soap to clean your baking plates. Soap can be the enemy of a non-stick surface. Oil - on the other hand - can be a great friend. It creates a thin layer that helps maintain the non-stick surface. Soap will completely obliterate that layer of friendly oil. Harsh soaps can deteriorate the manufacturer's non-stick surface over time.


A quick note about removable baking plates:
Removable baking plates can most often be submerged in water. But whether they can be placed in the dish washer or exposed to soap is a matter of the non-stick coating (or lack of coating) for the particular waffle maker. Be sure to consult your instruction manual for the proper cleaning method.
Well Brian, I really enjoyed talking with you about cleaning waffle makers. Don't forget to check out
150 waffle recipes
on MrBreakfast.com.
And most importantly for our subject today, don't forget to check your waffle maker's instruction guide for the final word on cleaning your unit (ha).
Your Buddy,
Mr Breakfast
This article was written by Mr Breakfast (aka Eddy Chavey).
The editorial content above may not be reproduced without the written permission of Mr Breakfast.com. Please contact us for reprint requests.