Watch Me Turn Bread Into Pancakes!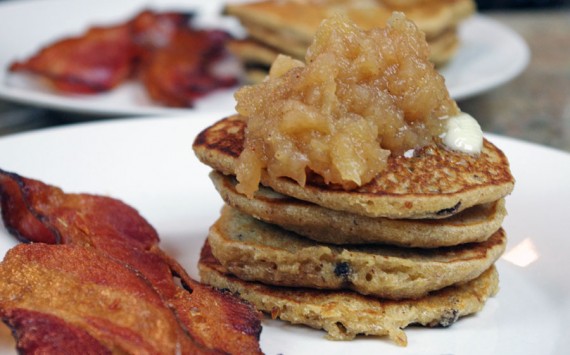 I recently bought a loaf of Wonder Bread (rare for me as I usually go for whole grain). I used half the loaf to make Waffle Maker French Toast earlier this week.  Today, I wanted to do something unique with the remaining slices so I tracked down an old recipe for Austrian Bread Pancakes and modified it a little.
These pancakes remind me very much of bread pudding.  The inside is moist and almost custard-like (think of perfectly prepared French toast).  Currants, almonds and cinnamon provide an almost holiday-like flavor.  Made with torn pieces of bread, this is actually a griddled form of bread pudding.  So let's change the name.  I present to you… Bread Pudding Pancakes!  Now watch me turn bread into pancakes…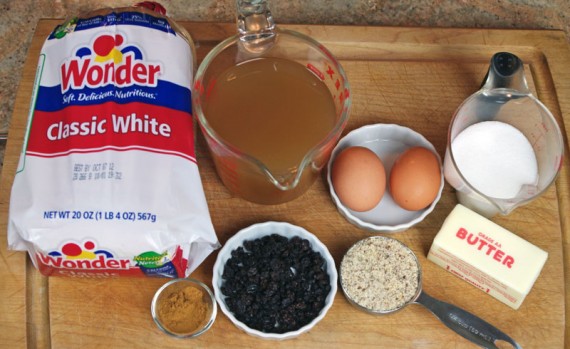 The ingredients are white bread, apple cider, eggs, sugar, cinnamon, currants (or raisins), almond meal and butter.  Not pictured is flour – a late addition I included when the consistency of my batter seemed too thin.

First, you remove the crusts from the bread and rip the slices into small pieces.  I'm saving the crusts to make bread crumbs for later.  Next, you pour apple cider over the torn bread, give it a quick stir and let it set for about 10 minutes.

To make the batter, you start by mixing the egg yolks with the sugar and cinnamon.  Stir it up until you get an even consistency.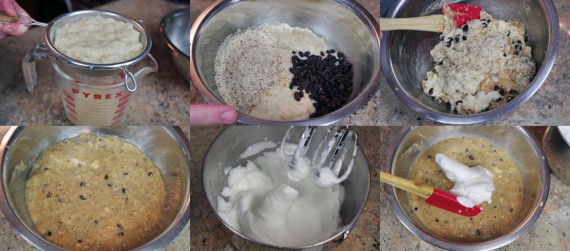 Now, you incorporate the bread.  The messy part of this recipe is draining as much liquid from the bread as possible.  I started using a strainer, but soon discovered the best way to do it was to squeeze the hell out of it with my hands.  The bread will still be quite wet.
So, add the drained bread to the sugar and yolk mixture followed by the currants, almond meal and flour.  Mix it up really well.  Next, beat the egg whites until stiff peaks form and fold that into the batter.  This recipe has no baking powder, so all the lift comes from the beaten egg whites.

Recipe Reality:  At this point, things get a little tricky.  These pancakes are difficult to flip so you have to 1) make the pancakes fairly small – about 2 tablespoons batter per pancake and 2) do a swift slip-n-flip motion with the spatula when the bottom is browned.  My first batch of pancakes were too tender and busted all up.  That's when I initially added a little flour to the batter and everything was great after that.  (The linked recipe below has been adjusted to add the flour.)  As per usual, you cook the pancakes until they're browned on both sides.  It took about 2 minutes for the first side and 1 minute for the other side.
The tenderness of these pancakes might make them tricky to work with, but that aspect is also what makes these pretty terrific.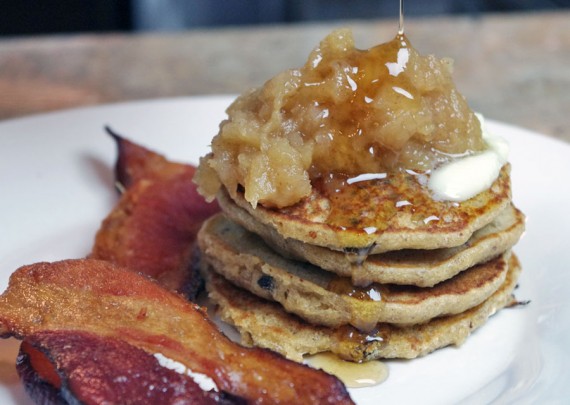 Hopefully, the picture above gives you a sense of the bread pudding-like texture.  To complete the dish, I made some homemade applesauce to act as a topping.  A little bit of butter also helped these taste super good (as butter tends to do).
Here's a card I whipped up to show how easy it is to make your own homemade applesauce: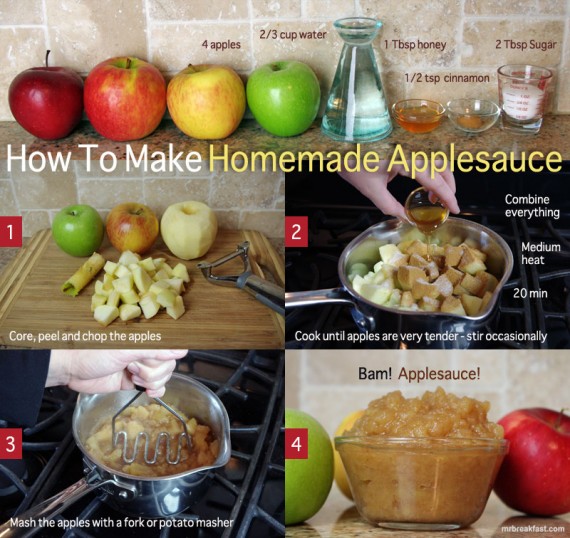 And that's how you turn bread into pancakes.  Join me in a few weeks as I attempt to turn orange juice into breakfast wine.  It'll be a real miracle if I can pull that off. But that's what I used to think about these scrumptious pancakes until I tried it.
"Everything is a miracle. It is a miracle that one does not dissolve in one's bath like a lump of sugar." – Pablo Picasso
"Miracles happen everyday, change your perception of what a miracle is and you'll see them all around you." – Jon Bon Jovi
This post is a companion piece to the following recipes on MrBreakfast.com:
Austrian Bread Pancakes (aka Bread Pudding Pancakes)
Homemade Applesauce (Pancake Topping)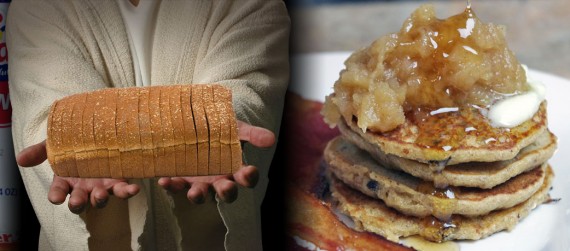 You Might Also Like: