How to Make a Tuscan Scramble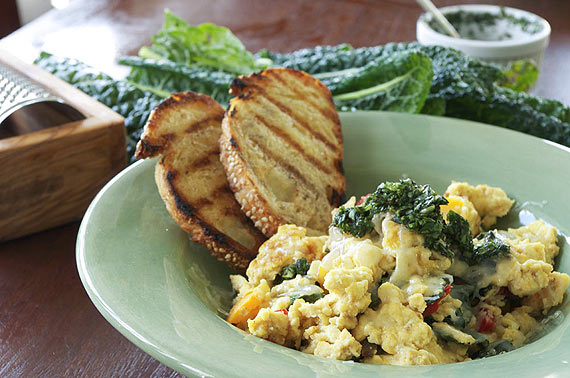 Have you ever wanted to experience the beauty of Tuscany… in your breakfast?  Today's hot breakfast is a melange of tender scrambled eggs with Tuscan kale, Italian cheeses, sweet peppers and a simple basil pesto.
As you'll see in upcoming posts, if a particular dish looks sophisticated and requires a bit of finesse, it was probably made by my fiance Kellie – the soon-to-be Mrs. Breakfast. This last weekend, I woke up to the amazing aroma of basil being ground into a pesto.  As my sleepy senses soon discovered… that pesto became the perfect garnish for a scramble filled with an array of different Italian-inspired flavors.  I can personally vouch for this dish.  I ate it and I loved it. Ti amo!
Without further adieu, I'll turn the writing over to Kellie for this post that we're subtitling "Kale-ifornia Dreamin'".  Take it away Kellie…
Scrambles are so convenient.  I find that when Mr. Breakfast feels like sleeping in, a scramble is my go-to breakfast dish for him as I can usually just find great ingredients in the refrigerator without having to plan ahead.  On a trip to Tuscany last year, I fell in love with cavolo nero – or what we call black kale. If you're not using kale in your kitchen, you must start immediately.  Fall is the season for kale, and I have a few types growing in the garden right now.  You can substitute spinach, but kale has a sweetness and warmth when sauteed that reminds me of caramelized onions and cabbage.  And it's what makes this dish.
I like to top this dish with a very simple pesto – it's optional – but definitely recommended.  If you want to make it, do it before you start to cook anything so the oil can absorb the flavors of the basil.  I just chop up a bunch of fresh basil by hand with a chef's knife, until the basil is minced very finely. Then just stir it into a bit of walnut or olive oil (I use both!) and a pinch of kosher salt and hot red pepper flakes.  Super easy!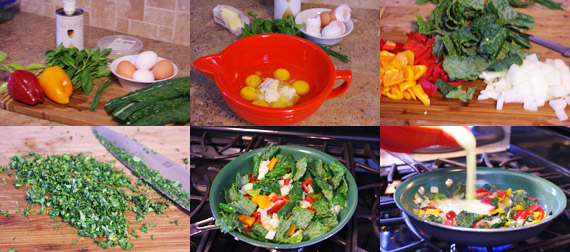 On to the scramble:
I learned a little trick in Florence: ricotta can make simple eggs absolutely velvety and rich.  So just start with your eggs and whisk in the 1/2 cup of ricotta.  Add in a pinch of salt and pepper to taste.
Chop up 1-2 small sweet peppers,  (I used red and orange bell peppers) and 1/2 a sweet onion.  In a non-stick pan on medium heat, saute the pepper and onions with a little olive oil until the onions have begun to turn translucent.
Take 1 bunch of kale (about 8-10 large leaves) and remove the woody center rib.  Coarsely chop or tear into 1 inch pieces and saute with the pepper and onions until the kale has started to wilt.
Pour your egg mixture over the vegetables and continue to gently fold the eggs in until the eggs are fully set and everything is combined. Toss in 1/4 cup of your favorite Italian cheese.  (I used both Italian black truffle cheese and Asiago. Parmesan works great too, though.)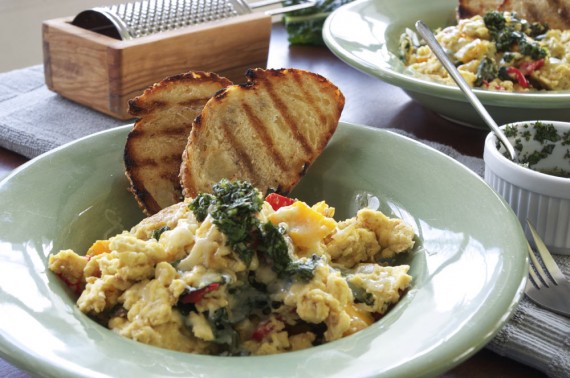 I like this dish with grilled bread – which is so easy – I know you'll do it to.  Just butter 4 slices of Italian or French bread, and place them butter side down on a hot grill.  Grill on both sides for 1 minute, watching so they don't burn.  The flavor you get from the grill is unmatched.  To serve, divide the scrambled eggs between 2 dishes, top with a teaspoon or two of pesto and serve with the grilled bread or toast.  Buon appetito!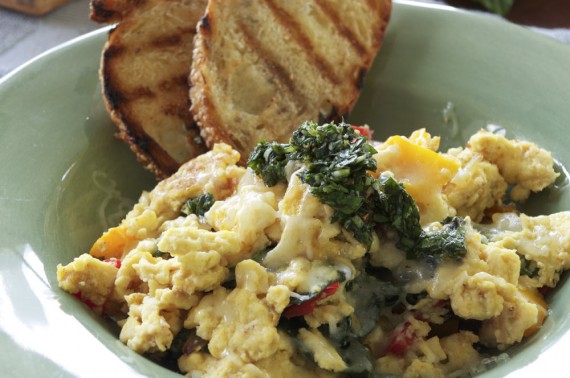 Hi guys – It's Mr Breakfast again.  Thanks to Kellie for the post!
If you'd like to perfect your basic scrambled egg technique, check out my article called Perfect Scrambled Eggs.
Since we're talking about kale, here's a couple other things you might try:
Saute kale with sliced mushrooms for an omelet filling
Layer sauteed kale beneath beneath Canadian bacon in an Eggs Benedict for a unique flavor and a boost of vitamins
Try replacing spinach with kale in nearly any recipe
And finally, when we address the main question of this post, there is an alternative answer… a joke, per se…
"How do you make a Tuscan scramble?"
"Tell him his pizza is burning."
Badda bing… and have a great breakfast tomorrow!
This post is a companion piece to the following recipe on MrBreakfast.com:
You Might Also Like: