New Breakfast Waffle Sandwich At Jack in the Box®
For a limited time starting today (July 5), the fast food chain Jack In The Box is offering a new Breakfast Waffle Sandwich.  The new product is a fried egg, American cheese and "country-grilled" sausage between lightly sweetened maple waffles.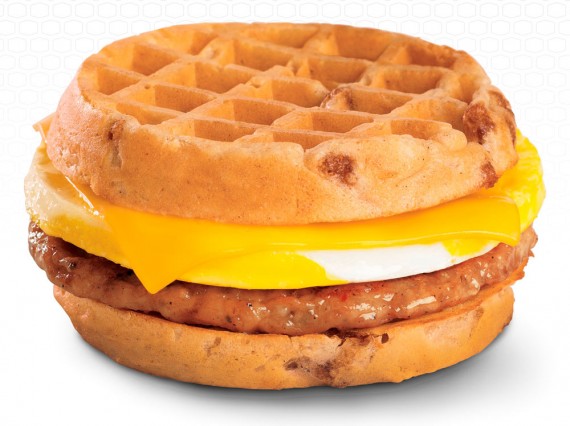 According to the company's director of menu marketing and promotions, Tracy Dunn, "Jack in the Box is combining three popular breakfast choices – waffles, egg and our new country-grilled sausage – to create a distinctive, craveable sandwich that is easy to eat on the go. Our new Breakfast Waffle Sandwich is the perfect balance of sweet and savory."
Visit jackinthebox.com for more details.
Important Update: I just tried the new Breakfast Waffle Sandwich.
Something about that promotional picture haunted me all afternoon.  I couldn't shake the craving.  Luckily, Jack In The Box serves breakfast all day long.  Breakfast for dinner, baby!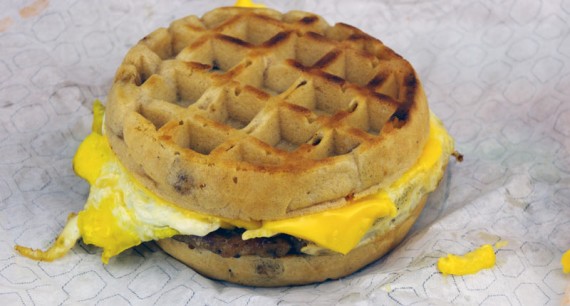 My verdict:
It was alright.  It was a little smaller than the promo picture and placards in the store might have you believe.  I'm not a pig, but I was expecting more of a deluxe-sized sandwich, especially based on the $2.79 per sandwich price tag.
I liked it better than the McGriddle (the competing sandwich from McDonalds that uses maple "griddle cakes" for the bread).  The maple flavor in the waffle sandwich tasted more authentic.  All in all, it was decent sandwich.  Don't let that first picture get your hopes up too high.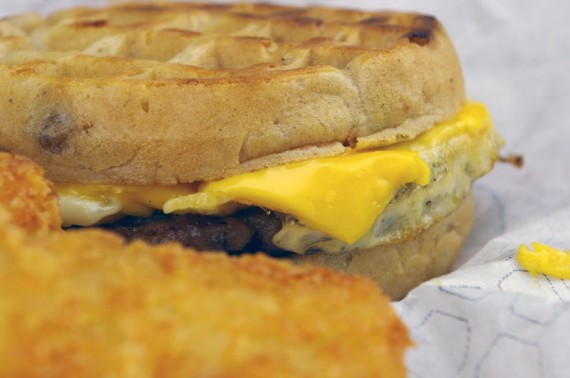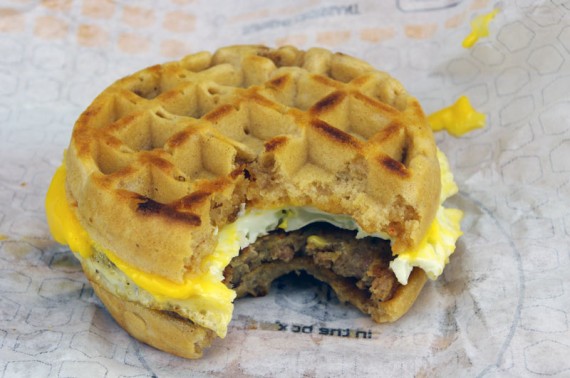 You Might Also Like: