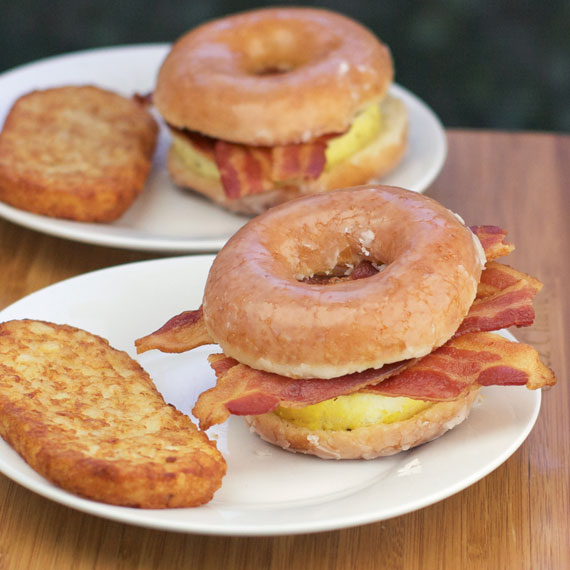 Eggs and bacon sandwiched between a sliced glazed donut… crazy or genius?  I can report that it's insanely easy and it tastes amazing.  Therefore, I'm leaning toward genius.  This recipe is a recreation of the Glazed Donut Breakfast Sandwich that was recently introduced by Dunkin' Donuts.  Above, you can see my version.  Below, you can see the Dunkin' Donuts version as it appeared in their press materials.  Believe it or not, their donut sandwich has only 360 calories.  Mine has a little more bacon.  I hesitate to recommend either version for your weight loss program.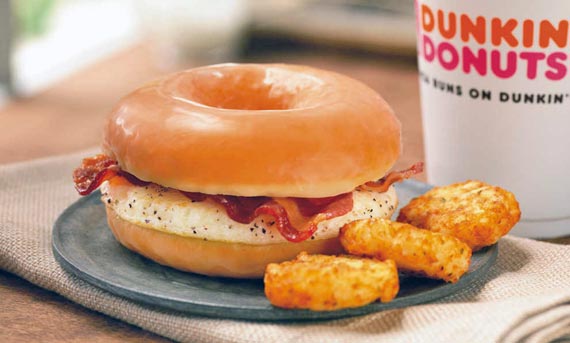 The donut breakfast sandwich concept isn't new. A few smaller donut outlets were doing them well before Dunkin' Donuts put them in the news.  Buddha Belly Donuts in Sarasota, Florida offered a version with sausage.  Unfortunately, that shop is now closed. The Bleeding Heart Bakery in Chicago offered the Make-Your-Own Doughnut Breakfast Sandwich where you could choose any or all of the following ingredients to accompany the fried egg: bacon, ham, sausage, fried green tomatoes and Cheddar or Swiss cheese.  Strangely enough, that shop also closed recently.   Beware Dunkin' Donuts!  There seems to be a trend.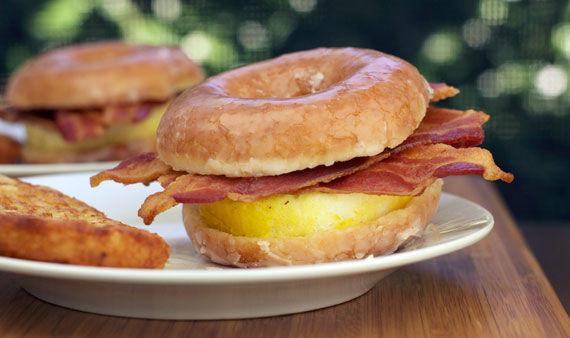 I decided to try something quite controversial… I recreated Dunkin' Donuts Glazed Donut Breakfast Sandwich using glazed donuts from Krispy Kreme.  Let's face it, a Dunkin' Donuts glazed donut is good, but Krispy Kreme is the current non-disputed champion for exceptional glazed donuts.
How To Make A Glazed Donut Breakfast Sandwich
Step One:  Acquire a glazed donut and carefully slice it with a serrated blade, trying not to dimple the beautiful sugar sheen of the glaze.