Baked Banana Donuts With Peanut Butter Icing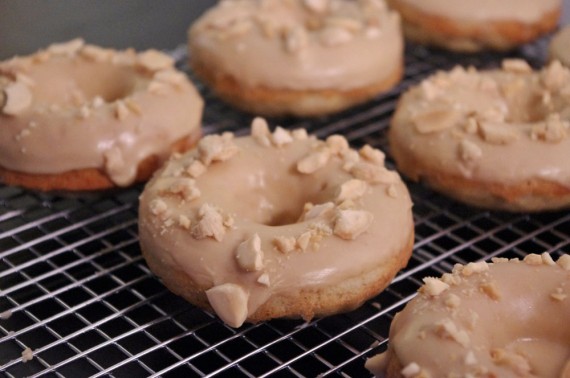 If you have the right tools and a proven recipe, you can make donuts at home just as easily as you can make muffins.  In this article, we'll take a look at my homemade Baked Banana Donuts With Peanut Butter Icing And Marcona Almonds.  Along the way, I'll give you some tips on making baked donuts and, hopefully, some inspiration for trying new flavor combinations of your own.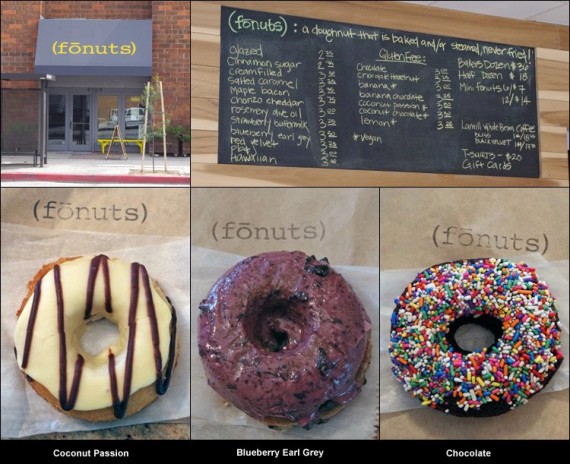 I was motivated to bake recently by a trip I took to Fonuts ("faux-donuts") in West Hollywood, CA.  They're doing some very interesting things with baked donuts.  I bought a few varieties to try and was impressed by the amount of flavor they pack into each donut. They have traditional flavors like glazed, cinnamon sugar and chocolate. But they also have bold, adventurous flavor combinations like maple bacon, salted caramel, blueberry earl grey and even savory flavors like rosemary olive oil and chorizo cheddar.
If you're into making donuts at home, Fonuts will give you inspiration to last months. It's worth a trip if you're in the Los Angeles area.   The only negatives that I found were that the donuts were a bit too crumbly and slightly soggy on the bottom.
After fully stuffing my face with Fonuts, I returned to my home (aka the breakfast test kitchen) and decided to see what I could do with ingredients I had in the house.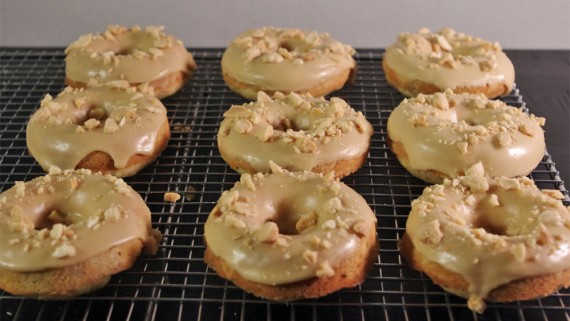 If you want to skip the discussion and jump straight to the recipe, click here.
For baked donuts, you should really uses a donut pan.  They're available at Target and similar stores.  They're basically shallow muffin tins with donut-shaped cups.  I bought two six-cup tins for $12.
I've seen similar recipes, where you're supposed to dollop the batter in a donut shape on a baking sheet.  I wouldn't advise that for this recipe – or for most recipes that suggest that technique.  For baked donuts to be moist, the batter needs to be just a bit runny.  Runny batter on a baking sheet isn't a recipe for donuts.  It's a recipe for frustration.  You'd be better off using this batter in a standard muffin tin.
Before you make any baked donuts, you should know that no matter how good they turn out, they wont be the same as deep fried donuts.  They're more like muffins in texture and they're missing the crisped exterior that you get at the donut shop.  That said, you can still load baked donuts with tons of flavor and satisfy the most fierce donut craving.
One other word of warning:  Many baked donuts are less healthy than deep fried donuts.  That's the painful truth.  Several baked recipes contain more butter and oil than their deep fried counterparts.  When traditional donuts are fried at the right temperature for the right amount of time, they absorb very little oil.  If you want to do your body a favor by baking instead of frying, just be sure to examine the ingredients closely.  This recipe is an exception because it uses only 2 tablespoons of butter and no oil.
To make baked donuts, the rules are the same as those for muffins.  You'll mix your dry ingredients and wet ingredients separately.  When you bring them together, mix until just combined and moistened.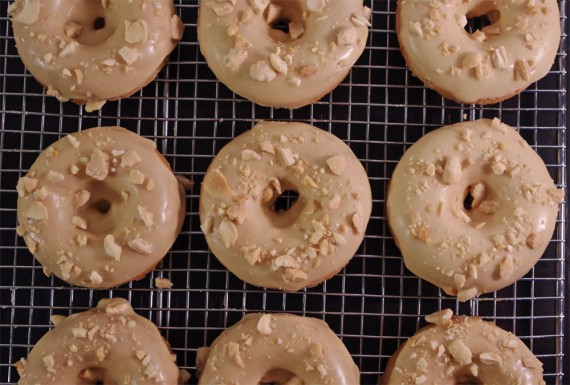 I took two stabs at this recipe.  The first batch was fine, but the second one was great.  Here's what I learned:
Do not over-mix your batter.  As with muffins, over-mixing results in a loss of tenderness.
Don't overfill the donut molds.  3/4 full is usually the perfect amount.  Any less and the donuts are too flat.  Any more and the donuts overflow into each other while baking.
Let the donuts cool before icing them.  They also pop out of the pan easier that way.  Whether you're working with baked or fried donuts, a similar principle applies:  cool donuts get the icing and warm donuts get the glaze.
Toppings should accentuate not dominate.  I topped my banana donuts with Marcona almonds from Spain.  Fancy, right?  My first batch had too many almonds and it took away from the flavor of the donut and the icing.  So, be bold and be experimental, but be cool about it.
At this point, I can hear a few of you saying, "Dude, I just want a recipe.  I don't want to go to donut college."  So, I'll sign off for now.  But you have to admit, donut college sounds pretty awesome.
I hope you'll try making your own baked donuts.  If you do, let me know how it goes in the comments below.  I'd also love to get your ideas for flavor combinations I should try in the future.
This post is a companion piece to the following recipe on MrBreakfast.com:
Baked Peanut Butter Banana Donuts
You Might Also Like: