Making Quiche Lorraine With Alfred Hitchcock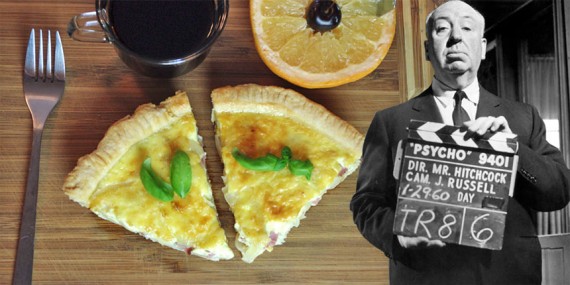 Most people know Alfred Hitchcock as the legendary director of thrillers like Psycho, The Birds, Rear Window and about 50 other films.  Here at MrBreakfast.com, we know the Master of Suspense as a guy who loves a good quiche.  Follow along as I make his recipe for Quiche Lorraine which appeared in a 1981 celebrity cookbook by Johna Blinn titled appropriately Celebrity Cookbook.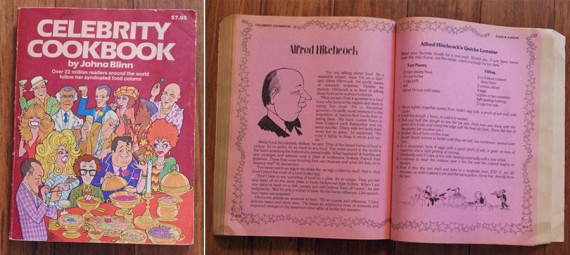 I love kitschy old cookbooks, especially celebrity cookbooks.  So, imagine how happy I was to find a kitschy old cookbook with recipes from over 200 celebrities.  It was just $1.00 at a thrift store.  Score!  I'll probably cover other recipes from this book in the future, maybe Elliott Gould's Western Omelet Supreme, but for today, let's concentrate on Alfred Hitchcock's Quiche Lorraine.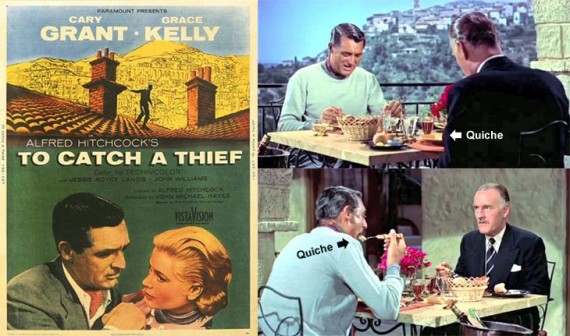 Hitchcock was a self-proclaimed lover of quiche.  He even featured it in his 1955 film To Catch A Thief. The scene that starred Quiche Lorraine featured Cary Grant and John Williams.  If you combine parts of their dialogue, you get this description of the dish: "Quiche Lorraine… It looks delicious… It's wonderful… The pastry is as light as air."
Alfred Hitchcock's Quiche Lorraine: Step-By-Step
For the ingredients list and a printable recipe, click here.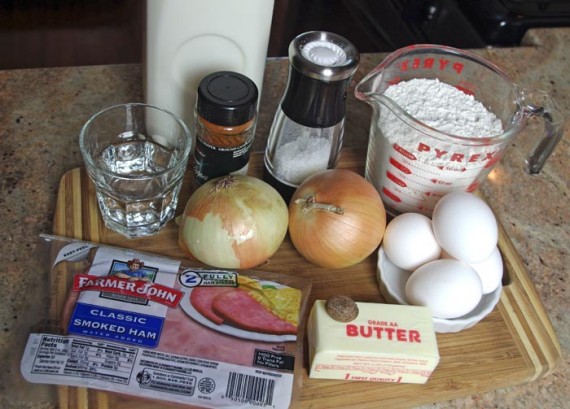 To make the pasty crust, chop cold butter into small pieces and blend it into the flour with your finger tips until the texture is like coarse, wet sand.  Add an egg yolk, water and salt and mix until a dough forms.

Pack and roll the dough into a ball.  Cover with plastic wrap and refrigerate for at least 1 hour.

Once chilled, turn the dough out onto a floured surface and roll to form the crust.  Fit the crust over a 10-inch pie pan and press it down to line the pan.  Trim edges as needed.  Poke a number of holes into the bottom of the crust with a fork.  Refrigerate pie crust as you work on the next steps.

Slice the onions and cube the ham.

Saute the onions in a couple Tablespoons of butter until softened and just starting to brown – about 12 minutes.

Sprinkle ham over the bottom of the pie crust.  Spread onions over the ham.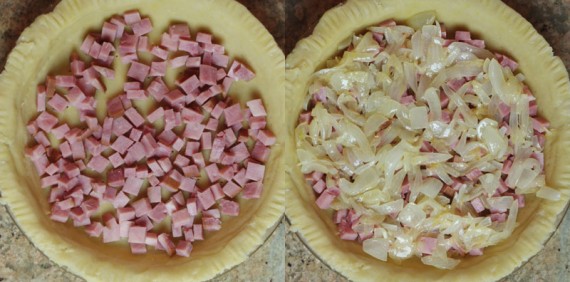 To make the custard (aka the delicious glue that holds your quiche together):  Beat your eggs, milk and seasonings together.  Mr. Hitchcock tells you to beat your eggs and slowly whisk in hot milk, then stir over low heat until the mixture thickens.  In my experience, that's an unneeded step.  Just mix the stuff together.

Pour the custard over the ham and onions.

Bake the quiche for 35 to 40 minutes at 375 degrees until the custard is set and the top is golden brown.  Mr. Hitchcock says 30 minutes, but I found that it needed a little more time.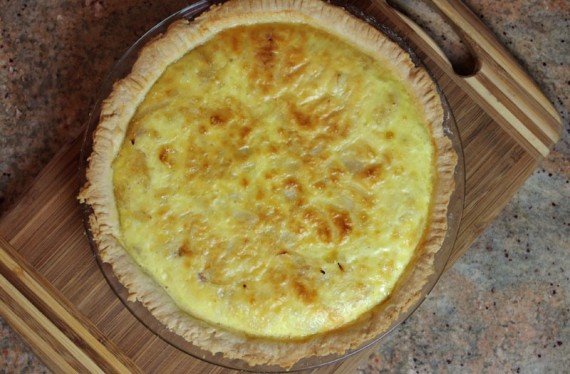 Allow quiche to cool slightly – 5 or 10 minutes.  Slice and serve warm.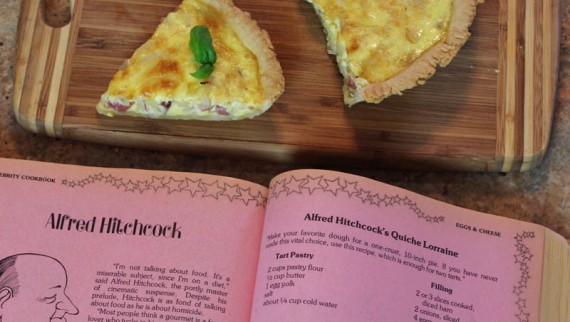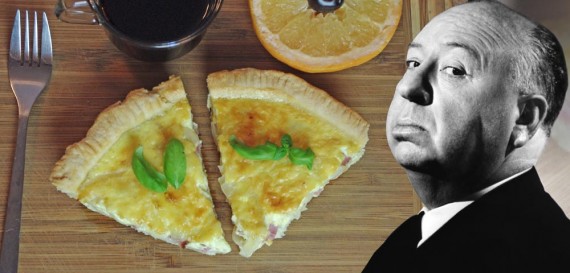 Thanks Alfred Hitchcock!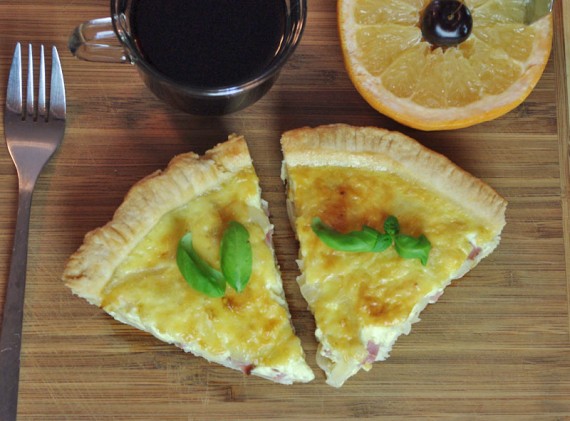 This article is based on the recipe Alfred Hitchcock's Quiche Lorraine from MrBreakfast.com.
Bonus:
Watch Nathalie Morris, a curator at the British Film Institute, make a version of this recipe while discussing the treatment of food in the films of Alfred Hitchcock.  Somebody give this girl a show!
You Might Also Like: