Homemade & Healthy: Classic Bran Muffins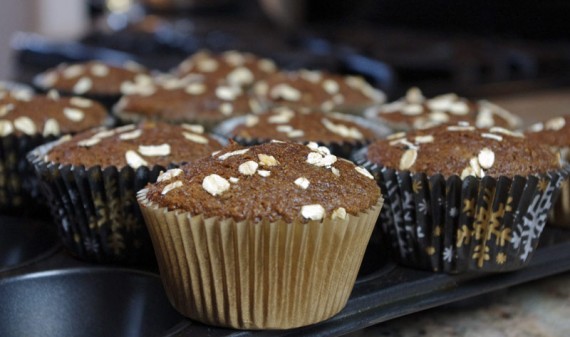 If they're done right, they'll be good for you but they won't taste like they are.  These bran muffins have raisins, walnuts and an infusion of flavor from vanilla, cinnamon and orange zest.  The sweeteners I use are honey and molasses.  Soaking the bran in hot water and letting the batter rest helps give these muffins a softer, lighter texture.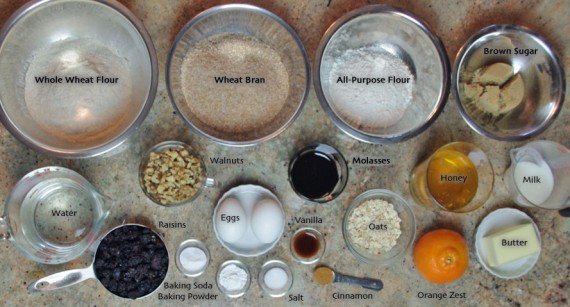 For the ingredients list and a printable recipe, click here.  This article is a companion piece to that recipe.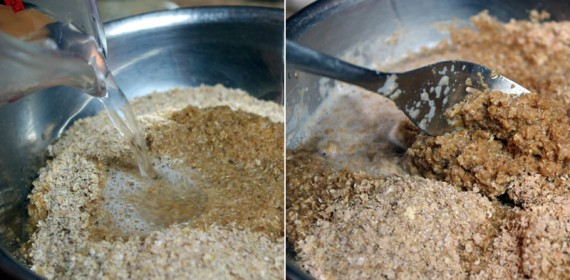 Pour boiling water over the wheat bran and stir to moisten.  Soaking the coarse bran softens it up and helps give an overall softer texture to the muffins.
As with other muffin recipes, you want mix your dry ingredients together and then mix your wet ingredients together in a separate bowl.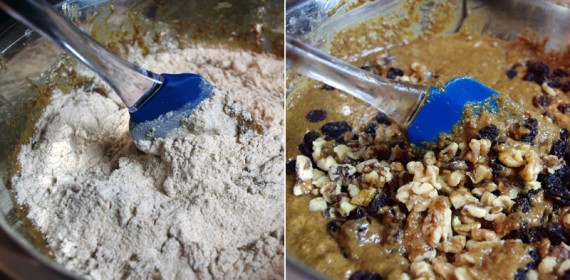 One of the secrets to a good bran muffin, or almost any muffin for that matter, is gentle mixing.  Use a whisk to mix together your separate wet and dry ingredients.  But when it's time to bring the mixtures together, use a wooden spoon or rubber spatula and a gentle, slow folding motion.  Over-mixing results in tough, chewy muffins because too much gluten develops as the flour and liquid combine.  Slow and steady wins this race.
For this particular recipe, you mix the moistened wheat bran into the wet ingredients and then you fold the dry ingredients into that mixture.  That's followed by folding any fruit and nuts into the batter.
When everything is mixed, I cover the batter with plastic wrap and refrigerate it for at least an hour.  I find that it brings all the flavors together and softens the raisins.  You could let the batter set in the refrigerator for up to four days if you want to prep the muffins in advance.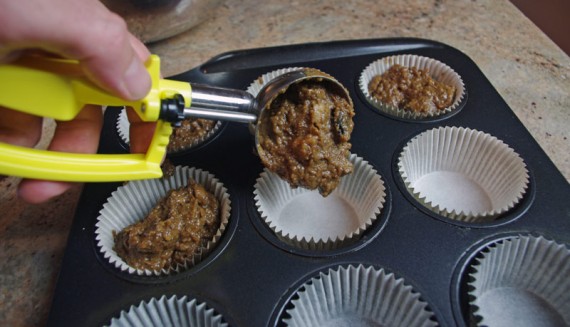 Place paper liners in the muffin cups or spray each cup generously with cooking spray. I like to use an ice cream scoop to dollop the batter.  It helps control the amount of batter per cup and  prevents batter dripping all over the place, as can happen with a large spoon.   Fill each cup 3/4 full.  That's pretty important.  If you fill them too much, you risk the muffins overflowing out of their cups and fusing with the muffins next to them.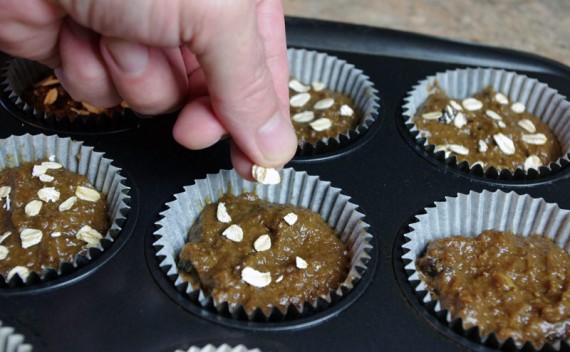 This step isn't necessary, but I like to sprinkle a few oats over the top of each muffin.  It gives the the muffins a finished look so they feel more like a baked good you might buy in a coffee house.  Plus… ain't nothin' wrong with a (very) few more oats in your diet.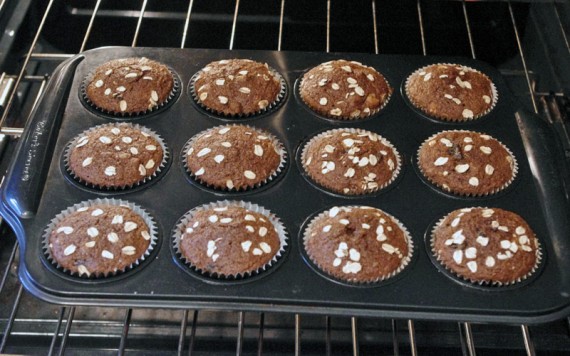 Bake the muffins at 375 degrees for 17 to 20 minutes.  To test for doneness, insert a toothpick into the center of a muffin.  If it comes out clean, the muffins are done.

Let them cool for 5 minutes before removing from the muffin tin.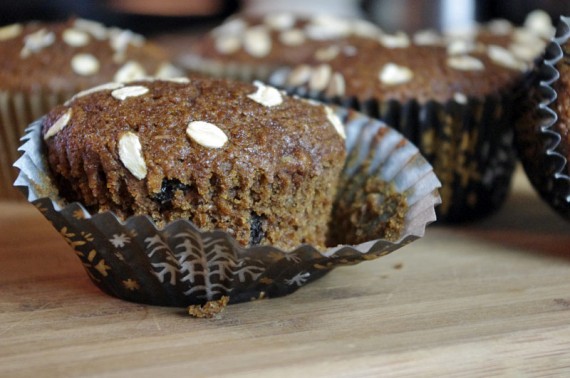 And there you go!  Enjoy that fresh, warm, healthy muffin.
Since I'm trying to avoid the term bran-tastic, let me say this: If this bran muffin was an actor, it'd be a great one like Marlon Bran-do or Kenneth Bran-ough.  If it was an entertainment destination, it'd be Bran-son, Missouri.  Jazz artist? Bran-ford Marsalis.  In short, I think you'll like them.  Oh heck… they really are bran-tastic!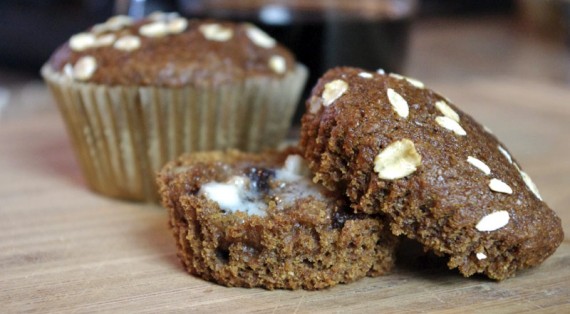 I love a warm bran muffin with just a little smear of butter.
Here's the short and sweet printable version of this recipe: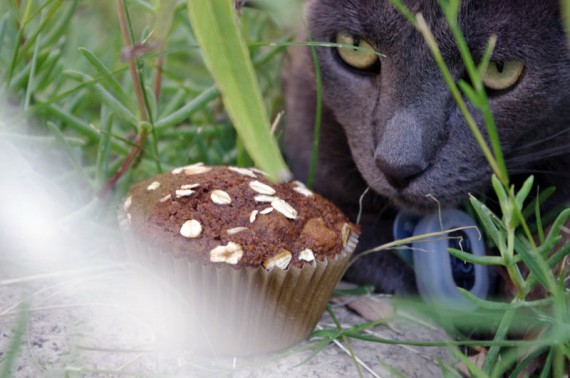 Just for fun:  Here's my cat, Stretch, staring at a homemade bran muffin.  He's all like, "Dude, what's up?  I was using that rock to rest my head."
You Might Also Like: