Breakfast Blog Roundup (10/17/12 – 12/01/12)
Once every month or so, I go through my favorite food blogs and put together a list of what's happening with breakfast on the blogosphere.  This edition of the Roundup features 12 breakfast recipes from 12 different blogs.
Click around the sites. If you find something you like, tell them Mr Breakfast sent you.  Some people will know what that means.  To others, it will sound like Uncle Lunch or Admiral Dinner sent you to their blog.  Either way, I bet you'll find something you'll want to make.
Pinch Of Yum is one of my favorite blog discoveries in recent months.  They don't just serve up amazing recipes.  They also offer great tips on food photography and how to make a food blog successful.  Thanks to their inspiration, MrBreakfast.com is getting more recognition on food photo sites like Food Gawker.  So, be sure to check out Pinch Of Yum.  Their recent recipe for Double Chocolate Oatmeal will make your mouth water.  How often do you say that about oatmeal? (Posted on 10/26)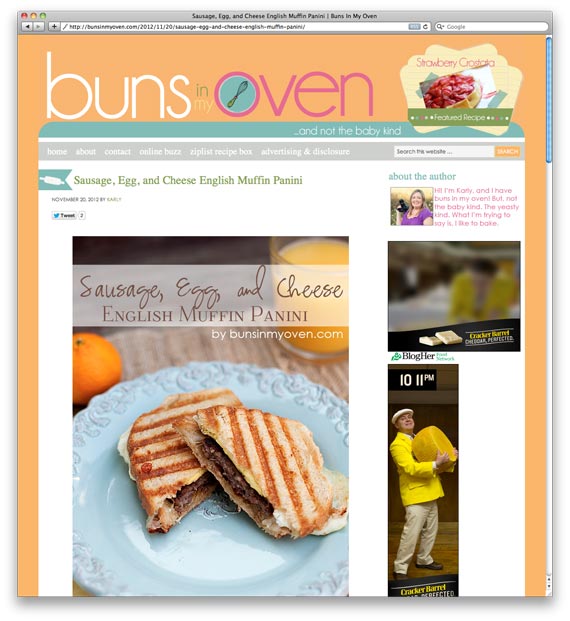 You might think Buns In My Oven would be about pregnant ladies who love hamburgers.  Not so.  Sorry if that's your fetish.  The site is about all kinds of food and the photos are incredible.  They recently featured a Sausage, Egg and Cheese English Muffin Panini that looks fantastic. (Posted on 11/20)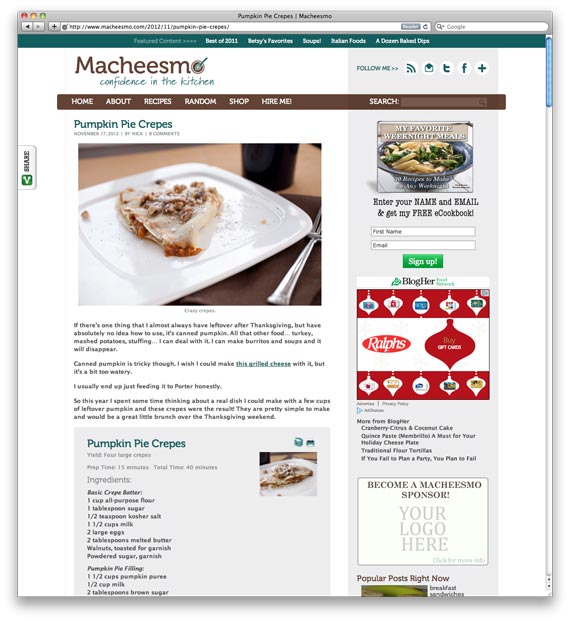 There's an idea I really loved at Macheesmo where their tagline is "Confidence in the Kitchen."   They're filling crepes with pumpkin pie filling.  Warning to my family at Christmas… there's a good chance I'll be scraping out pies and making crepes. (Posted on 11/17)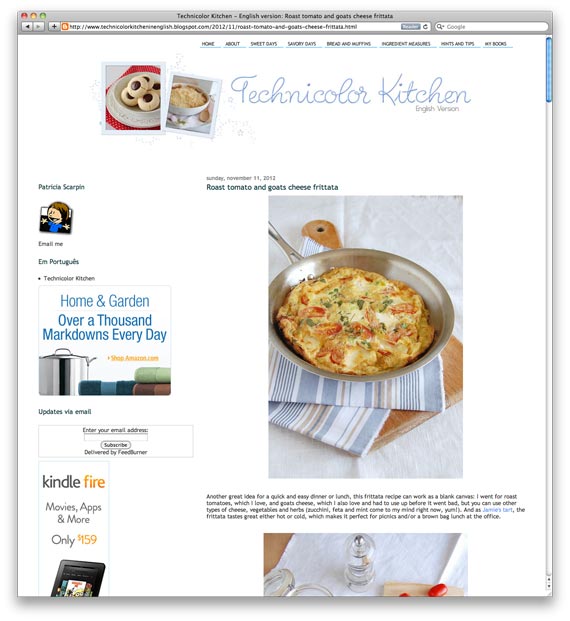 If fancy frittatas are your thing, stop by Technicolor Kitchen.  They have a Roasted Tomato and Goat Cheese Frittata that looks delicious. (Posted 11/11)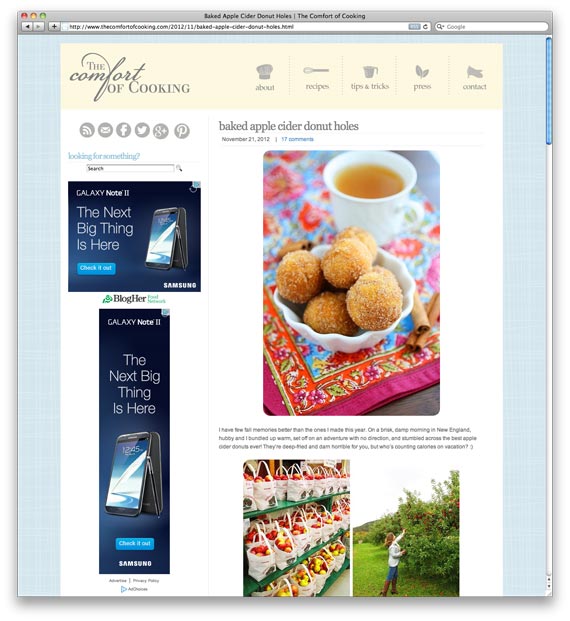 I have a "hole" lot of love for The Comfort Of Cooking because they have a post dedicated to Baked Apple Cider Donut Holes.  If the pictures of donuts don't make you hungry, I'll bet the other pictures will make you want to go apple picking. (Posted 11/21)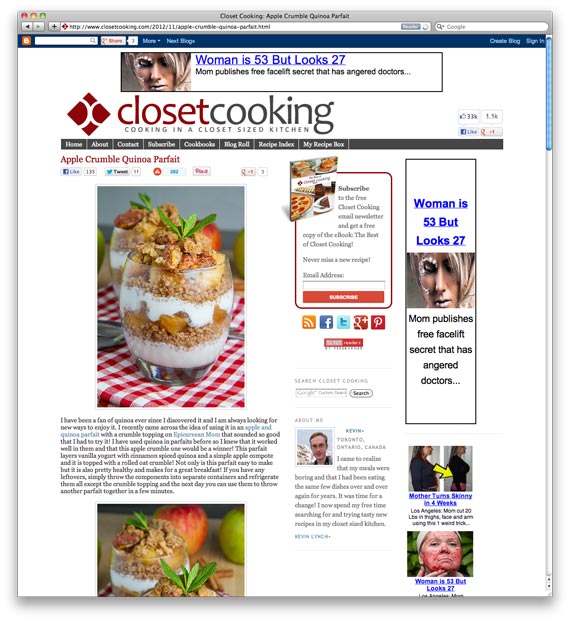 Over at Closet Cooking, a Canadian named Kevin is "cooking in a closet sized kitchen."  His kitchen might be small, but his Apple Crumble Quinoa Parfait looks pretty big.  Read down two paragraphs and he covers it with caramel sauce!  Move over oatmeal… there's a hot new hot cereal in town. (Posted 11/26)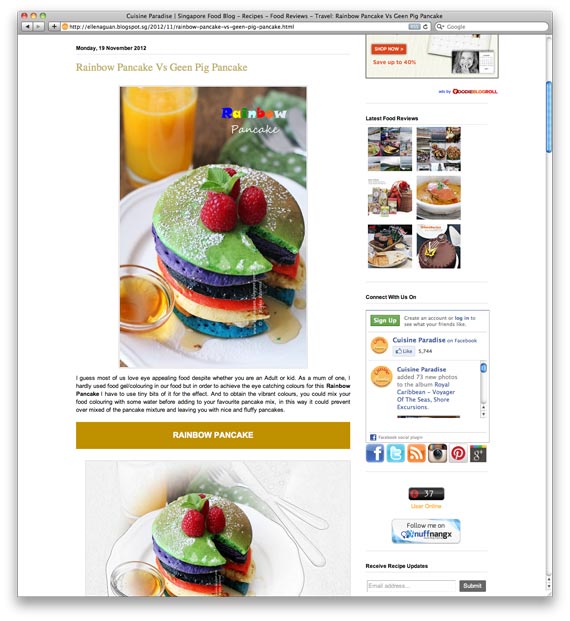 The blog Cuisine Paradise is taking colorful cuisine to crazy new heights –  6 pancakes high to be exact.  Check out their Rainbow Pancakes.  I'm more convinced than ever that everyone has the right to get married.  And I want to be in a parade.  What's happening to me? (Posted 11/19)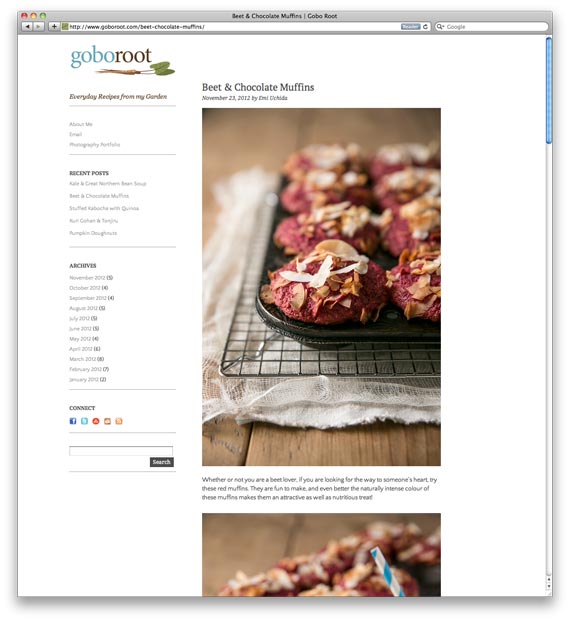 If you've been craving muffins made with beets, I have the site for you: Goboroot – Everyday Recipes From My Garden.  The photos are gorgeous and the recipes are unique.  Check out her Beet And Chocolate Muffins and then look at the archives for August for a super attractive Rainbow Swiss Chard Quiche with bacon. (Posted 11/23)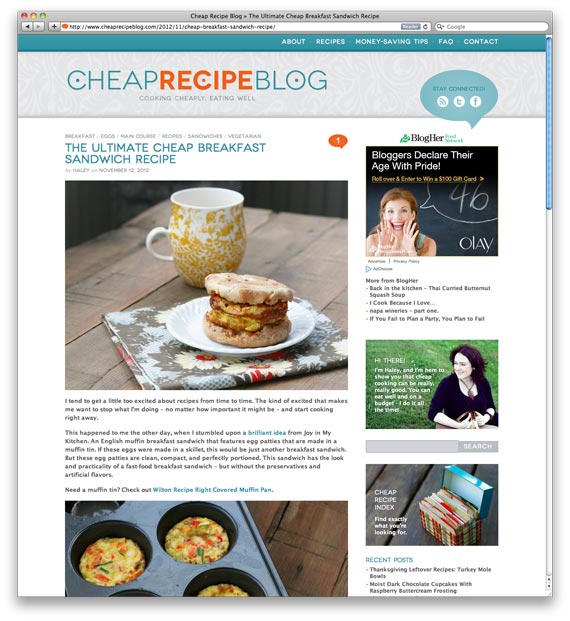 Are you interested in "cooking cheaply and eating well"?  Good news! That's the tagline of a site called Cheap Recipe Blog.  There, you'll meet Haley who will show you her recipe for the Ultimate Cheap Breakfast Sandwich.  By her math, each sandwich costs 80 cents. (Posted 11/12)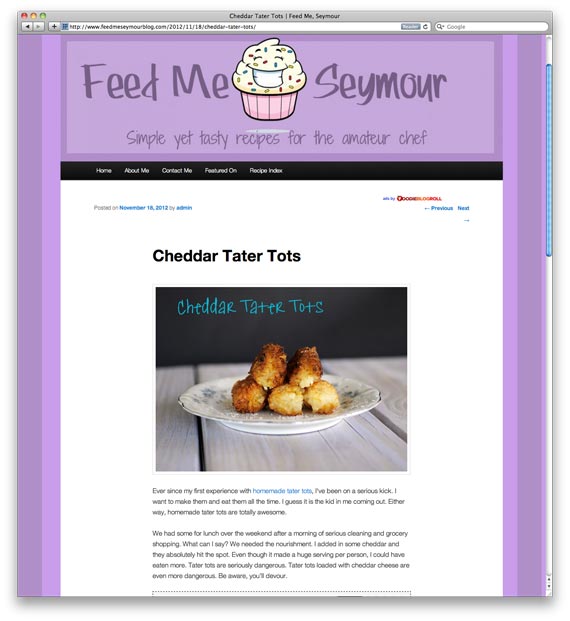 Step aside hash browns.  At Feed Me Seymour, the breakfast side dish of distinction is Cheddar Tater Tots.  Sorry diet.   Let's talk after the holidays. (Posted on 11/18)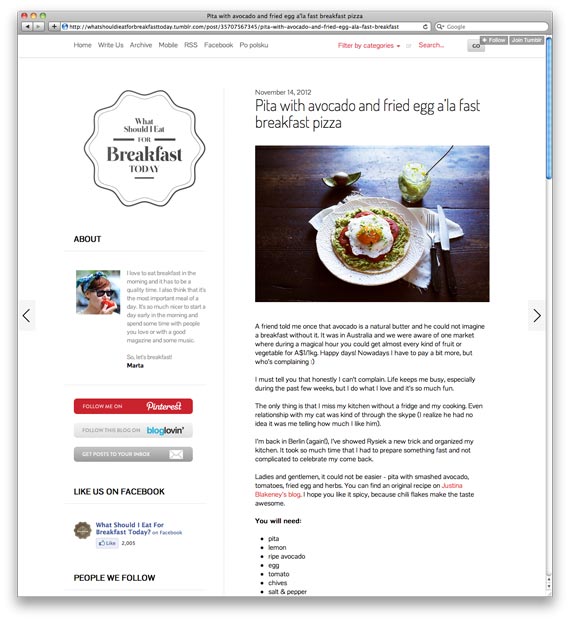 I love people who love breakfast.  So I'm happy to introduce you to Marta at What Should I Eat For Breakfast Today.  She has a bunch of inventive recipes made with wholesome ingredients.  Case in point, her Pita with Avocado and Fried Egg a'la Fast Breakfast Pizza.  (Posted 11/14)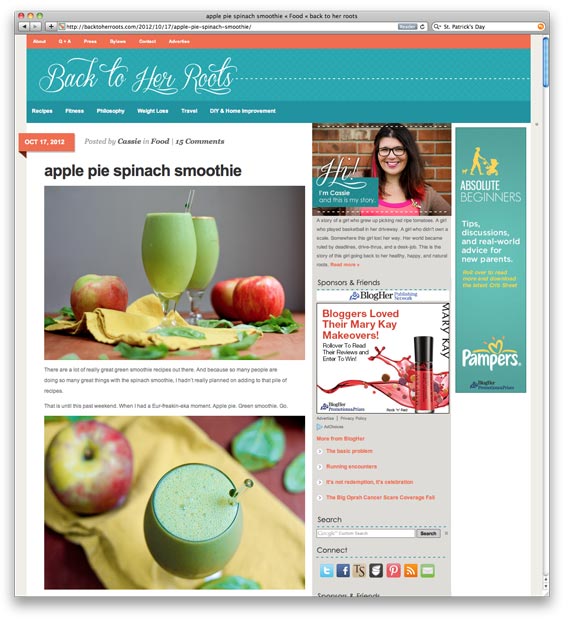 Here's two words you don't often hear together:  apple pie and spinach.  At Back To Her Roots, Cassie introduces us to an Apple Pie Spinach Smoothie with applesauce, spinach and bananas.  Is it too early to plan breakfast for St. Patrick's Day? (Posted 10/17)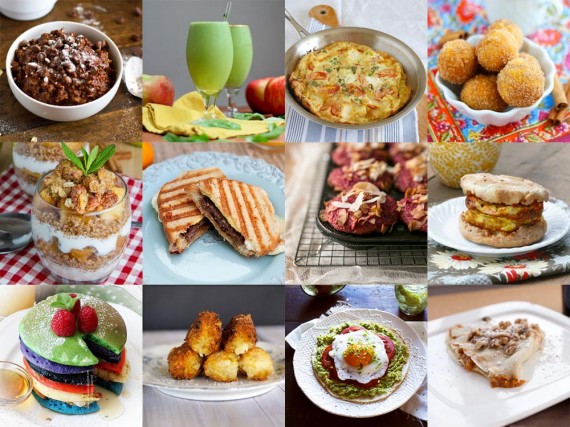 Join The Roundup…
Do you have a blog with a recent post about breakfast? Let me know in the comments.  I'll definitely consider adding it to the next Breakfast Blog Roundup.
You Might Also Like: