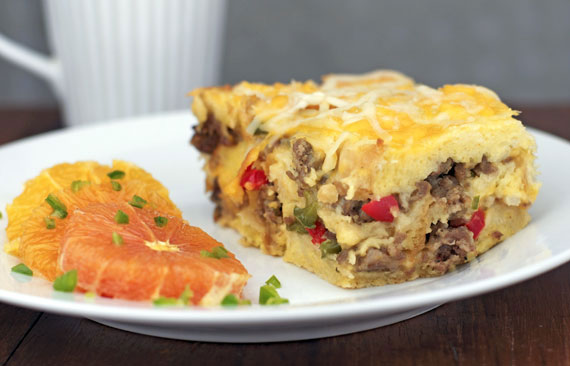 A breakfast strata is just a breakfast casserole with layered ingredients.  It's best when you assemble it the night before and refrigerate it overnight.  The next morning: pop it in the oven, take a shower, watch a little George Stephanopoulos* and then… wham, bam, thank you ma'am… breakfast is ready.
Think of a simple farmhouse breakfast of sausage, toast and cheesy eggs with onions and peppers.  Now, imagine what it would be like to have all those wonderful flavors mingled together in a single, delicious bite.  That's a breakfast strata.
This recipe features one of the non-glamorous superstars of breakfast… day-old bread.  You probably already know that day-old bread makes the best French toast.  It's a little dry so it retains its structure but it's also thirsty to absorb the egg, milk and other good stuff that make up French toast.  It's the key to French toast that's firm but pleasantly moist inside.   The same principal works for a strata.  After we assemble our strata (which includes slices of bread), we drown it in a French toast-like egg and milk mixture.
This dish elicited enthusiastic comments from the people I tested it on.  My Italian friend Pete said, "Dude, this is great. Is it cool if I get some more?"  My fiance Kellie said, "Tell me about this.  What's in here? I'm gonna have another piece."
Nobody is 100% sure who coined the the phrase "leave 'em wanting more." It was likely either Walt Disney or P.T. Barnum.  Whoever it was, let's just assume they were talking about a good Breakfast Strata.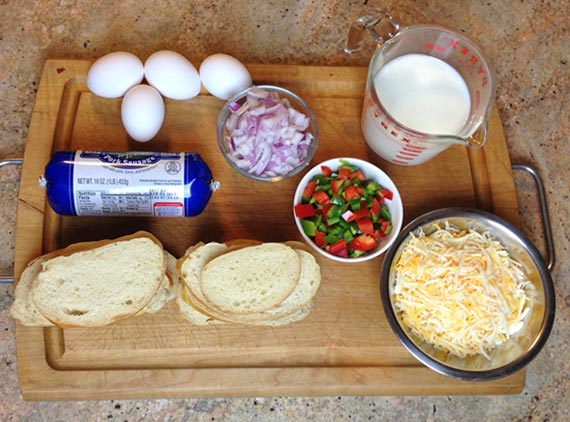 Let's assemble a strata…