Taste Test: Del Taco's New Grande Scrambler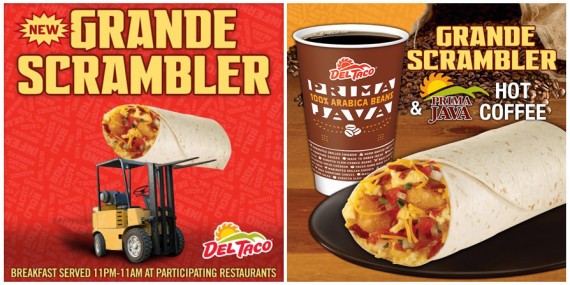 The ad showing Del Taco's new breakfast burrito being hauled by a forklift is pretty spot-on.  The new Grande Scrambler is heavy.  When the Del Taco drive-thru kid handed me a bag of two, I almost dropped them.  I was expecting the weight of a couple cheeseburgers, not the heaviness of a honeydew melon.
A Grande Scrambler consists of eggs, shredded Cheddar cheese, hash brown sticks, pico de gallo salsa and your choice of sausage or bacon, all wrapped in a flour tortilla.
This is no breakfast for the diet-conscience. The bacon variety has 1130 calories and the sausage variety has 1100 calories.
Of the two kinds, I much preferred the sausage burrito.  The sausage had a decent, mildly-spicy flavor that paired well with the pico de gallo salsa.  The bacon burrito was somehow too rich.  It's not bacon, per say, but rather bacon bits.  In my burrito, the bacon bits were clumped together and it looked more like ground beef. I love bacon… but if you grind it up and serve it in its most concentrated form, it's just too much.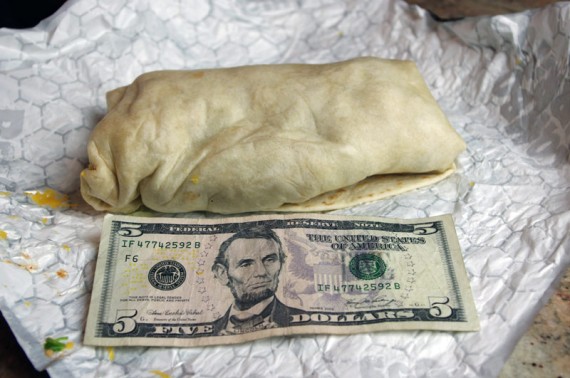 At $3.49 per burrito, you get your money's worth.  Unfortunately, that's not such a great thing. The Grande Scrambler is so big that you might get disgusted with it before you're done.  By the end, you start to take more notice of the drawbacks like the concentrated bacon and a slight sponginess to the sausage.  If you're like me, you'll also feel fat and wish you'd stopped after the first 1/3.
The best part of the Grande Scrambler is actually the pico de gallo salsa.  It tastes garden fresh and adds a brightness to the heavier flavors.
And now for the report card…
Sausage Grande Scrambler:  B
Bacon Grande Scrambler: C-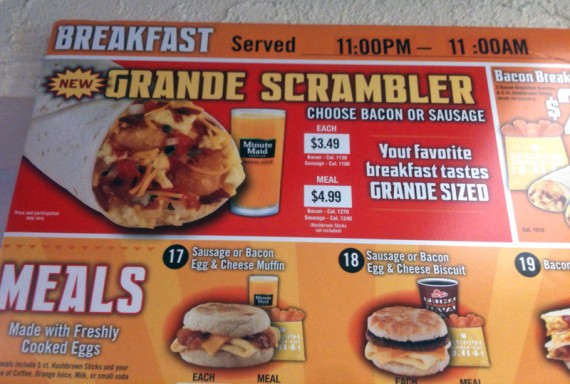 See you later.  I'm leaving now to take my big burrito butt to the gym.
You Might Also Like: