Recreating Taco Bell's Waffle Taco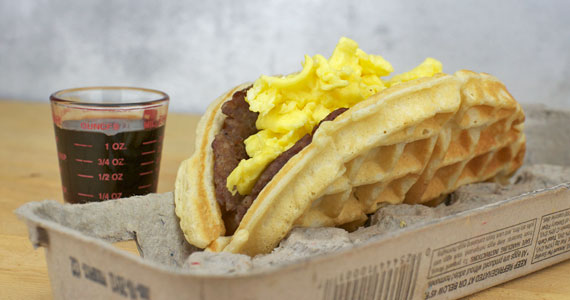 Taco Bell recently started testing a new breakfast product in 3 select outlets in California… The Waffle Taco.  I haven't been able to try their version myself, but I've been fascinated by the product ever since I saw a photo circulating around the internet.  Unable to get my hands on the real deal, I decided to try making it at home.
Above, you can see the version I made.  Below, you can see Taco Bell's version.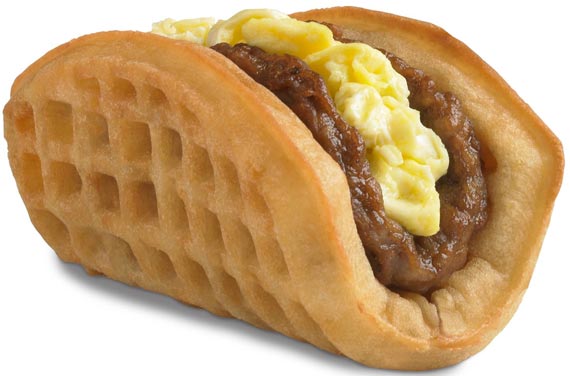 My advice on making homemade Waffle Tacos is this… don't do it.  It's a huge pain in the butt.  For home use, the Pancake Taco is much easier to make and just as tasty.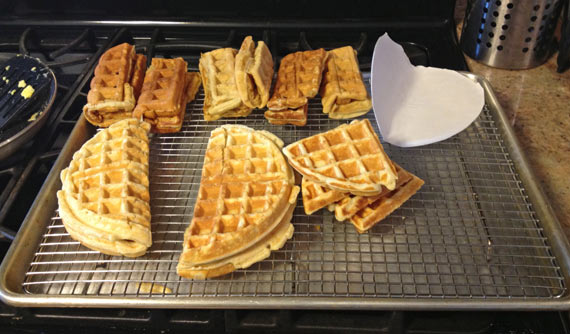 It sounds extraordinary easy:  Make a waffle, fry some sausage, scramble some eggs and throw it all together.  Not so fast.
The first problem was that my waffles kept breaking. (You can see the Waffle Taco Test Kitchen above.)  My first inclination was to use square waffles, but those weren't big enough to hold the fillings.  Next, I went with a round waffle.  In the end, they worked pretty well.   The serving size was way too big, but I wasn't complaining about that when I was eating it.  I solved the breaking waffle problem by using a spatula handle to help curve the waffle and ease the rip-pressure on the natural seam of the waffle.  Again, I'll stress that pancakes are much better to work with.  They fold easily and you have absolute control over their size.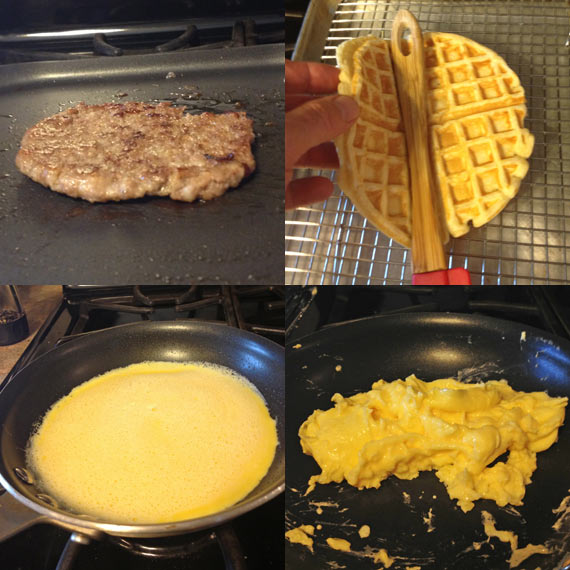 The next hurdle was the sausage.  To make it like Taco Bell does, the sausage patty had to be large, thin and flexible.  The thing with sausage is that it shrinks in the pan.  Make your patty about 50% larger than you think you'll need and you should be alright.
The final obstacle was getting my Waffle Taco to stand up straight for photographs.  I tried making a homemade taco rack out of a wire hanger.  No go.  Waffle Tacos have more weight and girth than traditional tacos.  I finally settled on using part of an egg carton to support my creation.  And I eventually realized – as everyone will – the best holder for a Waffle Taco is the human hand.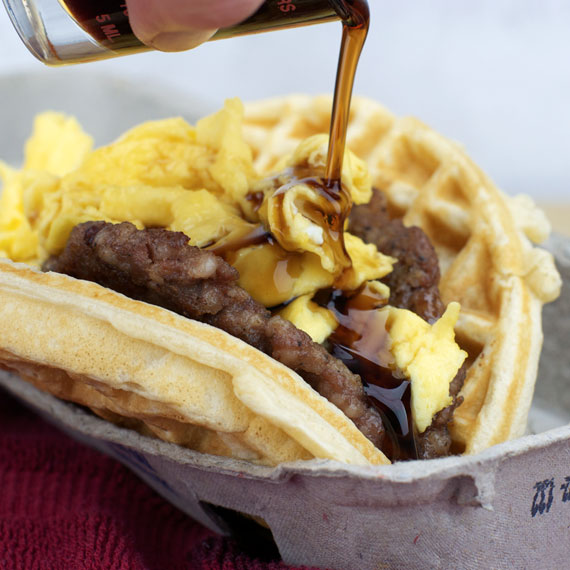 Now that you know the road ahead, here's directions to make your own Waffle Tacos:
1) Fry a large, thin sausage patty until browned and thoroughly cooked through.
2) Make some waffles. (I used a recipe for Quick and Crispy Waffles that I've had success with.)
3)  Scramble some eggs.  I used 2 eggs for each Waffle Taco.  (For tips on scrambling, here's my go-to method.)
4) Place the sausage in the waffle, fold and top with scrambled eggs.
5) Drizzle with real maple syrup and dig in.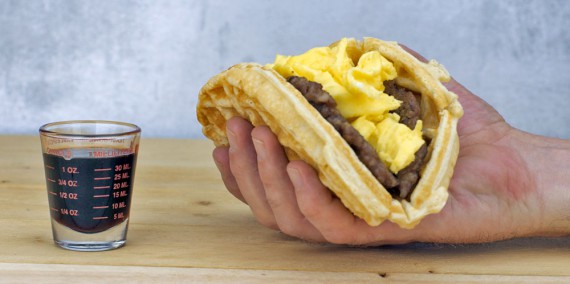 Now that you know how to make Waffle Tacos, forget everything you just read.  Pancake Tacos are so much easier.  Trust me.
Incidentally, Taco Bell's official Waffle Taco is selling for only 89 cents.  Here's hoping that it goes nationwide soon.
You Might Also Like: