Raspberry And White Chocolate Muffins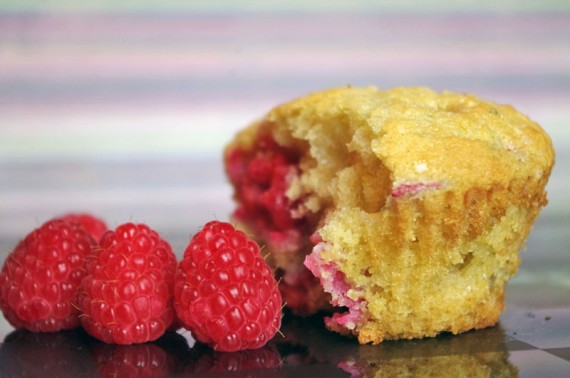 Raspberries and chocolate make a great team, especially white chocolate with its creamy, delicate flavor.  These Raspberry and White Chocolate Muffins are incredibly easy to make.  Preparation takes about 10 minutes and baking time is 20 minutes.  Follow along as I take you step-by-step through the recipe.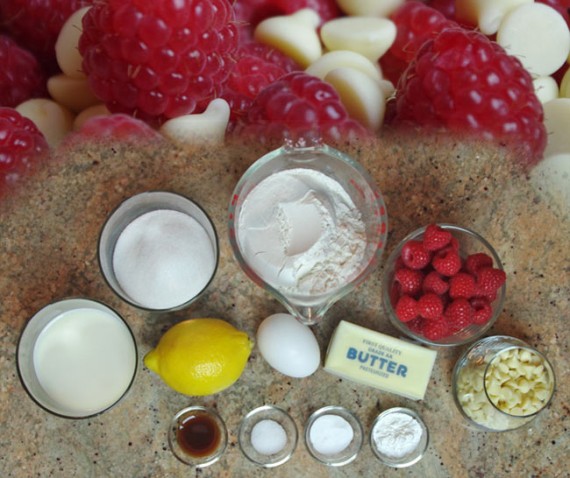 The ingredients are buttermilk, sugar, flour, raspberries, white chocolate, lemon zest, an egg, butter, vanilla, salt, baking powder and baking soda.
For amounts and a printable recipe, click here.
For best results, use fresh raspberries.  If using frozen berries, add them to the batter while they're still frozen.  Thawed frozen berries have a tendency to release too much of their juice and make a mess (albeit a delicious mess) of the muffin.  It's key to use a quality white chocolate like Ghirardelli or Callebaut.  Cheaper white chocolate chips tend to taste artificial and a little like plastic.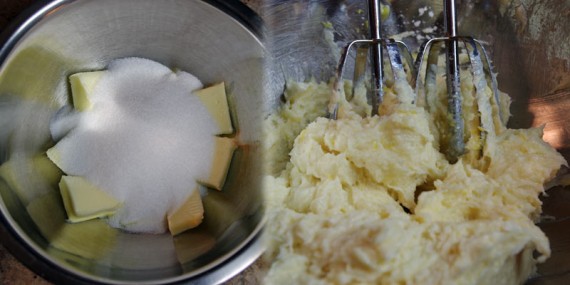 Step one is to cream the butter with the sugar until fluffy.  I use an electric beater on the slow setting and gradually increase the speed.  When you get a soft and pillowy texture, add the egg, lemon zest and vanilla and beat just a few more seconds.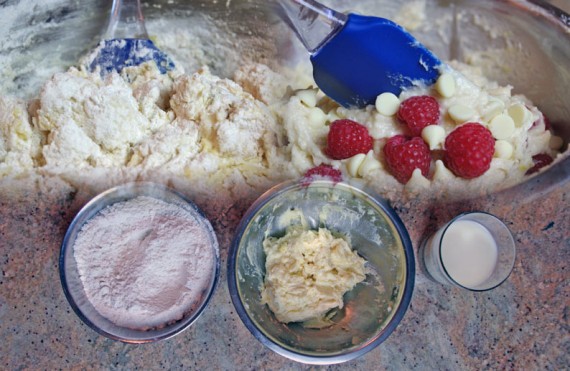 Mix the dry ingredients together in a separate bowl and it's time to combine everything.  Here, it's important to take your time and use a soft touch.  Over-mixing is the number one enemy of a muffin recipe. Add a third of the flour mixture and a third of the buttermilk to the butter and sugar mixture.  Use a rubber spatula or a wooden spoon and gently fold the flour and liquid into the butter and sugar.  Continue adding the flour mixture and buttermilk in intervals until just combined.  Fold in the raspberries and chocolate using the same gentle touch.

This recipe make 12 regular-sized muffins, so you'll need to line a standard tin with muffin papers or spray each cup generously with cooking spray.  You can use the same recipe to make jumbo muffins… just increase the cooking time about 6 minutes and check for doneness after 25 minutes.  Also, let jumbo muffins set until completely cooled before serving.  These muffins are soft and tender.  Letting them set firms them up a bit so they won't break apart in your hand.
Fill the muffin cups 3/4 full.  They'll rise and stick to one another if the cups are too full.  I like to use an ice cream scoop to fill the cups.  Keep an eye out that you don't put too many raspberries in any one cup.  The muffins will be particularly tender around the berries and too many berries together could keep a muffin from holding together.
Finally, I sprinkle just a little turbinado over each muffin.  Turbinado has larger granules then white sugar so it forms an attractive crust instead of being absorbed by the batter.
Bake the muffins for 20 minutes in an oven preheated to 375 degrees.  Around 18 minutes, I'll check for doneness by inserting a toothpick into the largest muffin.  If it comes out clean (no batter sticking to it), the muffins are done.  The muffins pictured here took exactly 20 minutes.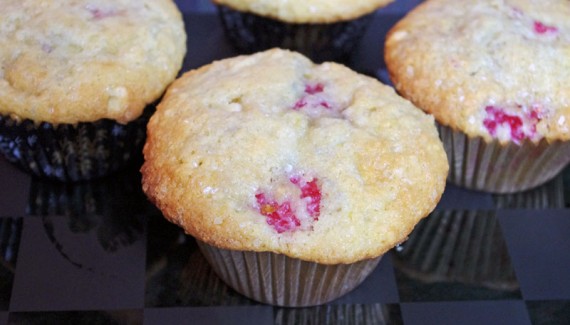 For the short, printable version of this recipe, click here.
For more about muffins, visit my article Muffin Madness 101.  There's even a Muffin Madness 101 diploma you can print out and frame at the end of the article.
For more than 140 other muffin recipes, visit the Muffin Recipe Page in the site index of MrBreakfast.com.
"One should always eat muffins quite calmly. It is the only way to eat them." – Oscar Wilde, The Importance of Being Earnest
You Might Also Like: