A Muffin In Your Cereal Bowl: Lemon Poppy Seed Granola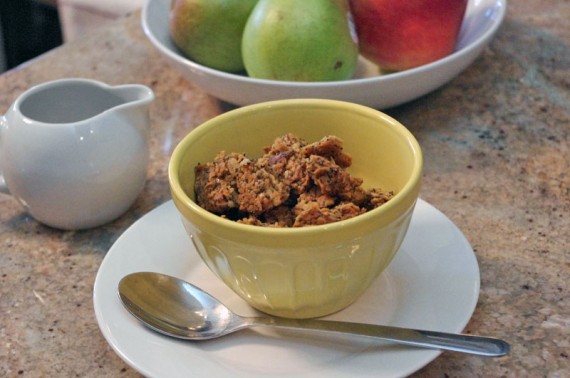 Whenever I'm in a coffee shop, I lust over all those delectable pastries imprisoned behind that glass display case.  The Lemon Poppy Seed Muffin is always one of my favorites.  It has a light, refreshing taste, and goes equally well with coffee or tea, morning or afternoon. I decided to take those flavors and incorporate them into one of my favorite homemade snacks: granola.  This time around, I wanted a granola with LOTS of clusters and I'm happy to say that's how it turned out.
This granola is inexpensive, easy to make and terrifically versatile!  I enjoy it as cereal (of course) but also as a crunchy topping for oatmeal and yogurt, as a stand-alone snack right out of the container, as a crispy "streusel" topping for cobblers and quick breads…  Homemade granola is a kitchen staple at the MrBreakfast Estate.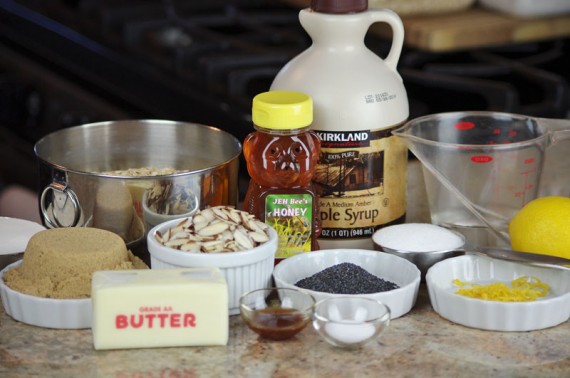 To make homemade granola, you really only need a few basic ingredients that most everyone already has in their pantry.  For the ingredients list and a printable recipe, click here.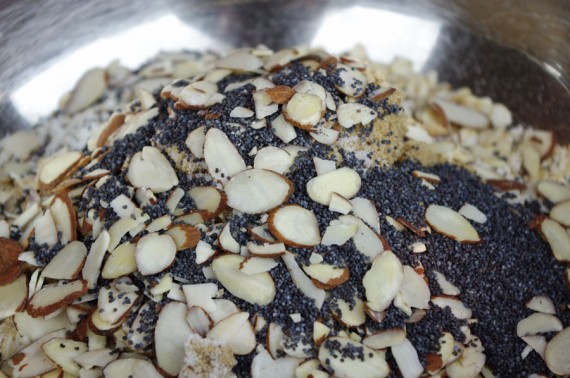 In a large bowl, mix together the oats, flour, brown sugar, zest of 1 lemon, poppy seeds, salt and slivered almonds.  In a microwave safe bowl, melt the butter and stir in the maple syrup, honey and vanilla.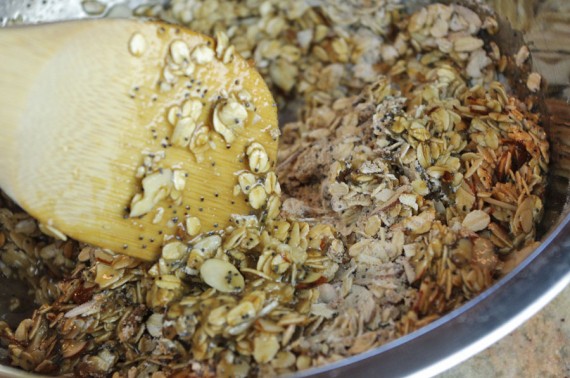 Add the butter mixture to the dry ingredients and stir it up with a wooden spoon to combine.

Spread the granola mixture out over a lightly greased baking sheet. (It should resemble a very thick, sticky, lumpy cookie dough.)  Press the granola down to make a large "cookie" that covers most of the sheet.  It won't seem like granola at this stage, but once it bakes, it will easily crumble into the granola clusters you're more accustomed to seeing.  (Note: At this stage it's VERY sticky, so it's much easier to make the layer even if you cover it with a sheet of waxed paper and smooth out the granola mixture.)
Bake for 15 minutes at 350 degrees. Flip the granola and bake an additional 15 minutes. Note: When you flip the granola, it is easiest to break it up into large pieces to flip. In the end, it all gets crumbled-so don't worry about how many pieces it breaks up into!
One last step: remove the granola from the oven and reduce the heat to 300 degrees F. Use a wooden spoon to break up the pieces into bite size clusters. Add dried blueberries (if you're using them – you don't have to – but I really love lemon and blueberry together) and bake it 10 more minutes at 300 degrees.

At this point, keep a good eye on the oven.  You want the clusters to be golden brown – but watch to make sure they don't get too brown.  After 10 minutes, remove the cookie sheet from oven. Allow the granola to cool completely before serving or storing.  When the granola is fresh out of the oven, it will look soft and crumbly.  Don't let this fool you.  As soon as it cools, it will be perfectly crisp and crunchy.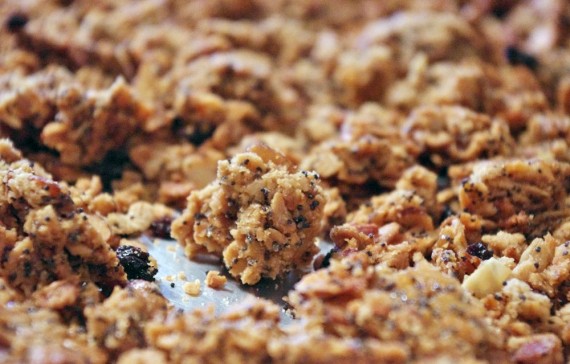 The best part about making granola is that your imagination's the limit when it comes to flavors.  Simply swap out the lemon zest and poppy seeds with coconut and dried pineapple for a tropical version.  Or flax seeds and walnuts for a super-Omega-3 granola. Or shred 1 apple, add a teaspoon of cinnamon and pecans for one my favorite flavors – Apple Pie Granola!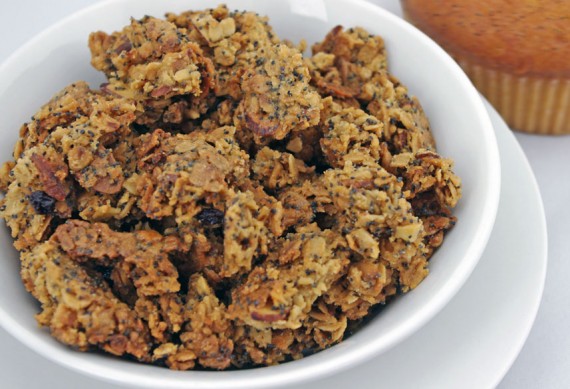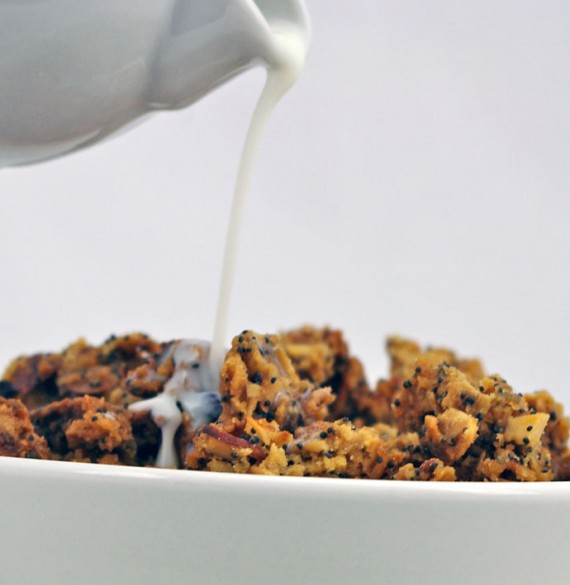 Can poppy seeds make you fail a drug test?
There isn't one definitive answer, but usually, NO.  You would have to eat the equivalent of at least 15-20 poppy seed bagels (or 10 bowls of this granola!) in one day for trace amounts of opiates to be found in your bloodstream. That being said, there are several kinds of drug tests. Some tests flag ANY amount of opiates in your bloodstream, but most flag only the specific chemical compounds in heroin and prescription painkillers.  But, there have been accusations from people (who failed their drug test) who claim they had not used any illegal nor prescription drugs.  For this reason, most states have increased the minimum level of opiates that must be detected in order to designate a "positive" result.  All signs point to something fishy going on with people who claim the "poppy seed defense" – so unless you're throwing back poppy seeds by the handful, you shouldn't worry. 
This post is a companion piece to the following recipe on MrBreakfast.com:
Lemon Poppy Seed Granola Clusters
You Might Also Like: