Toast Art: 22 Portraits Made Of Bread
Da Vinci used a pencil. Rembrandt used a brush. Rodin molded clay.  Why did these artists use these tools?  Because they didn't have a toaster! Today, we focus on an incredible and edible art form known as the toast mosaic. These unique masterpieces can consist of hundreds, sometimes thousands, of pieces of toast. No matter how you slice it… this is the greatest thing since sliced bread.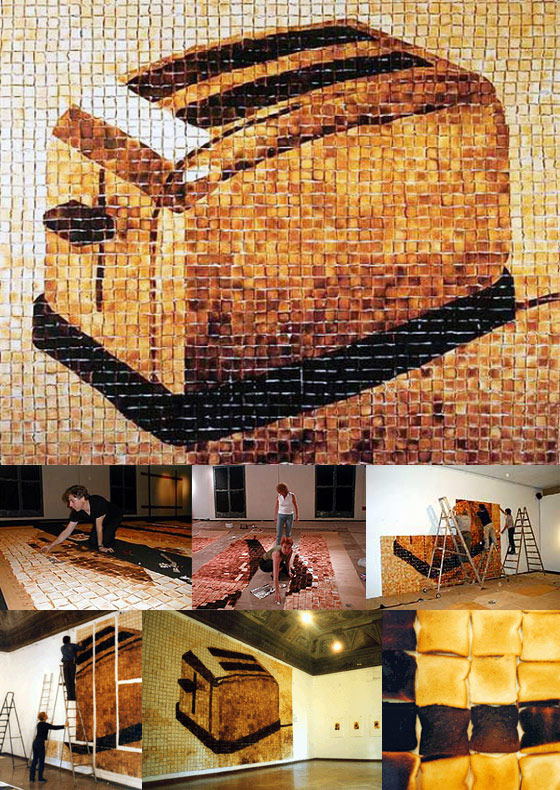 "The Toaster" is an art piece created by Ingrid Falk of Sweden, and her husband, Gus­tav Aguerre of Argentina. It measures roughly 16 feet by 15 feet.  You can view "The Toaster" at the Modern Art Museum of Buenos Aires, Argentina. I've read conflicting accounts that the piece is comprised of either 2,500 or 3,053 pieces of toast.  Either way, we're gonna need a lot of butter. (More information: fa-art.pp.se)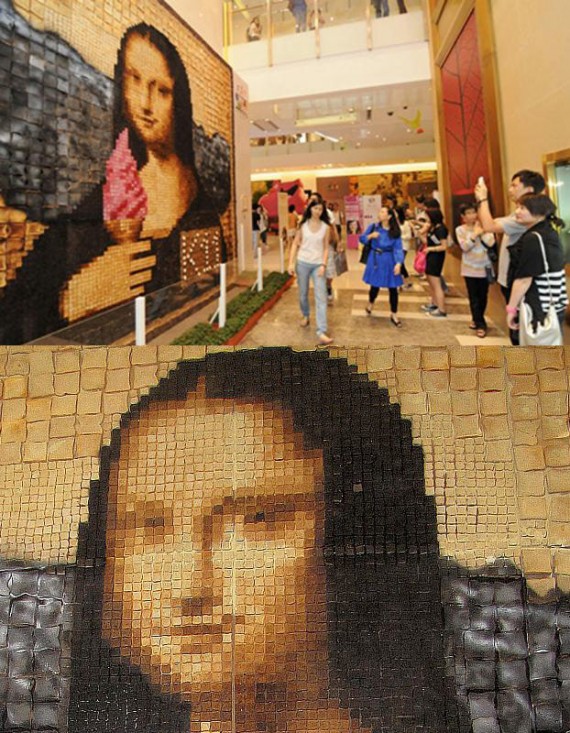 This toast rendition of the "Mona Lisa" is by New Zealand artist Maurice Bennett, aka The Toastman.  It hangs in the K11 Art Mall at the Tsim Sha Tsui MTR in Hong Kong. Over time, the portrait has been altered to change the item that Mona Lisa is holding.  Here, she holds an ice cream cone.  She has also held a glass of wine and a stack of holiday gifts. (More Information: mauricebennett.co.nz)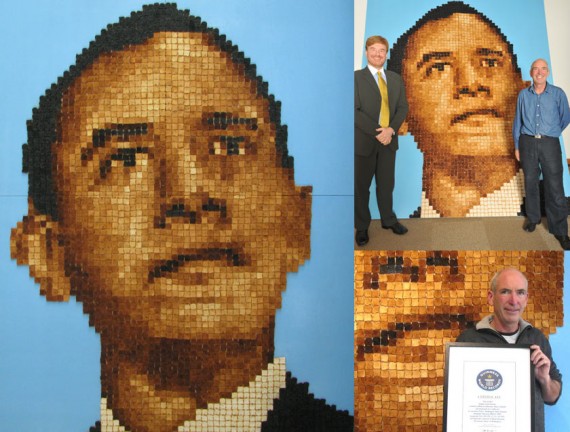 In 2010, Maurice Bennett created this toast portrait of President Barack Obama.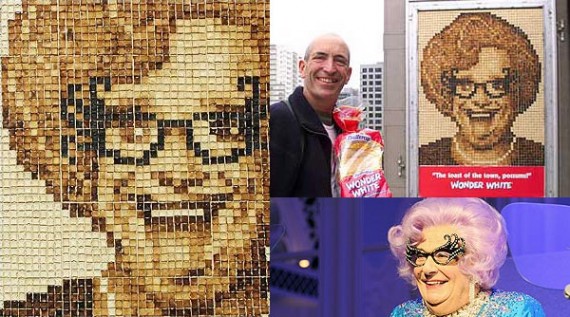 Also by Maurice Bennet is this toast portrait the Australian character Dame Edna.  This work features 2,989 slices of bread.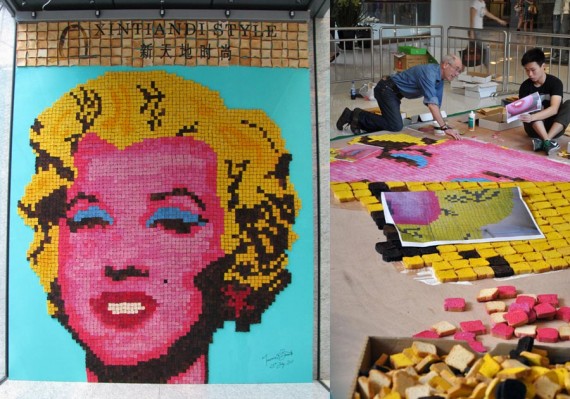 The Toastman (Bennett) showed that toast art doesn't have to be brown.  He hand painted about 6,000 slices of toast to produce this portrait of Marilyn Monroe.  This piece was displayed in Shanghai. (More Info: CNN)

Other toast portraits by Maurice Bennett include filmmaker Peter Jackson, legendary rock star Elvis Presley and television actor Dean Cain.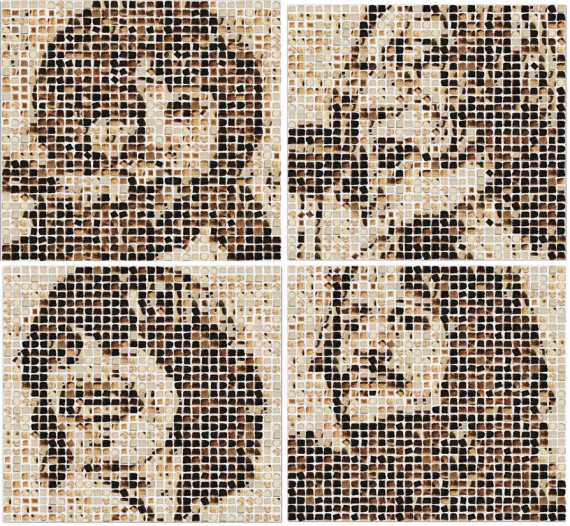 Mixed media artist Henry Hargreaves created portraits of The Beatles using toast.  Each individual portrait of John Lennon, Paul McCartney, George Harrison and Ringo Starr consisted of over 900 pieces of toast.  Hargreaves used a creme brulee torch (not a toaster) to get the right amount of toasting for each slice of bread.  The artist is originally from New Zealand but created The Beatles portraits at his studio in Brooklyn, New York. (More Information: henryhargreaves.com)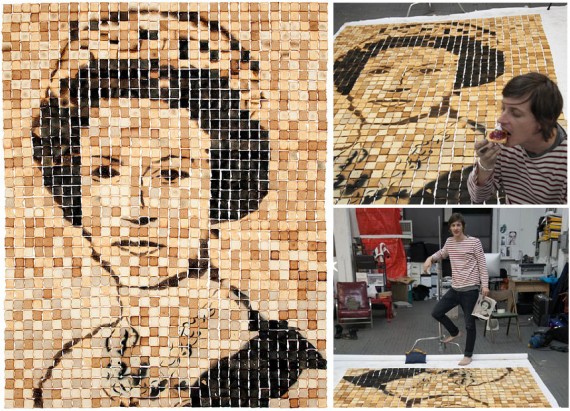 The Queen by Henry Hargreaves (approx. 900 slices of toast).

Other toast portraits by Henry Hargreaves include Marilyn Monroe, Jim Morrison and Che Guevara.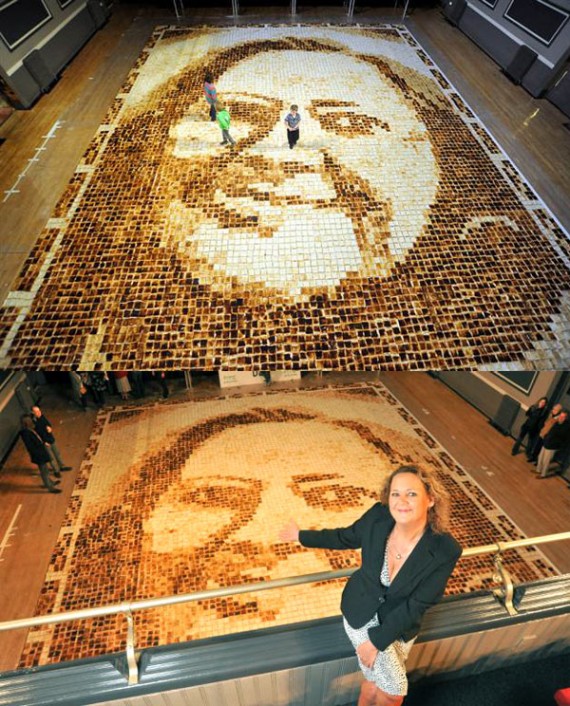 The world's largest toast portrait isn't of someone famous, but it is someone very special… the artist's mother-in-law.  Laura Hadland used 9,852 slices of bread to create this giant mosaic measuring 32 feet by 42 feet.  The piece, which was displayed in Cheshire, England, was a birthday gift to Hadland's mother-in-law. (More Information: Laura Hadland's Blog  – Be sure to check out her mosaic of Pippa Middleton made out of crumpets.)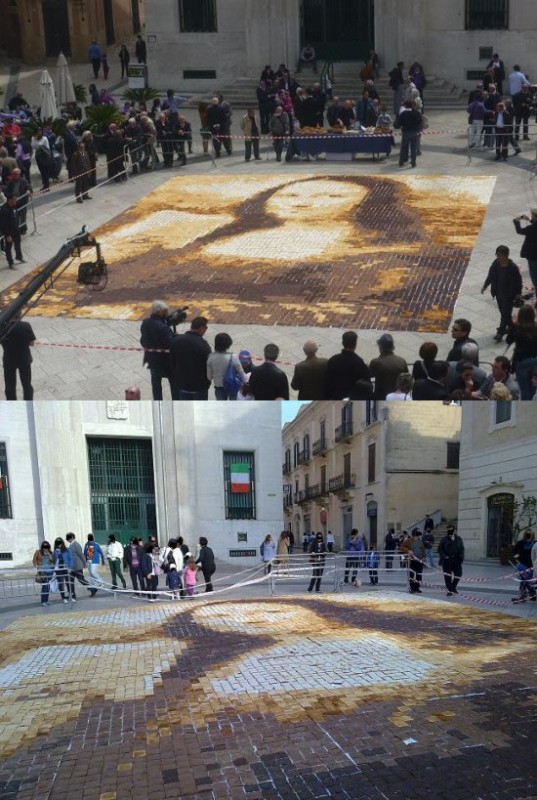 Laura Hadland also created this rendition of the "Mona Lisa."  This piece was assembled in Matera, Italy.
Toast Mosaics By Unknown Artists: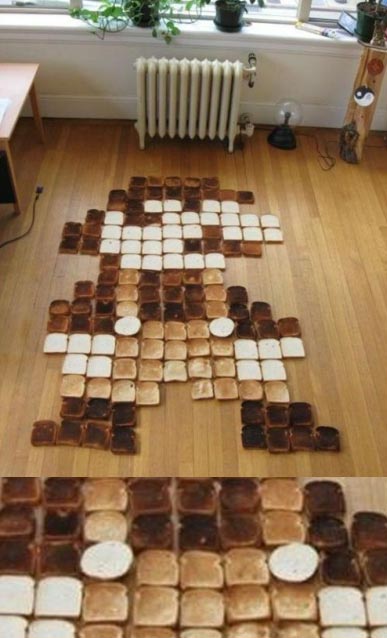 This rendition of video game legend Super Mario shows a simpler approach to toast art.  The piece appears to be laid out on the floor of someone's apartment.  On close examination, you can see that the artist made clever use of two hamburger buns.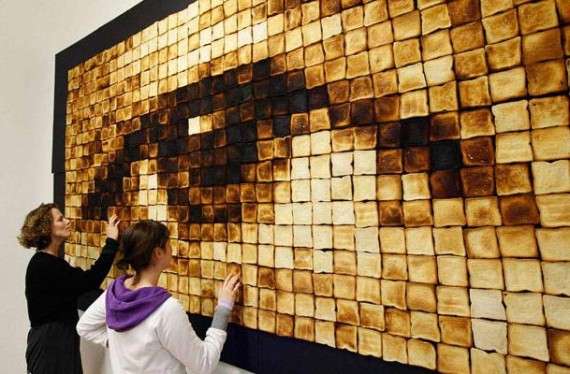 Toast mosaic of an eye – artist unknown.  It appears that this piece was displayed at an interactive gallery where spectators were encouraged to touch the art.  Or possibly, these women are on ecstasy.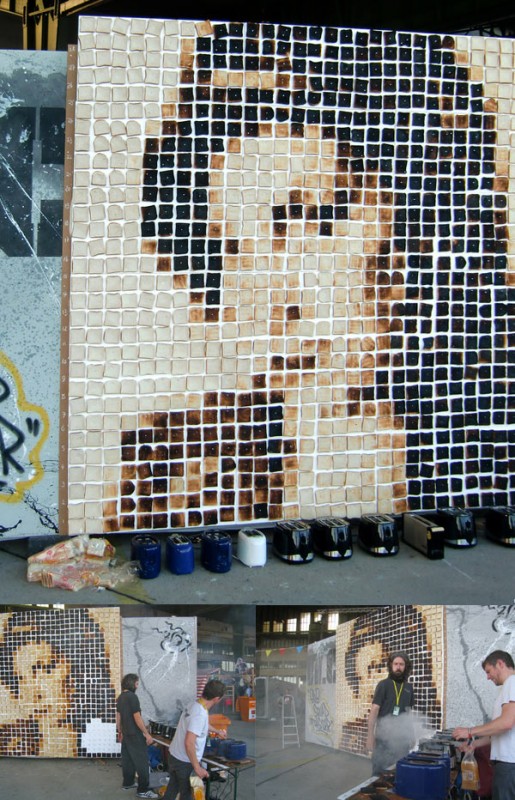 Amy Winehouse by Unknown on display at the Berlin Music Festival 2011.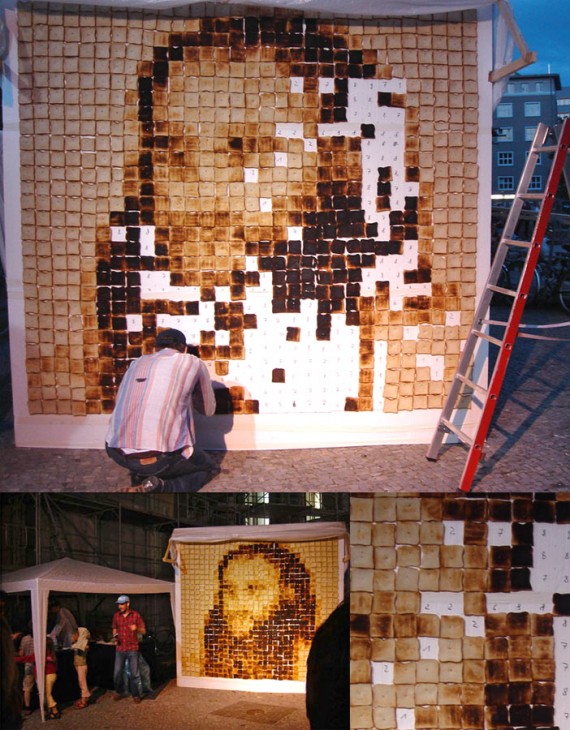 Toast portrait of Murat Kurnaz by Unknown displayed in Berlin.  Karnaz made headlines for being wrongly imprisoned in Guantanamo Bay.  Pictures of this mosaic have been distributed on the internet labeled incorrectly as a picture of Jesus Christ.
About Toast Art:
In this article, we featured a form of toast art called the Toast Mosaic. Let's take a quick look at the three major styles of toast art.

Toast Mosaics – Works of art made by toasting slices of bread to varying degrees, from untoasted to completely burnt.  They are then combined to form an image consisting of hundreds, and sometimes thousands, of slices of bread.  Most often, artists utilize toasters or torches to achieve the desired amount of browning.  This form of art is also called Toast Pixel Art as each each piece of toast often represents a single pixel in the completed mosaic.

Individual Toast Slice Art – A piece of art on a single slice of toast usually accomplished with a creme brulee torch, a toaster template or spreads like Marmite or jam.

Toast Mosaic With Slice Manipulation – This is a combination of Individual Toast Slice Art and Toast Mosaic to form a large multi-toast image with a high degree of detail.  In the examples above, artist Nathan Wyburn uses Marmite and jam with traditional toast mosaic technique to create his desired effect. (More Information: odditycentral.com)
"There are people in the world so hungry, that God cannot appear to them except in the form of bread." – Mahatma Gandhi
Do you love toast? Check out my article 351 Ways To Enjoy Toast.
You Might Also Like: