Microwave Magic: Fresh Apple Pancake Topping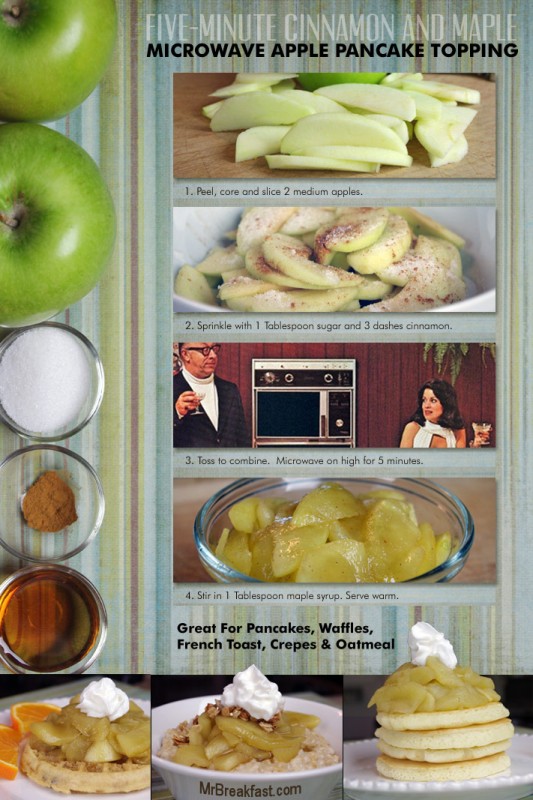 This is so easy, it feels like a magic trick.  Take two apples and… abracadabra!  Five minutes later, you have a delicious Cinnamon Maple Apple Topping for your pancakes, waffles or French toast.  The combination of baked apple, maple and cinnamon results in a a warm, autumn-like flavor that adds a cozy, fresh finish to almost any breakfast.
Cinnamon Maple Apple Pancake Topping (In The Microwave)
2 medium apples
1 Tablespoon sugar
1 Tablespoon maple syrup
3 dashes of cinnamon
Peel, core and slice the apples.  Place in a microwave safe bowl and sprinkle with cinnamon and sugar.  Toss to coat. Microwave on high for 5 minutes.  Stir in maple syrup.  Serve warm.
4 servings.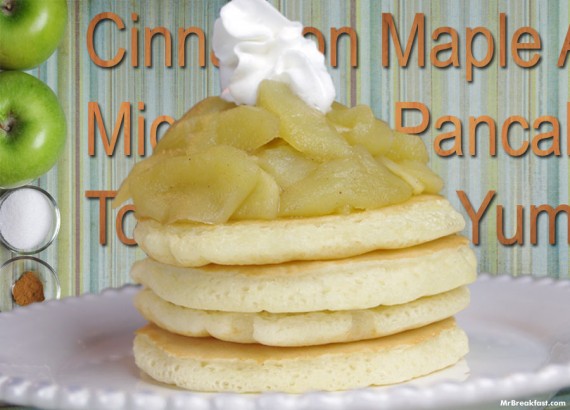 For these pancakes, I used Granny Smith apples to make the topping.  They're sweet and just a little bit tart.  Their flavor really comes out when you mix them with sugar and maple syrup.  For the finishing touch, I added a little dab of whipped cream to the top of the stack.  It was better than apple pie.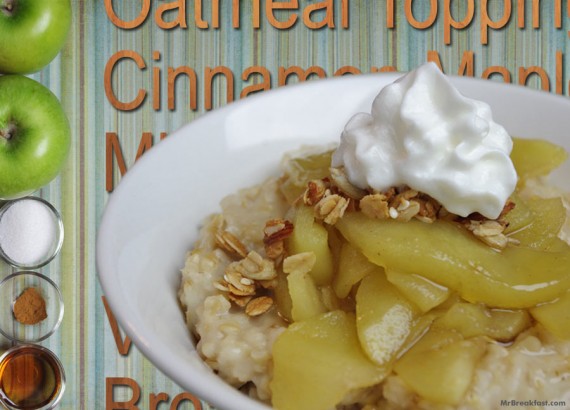 Just look at how homemade apple topping turns a bowl of boring oatmeal into a breakfast delight.  I like to sprinkle a Tablespoon or two of granola over the baked apples so you get a little crunch.  Of course, a dab of whipped cream works here too.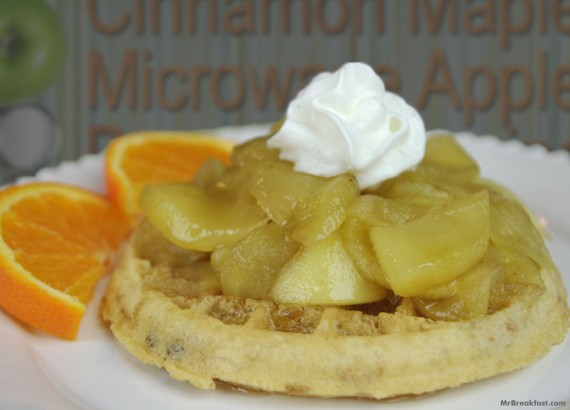 Any topping that's good on pancakes will usually be equally awesome on a waffle or French toast.  For the waffle shown here, I drizzled just a little extra maple syrup so each dimple of the waffle had plenty of flavor.
This topping also makes a great filling for crepes.  It's terrific on toast in place of jam.  It's even good just on its own… with maybe a dab of whipped cream.  Is it clear yet that I like whipped cream?
This recipe is so easy and it really does turn plain breakfast fare into something special.  I hope you'll give it a try.
You Might Also Like: