There's nothing quite like a perfectly prepared piece of French toast.  The outside is ever so crisp and the inside is moist and tender.   Ordinary bread suddenly becomes a playground for maple syrup and other toppings. Use extraordinary bread and you're in for a guaranteed breakfast bonanza.
Here's 15 of the best French toast recipes on MrBreakfast.com: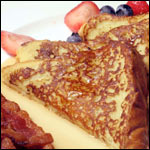 Everybody needs a good go-to French toast recipe.  This is mine.  The custard that you dip the bread into is a simple combination of milk, beaten eggs, sugar and a hint of salt.  If you're craving no-frills, classic diner-style French toast, this is a recipe you should try.  Get the recipe here.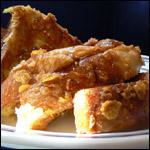 I can still remember the first time I tried Crunchy French Toast.  It was several years ago at a restaurant in Los Angeles called Fred 62.  I took a bite and was an immediate fan.  A crisp French toast exterior is great.  A crunchy exterior is even greater.  The trick is dragging your bread through crushed corn flakes after you dip it in an egg and milk mixture. Get the recipe here.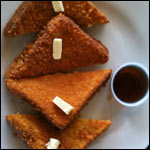 #3. Cinnamon Crunch French Toast
Once you try Crunchy French Toast (#2), you might want to explore other ways to achieve a crunchy French Toast exterior.  In this recipe, the crushed corn flakes from the previous recipe are replaced with crushed Cinnamon Toast Crunch cereal.  Get the recipe here.