Honey & Whole Wheat Waffles

(8 servings)

1/4 cup butter
1 and 1/2 cups milk
1 cup all purpose flour
1 cup whole wheat flour
1/4 cup honey
1 teaspoon vanilla
3 large eggs - separated at room temperature
2 teaspoons baking powder
2 teaspoons sugar
1/2 teaspoon salt
1/3 cup chopped pecans - optional
On the plus side, these waffles have a really nice flavor... lightly sweet and not overly wheat-like. On the negative side, these waffles tend to be a bit limp, especially when compared to waffles made with yeast. It's understandable, considering the percentage of heavier whole wheat flour in the recipe. If you don't mind a limp waffle, these are fine. Although, I would urge you to check out our recipe for Multi-Grain Waffles before making this one. (The recipe on this page was submitted in 2002. It was tested and photographed in October 2014.)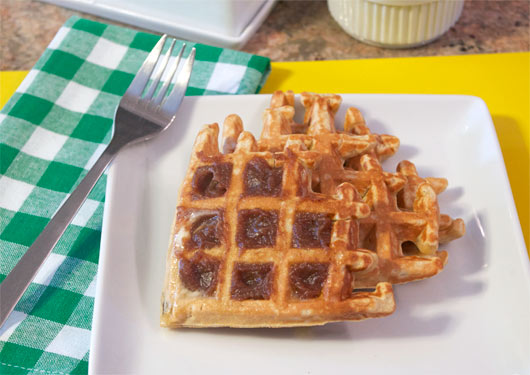 How To Make Honey & Whole Wheat Waffles

Preheat the waffle iron.

Melt the butter in a saucepan over low heat. Set aside to cool.

Combine both flours, the baking powder, salt and and sugar in a medium sized bowl.

In another bowl, combine the milk, honey and vanilla. Beat that combination into the melted butter. Beat the egg yolks into the butter mixture.

Stir the butter mixture into the flour mixture just until the dry ingredients are moistened.

Use an electric mixer to beat the egg whites until stiff peaks form.

Fold the egg whites into the batter just until blended.

Ladle sufficient batter onto the waffle iron to cover 2/3 of the grid. Use a spatula to spread the batter to the edges. Close the lid.

Cook until the steaming stops (about 5 minutes).

Use a small, stiff rubber spatula to remove the waffle from the grid. Continue with the remaining batter.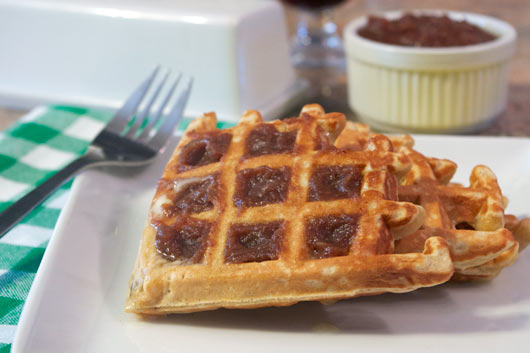 Cooking Notes From Mr Breakfast:

The waffles seen here were served with a homemade date spread.

I opted to use the optional chopped pecans and they were a great addition.

You can get creative with the liquid in this recipe. Try replacing part of the milk with orange or pineapple juice. You could even replace part of the milk with yogurt or sour cream if you'd like a waffle with more of a moist interior.

To be safe, I added 2 Tablespoons of canola oil to the finished batter. I don't like to spray or butter my waffle iron and I find that just a little more oil keeps the waffles from sticking without effecting the end result.

You hardly notice the whole wheat in these waffles because of the delicious honey flavor. Depending on tastes, you may wish to add 1/2 teaspoon cinnamon or 1/4 teaspoon nutmeg with the dry ingredients.




Mr Breakfast would like to thank baseball27 for this recipe.

Recipe number 619. Submitted 9/14/2002.