Fruit And Honey Granola

(10 servings)

3 and 1/2 cups quick or old fashioned oats - uncooked
1 and 1/4 cup diced dried mixed fruit (like cranberries and apricots)
1/2 cup honey
1/3 cup coarsely chopped pecans
4 Tablespoons butter or margarine - melted
1 teaspoon vanilla
1/2 teaspoon ground cinnamon
1/4 teaspoon salt
Only at MrBreakfast.com will you find this kind of truth in a granola recipe: Don't bother with this recipe. It's lame. Instead try our Maple Pecan Granola Clusters (my go-to granola) or peruse our homemade cereal section. The problem with the Fruit And Honey Granola is that you don't taste the honey. The 350 degree heat is too high. The batch of granola you see here was overly-browned at 20 minutes (it's supposed to cook for 30 minutes). If you do make this recipe, I strongly recommend cutting the temperature to 325 degrees. (This recipe was submitted in 2004. It was tested and photographed in March 2014.)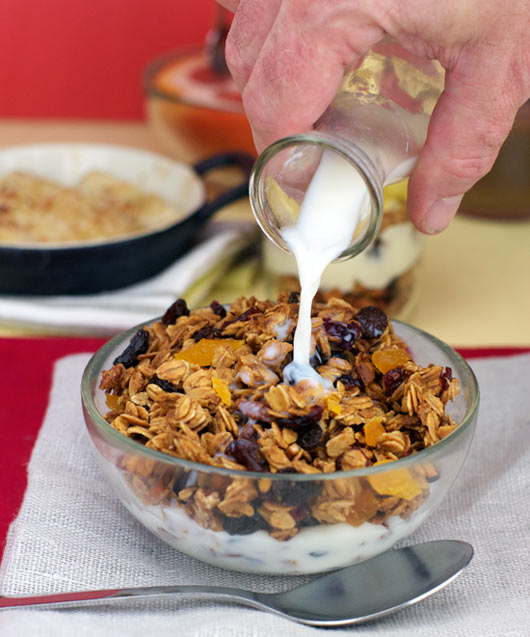 How To Make Fruit And Honey Granola

Makes 10 1/2 cup servings.

Pre-heat oven to 350 degrees.

In a large bowl, combine oats and pecans; mix well. Spread evenly on a large rimmed baking sheet.

In a small bowl, combine honey, margarine, vanilla, cinnamon and salt; mix well. Pour over oat mixture. Stir granola in the pan to mix well.

Bake 30 to 35 minutes or until golden brown, stirring every 10 minutes. Stir in dried fruit during the last 10 minutes of baking. Cool completely before serving.


Use your favorite combination of dried fruits. Stores well in a sealed container for two weeks.




Mr Breakfast would like to thank muffin for this recipe.

Recipe number 1383. Submitted 11/1/2004.