Apple Granola

(16 servings)

1 and 1/2 cups quick oats
1 and 1/2 cups Old Fashioned oats
3 Tablespoon sugar
1/4 cup chopped walnuts
1/2 teaspoon salt
1/2 teaspoon cinnamon
2 Tablespoons butter - melted
1 Tablespoon maple syrup
1/4 cup water
1 teaspoon vanilla
3/4 cup chopped apple
I really enjoyed this granola as a breakfast cereal with milk. For snacking dry, it's okay, but there are better options (for instance, this Maple Pecan Granola). I've altered the recipe slightly from how it was originally submitted. I added maple syrup and cinnamon and replaced the oil that was previously listed with melted butter. This granola remained fresh tasting for 8 days when sealed in an air-tight container. (This recipe was submitted in 2002. It was tested and photographed in June 2014.)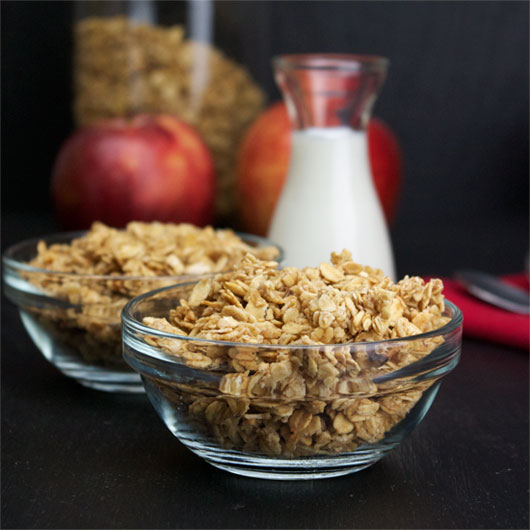 How To Make Apple Granola

Combine oats, sugar, walnuts, cinnamon and salt in a bowl and mix thoroughly. Then, mix in the butter and maple syrup.

In a separate bowl, combine the water and vanilla. Pour liquid into the oat mixture, mixing just enough to moisten evenly.

Mix in the apples. Spread granola out evenly onto a cookie sheet.

Bake at 250 degrees F until dry, stirring every 20 minutes - about 70 minutes total cooking time. Remove from oven and allow granola to cool. Store in airtight container in a cool place.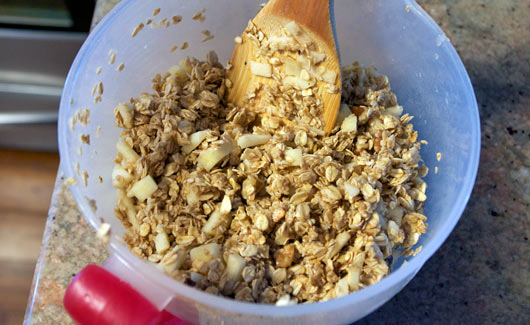 Cooking Notes:

To get a few more clusters (oats clumped together), consider mixing 2 Tablespoons of flour in with the dry ingredients.

The granola will crisp as it cools after cooking. If it's not crisp enough after it's cooled, it's okay to put it back in the oven for a longer time at 250 degrees just as long as you don't let it brown too much.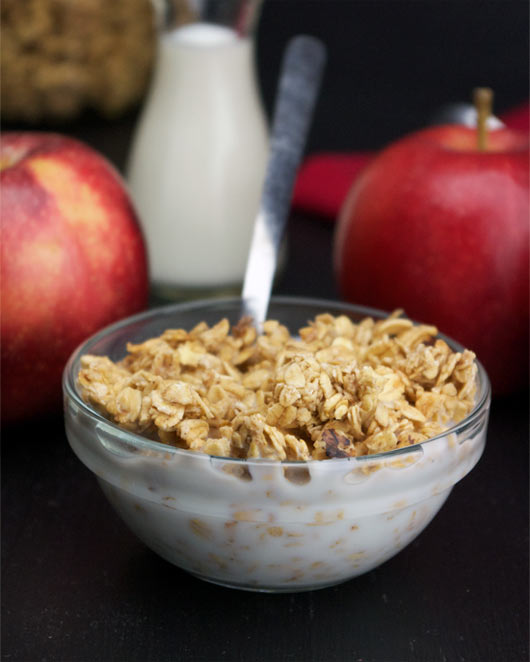 Good served with tofu milk, fruit juice, applesauce, or other fruit sauce. Two small apples gives me about 3/4 cup chopped apple. I peel them first, but you don't have to.




Mr Breakfast would like to thank goodforyou for this recipe.

Recipe number 741. Submitted 12/15/2002.