Pumpkin Apple Waffles

(6 servings)

1/2 cup pumpkin puree
1/2 cup shredded apple
1 cup milk
1/2 cup applesauce
1 cup all-purpose flour
1/2 cup brown sugar - packed
1 and 1/2 teaspoons baking powder
1 teaspoon cinnamon
1/4 teaspoon salt
1/4 teaspoon nutmeg
1/8 teaspoon ginger
1/8 teaspoon ground cloves
2 egg whites - beaten until stiff peaks form
As people have mentioned in the comments below, these waffles have good flavor but their texture is limp. Since there's no oil in the recipe, it's necessary to grease your waffle iron so the waffles won't stick. Extra flour in the batter will help the texture and a few Tablespoons of butter or oil will help with the sticking. But as it stands now, this is not a great recipe. I encourage experimenters to toy with this recipe to see if you can make it better. But for those who want an excellent, kitchen-tested recipe right now, I recommend a similar recipe called Cranberry Pumpkin Waffles. In that recipe, you can replace the cranberries with diced apple to get the kind of waffle you were probably looking for here. (The recipe on this page was submitted in 2002. It was tested and photographed in October 2014.)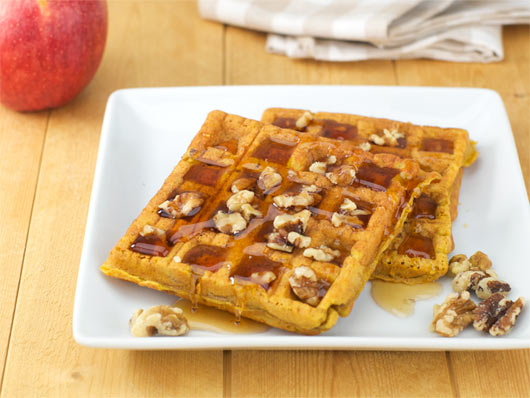 How To Make Pumpkin Apple Waffles

Prepare waffle iron according to waffle maker instructions. (Mine asks me to spray to plates with cooking spray as it preheats.)

In a large mixing bowl, mix together the pumpkin, apples milk and applesauce.

In another bowl, combine the flour, brown sugar, baking powder, cinnamon, salt, nutmeg, ginger and cloves.

Add wet ingredients to the dry ingredients and mix just until moistened. Fold in the beaten egg whites.

Pour enough batter to fill two-thirds of the waffle iron. Cook until crisp and golden brown. Set aside. Repeat with remaining batter.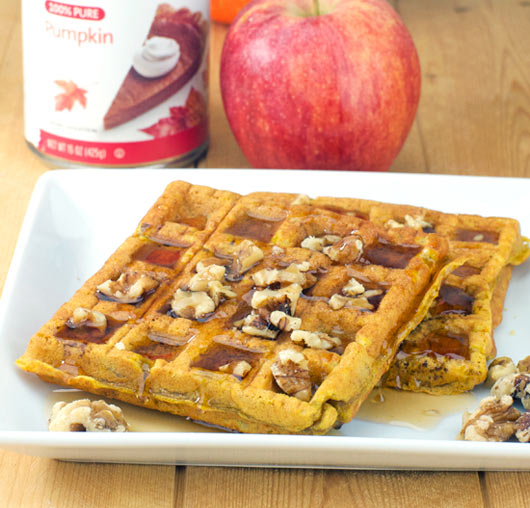 Tips To Help Turn This Dud Into A Stud

This recipe as submitted has gotten some comments that the waffles are sticking to people's waffle makers. For that reason, I recommend adding 3 Tablespoons melted butter to this recipe. Add the butter to the wet ingredients. Please let me know if you try it. Before I remove a recipe, I hold out hope that our community of breakfast lovers can fix it first.

Note: You can keep waffles warm as you make more by placing them on a cookie sheet in an oven set to 225 degrees.

Pumpkin puree, shredded apple and apple sauce are used for the main flavors. Unfortunately, this recipe is in danger of being removed because of bad reviews. What would you do to fix it?




Mr Breakfast would like to thank madamerkf for this recipe.

Recipe number 612. Submitted 9/14/2002.