Corned Beef Hash a la Waldorf

(4 servings)

2 cans (1 pound each) corned beef hash
1/4 cup canned tomato sauce
1/4 cup shredded processed American cheese (or your favorite shredded cheese)
4 large eggs
1/4 cup chopped green pepper (optional)
Mix together the corned beef hash and tomato sauce. Divide this mixture among 4 individual casseroles (ramekins) or place in 1 and 1/3 quart covered baking dish.

Bake, uncovered in hot oven (400 degrees) for 10 minutes, or until hash is browned.

Remove from oven; make 4 nests in top of hash with back of spoon. Sprinkle shredded processed American cheese in and around nest. Break 1 egg into each nest; garnish with chopped green pepper, if desired.

Cover; return to oven and bake 8 minutes longer, or until eggs are just set.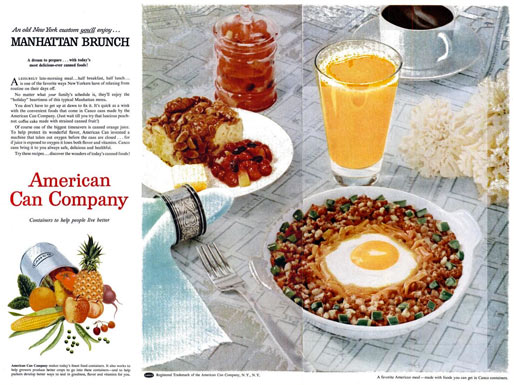 This retro recipe is from a 1954 advertisement from the American Can Company - "Containers to help people live better."

From this same classic ad, also see a recipe for Peach-Nut Coffee Cake.


A baked egg rests in a nest of corned beef hash and shredded cheese with a garnish of chopped green peppers. Vintage recipe from a 1954 American Can Company advertisement.




Mr Breakfast would like to thank Mr Breakfast for this recipe.

Recipe number 3171. Submitted 4/3/2013.