Buttermilk Biscuits & Sausage Gravy

(6 servings)

For The Biscuits:
1 and 3/4 cups all-purpose flour
2 teaspoons baking powder
1/2 teaspoons baking soda
1/2 teaspoon salt
6 Tablespoons cold butter - cut into pieces
3/4 cup buttermilk


For The Gravy:
1 package Jimmy Dean All Natural Regular Pork Sausage
1/2 cup flour
4 Tablespoons butter - diced
3 Tablespoons extra light olive oil or vegetable oil
4 cups milk
1 teaspoon salt
1 teaspoon pepper
pinch of cayenne pepper
1/8 teaspoon dried thyme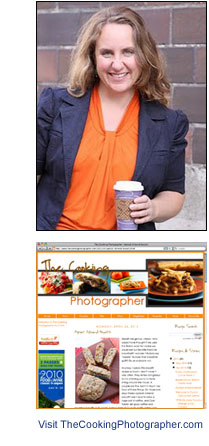 This recipe comes to MrBreakfast.com by way of Laura Flowers and her awesome (although unfortunately no longer updated) blog called The Cooking Photographer. You'll find recipes there for every meal, all with fantastic photos. If you like this recipe, she has a whole section called "Biscuits, Muffins & Quick Breads."

To Make The Buttermilk Biscuits:

Preheat oven to 450 degrees. Cover an insulated cookie sheet with parchment paper. If you don't have one, double up two cookie sheets together.

Put flour, baking powder, baking soda and salt into a food processor and process to mix. Add butter and pulse until crumbly with small pea sized butter pieces still in places. Add buttermilk and pulse just until the dough comes together.

Flour a surface, dump out dough, and then flour top of dough. Kneed a few times and roll out to about 1 inch thick. Cut out biscuits with a drinking glass or biscuit cutter. Continue to roll out dough and cut biscuits until dough is used up.

Place biscuits on cookie sheet and bake for 12 to 15 minutes until golden on top.

To Make The Sausage Gravy:

Break up sausage into a very large skillet or wide bottom pot. Cook over medium high breaking apart the sausage into small pieces. When no longer pink and well cooked remove the sausage from the pan leaving the grease behind and set the meat aside. Add butter and oil and stir occasionally until the butter is melted.

Next, add the flour and cook for 3 to 4 minutes stirring frequently. Add the salt, pepper, and cayenne. Rub the thyme between the palms of your hands to crush it while adding to the pan. Slowly stir in the milk and bring it to a simmer stirring constantly until gravy is thickened to taste. Add the sausage back in and cook for a couple minutes to warm through.

Season with more salt and pepper if needed and serve hot over biscuits.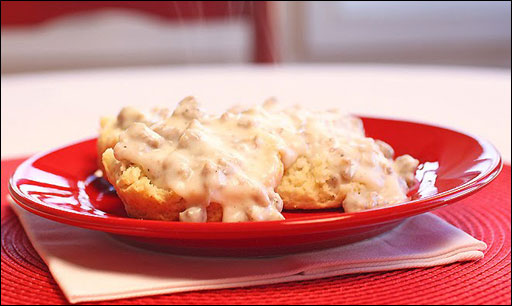 Also check out Laura's recipe for Brussels Sprout Bacon Potato Hash.

The great American southern breakfast staple. Best served when the biscuits are fresh from the oven.




Mr Breakfast would like to thank LauraFlowers for this recipe.

Recipe number 2931. Submitted 10/6/2010.