Pumpkin Puff Pancakes

(8 servings)

2 eggs
1 cup milk
1/2 cup cooked pumpkin
1 and 3/4 cups Bisquick or similar baking mix
2 Tablespoons sugar
1/2 teaspoon cinnamon
1/2 teaspoon nutmeg
1/2 teaspoon ginger oil
1/4 cup salad oil*
In a small mixing bowl, beat the eggs on high speed for 5 minutes or until thick and lemon colored. Stir in all remaining ingredients. Pour batter by Tablespoons onto a medium-hot ungreased griddle. Bake until puffed and bubbles begin to break. Turn; bake other side until golden brown.

Makes about 5 dozen 2-inch pancakes.

* Salad oil is an old-school term for any oil that might be used to make a salad dressing. You can use canola or vegetable oil in this recipe.

If you're look for a Pumpkin Pancake recipe to make from scratch (ala no baking mix), try this recipe.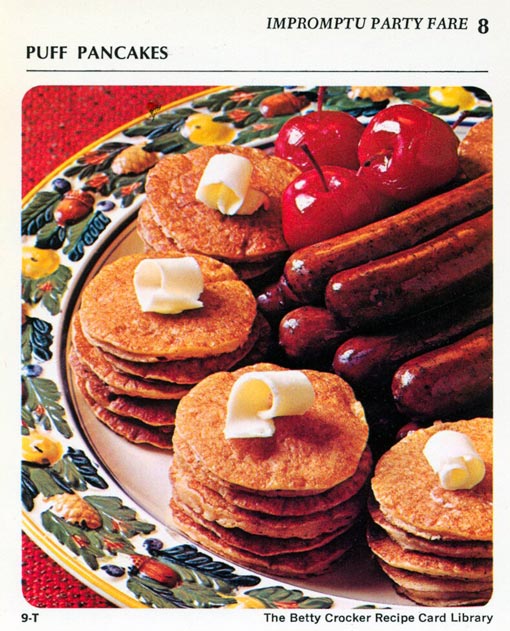 This classic recipe for appetizer-sized pancakes is from a 1971 Betty Crocker Recipe Card in a series called "Impromptu Party Fare." Copyright 1971 by General Mills, Inc.




Mr Breakfast would like to thank Mr Breakfast for this recipe.

Recipe number 2928. Submitted 10/1/2010.