Peanut Butter & Jam Granola

(6 servings)

3 cups Old Fashioned oats
1/2 cup ground flax seed meal
1/4 cup all-purpose flour
1/2 teaspoon cinnamon
3/4 cup creamy peanut butter
1/4 cup honey
2 Tablespoons vegetable or canola oil
1/3 cup of your favorite jam (strawberry or raspberry both work great)
I had to monkey around with this recipe a few times to get it to work right for me. As originally submitted, it never got crisp and, personally, I think moist granola sucks. I completely changed the recipe shown this morning (August 2012). It now comes out fairly crisp with lots of peanut butter flavor. I used homemade fig jam for the granola you see in the pictures.

Despite my efforts to make a winner out of a dud, I have a confession: I still don't love this granola. When you're dealing with peanut butter and granola, it's hard to get a desirable crunch in the finished product. I say... try it and play with it if you love peanut butter. For a better non-peanut butter granola, try my favorite granola recipe: Maple Pecan Granola Clusters.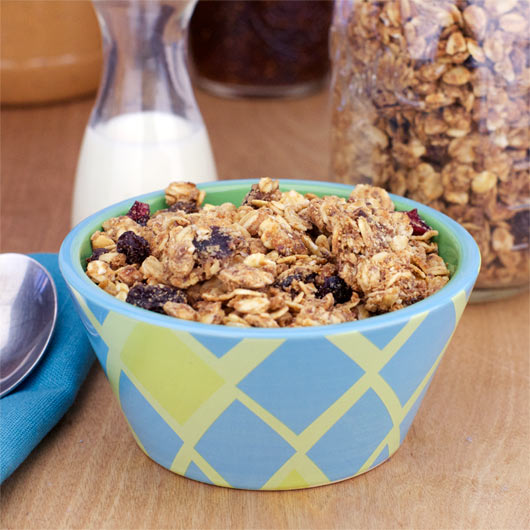 How To Make Peanut Butter & Jam Granola

This recipe makes about 5 cups of granola.

Preheat oven to 300 degrees.

In a large bowl, mix together the oats, flax seed, flour and cinnamon.

In a medium microwave-safe bowl, combine the peanut butter, honey and oil. Microwave for 30 seconds. Stir to combine.

Add the peanut butter mixture and jam to the oats mixture. Stir until everything is well-moistened. (Your hands are the best tool for this.)

Spread combined mixture out over a rimmed cooking sheet. Bake at 300 degrees for 42 minutes. Stir and flip the granola every 15 minutes while cooking. Let cool completely before serving. Granola will become more crisp as it cooks.

Stores well for a week in an airtight container.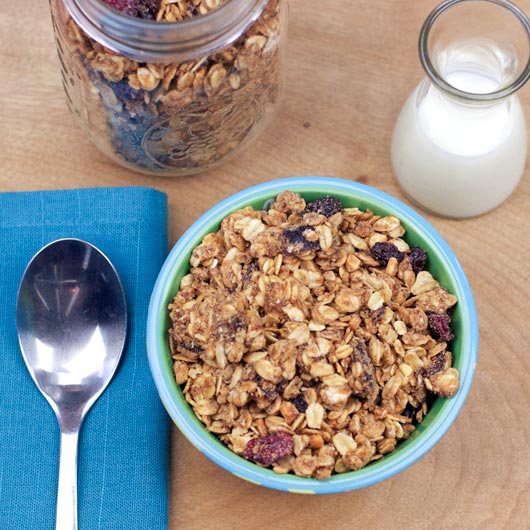 A simple granola recipe with the surprise of a little fruity jam in every bit.




Mr Breakfast would like to thank BRANDY4514 for this recipe.

Recipe number 2766. Submitted 2/23/2010.