Breakfast Sausage Mummies

(4 servings)

8 breakfast sausage links (turkey or pork)
2 sheets 6" x 6" puff pastry sheets
1/4 cup ice water
yellow mustard
flour for dusting
This recipe makes 8 mmmm... mummies.

On a lightly floured cutting board, roll out one sheet of the puff pastry until it's half of its thickness and about double in size.



Using a pizza wheel or pastry cutter, slice the dough into 1/2 inch wide strips.

Using your finger or a pastry brush, lightly wet one side of each strip with ice water (this will help the pasty strips stick to each other as you roll and bake).

With the wet side of the dough facing out, wrap a strip of pastry around each sausage in a candy cane pattern. As you get near the top of the sausage, leave a gap in the pastry pattern to make room for the mummy's eyes. If a single pastry strip isn't long enough, just continue with one of the other strips.

Repeat steps above until you've made all eight mummies.

Preheat oven to 400 degrees.

Place the mummies with their faces upward on a parchment paper lined baking sheet. Leave 1 inch of space between each mummy.

Bake for 15 to 17 minutes or until the mummy's bandages are golden brown.

Remove mummies from the oven and allow them to cool for about 3 minutes.

To make mummy eyes, dip the tip of a knife or the end of a chopstick into a dab of mustard and carefully dollop tiny eyes in the space you reserved for the face. If you're very gentle and careful, you could also try adding a nose or a mouth.

Click here for more Halloween Fun.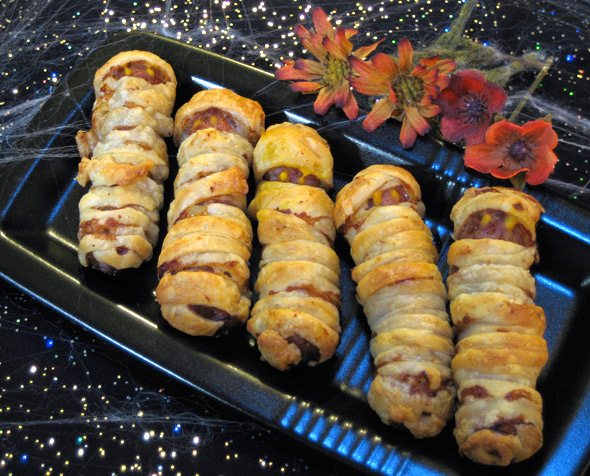 These mummies are ghoulishly good on their own or terrifyingly terrific as a side dish. If made as a Halloween party favor, consider serving with additional yellow mustard or a honey mustard sauce for dipping.




Mr Breakfast would like to thank Mr Breakfast for this recipe.

Recipe number 2632. Submitted 10/1/2009.